Are you looking for a dog? Have you considered pet rescue adoption?
Marty was thinking of getting his son Alex a dog for his fifth birthday. The boy lived with his mother, Rachel, in a house in town. They had a small back yard. A good place for a boy and a dog to play, Marty thought.
He and Rachel were on friendly terms, and he talked to her about the idea. She was enthusiastic, and suggested they go to visit a breeder. After talking to his sister about it, however, Marty came to the conclusion that it would be better to have a variety of different kinds of dogs to choose from.
He and Rachel decided they would visit the local animal shelter together to pick out Alex's new pet.
At the shelter, their eyes lit on row after row of dogs contained in cages. Most cages had several dogs in them, and then there were single cages housing dogs that didn't socialize well with other animals.
The place was noisy, and confusing. They spotted several cute pups as they walked down the aisle. Too bad they couldn't rescue all of them! How would they ever decide which one to get? 
They walked past Beagles, Dachshunds, Terriers, a German Shorthair Pointer, several Golden Retrievers, a Pug. Older dogs, pups, dogs just out of puppyhood. Some were obvious mixed breeds. All homeless, lost in this big world.
A Chihuahua came up to the wire of the cage and stared with huge eyes and a wistful expression that tore at Rachel's heart. A black Lab thumped his tail against the floor and pawed at the cage as if begging to be let out.
Max knelt to scratch the head of a Basset pup pressed up against the bars of the cage. "I've always loved Cockapoos," he said. "Their fur is so curly. I don't know whether they're good with kids, though."
At that moment a brown dog with a big white spot on his forehead yelped for attention. Max looked in his direction and realized how torn he felt.
"I want to take them all," he said, his heart aching for these animals whose future was so uncertain.
"In your dreams," Rachel said with a laugh. "One will do nicely, thank you."

If you were looking for a dog for your child, how would you know which dog to choose?
Marty and Rachel both felt relieved when a staff member asked if she could help. Here are some things she suggested they consider:
The child's age, personality, and activity level

The size of the home and the yard

Whether the animal would be left alone during the day

Whether the family had other pets
Learning that Alex was an active five year old who loved to run and play, she led them down the hall to a three-year-old Golden Retriever. He rose to his feet and came to greet them with an enthusiastic wag of his tail.
The woman opened the cage and invited him out to meet the visitors.
"This could be the perfect dog for your son," she said. "He's not a pup, but he's only three. He has plenty of years ahead of him." She reached down to scratch the Retriever's chin. "His name is Max," she said, turning her head to look up at them as she continued to stroke the dog's head. "A couple brought him in last week. They said their son was killed in an accident three months back.
"They were so, so sad. It broke my heart. You hate to see that, you know, parents who've lost a son they adored? It was obvious they hated to give the dog up, but he had no one to play with now, and they felt he needed that. They felt reasonably safe bringing him to a no-kill pet rescue adoption shelter. I told them we would try to find him the right boy to grow up with."
Standing up to look into their eyes, she told them more about the dog. Yes, he had been neutered and given his shots, and he'd been wormed; they did that with all the dogs that came in.
"He's being pretty quiet now, in here," she said, "but outdoors he's in his element, running and chasing balls. And he loves water. He needs an active child, one who will give him more training and take him out to play." She looked from Rachel to Marty. "Do you think that might be your son?"
Max stood gazing up at them with big, soft brown eyes. When Marty knelt down to pet him, his hand seemed to melt into the dog's fur. Max lay down on the floor with his chin resting on Marty's knee, peering up at him with eyes filled with hope and expectation.
Max closed his eyes as Rachel reached over to scratch behind his ears. Yes, this was a dog she felt she could commit to. Rachel and Marty knew they had found the right dog for their son.

When they got back to the house, they tied a red bow around Max's neck. That evening, Alex threw his arms around his father's neck when he presented him with his birthday present.
"You should be hugging your mother," Marty said, laughing. "She's the one who's going to have to put up with the two of you every day."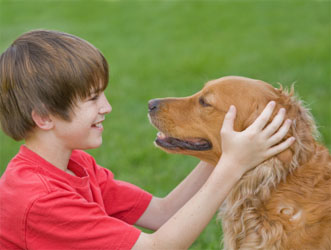 As you can see from the picture, it was a match that was meant to be.
What a story! Can you imagine how that couple must have agonized over giving up the dog that had been so dear to their young son? Don't you want to hear about how Max took to his new home environment and his new companion?
If you've read to this point, I know you're a dog lover. And as a dog lover, you have stories in YOU that will touch the hearts of others … if you just share them.

What if your stories could be used to raise funds for shelters, to help them find the right homes for homeless dogs? Or to raise money to buy service dogs for returning veterans? Or to help pay for your kids' college education?

Do you have a pet rescue adoption story in you? If not, what stories would you tell? To open the door to exploring how you can start sharing your pet pictures and stories, CLICK HERE to become a Pet Writes Member. It's FREE, my gift to you … so that you can give YOUR gift to the world.
Pawsitively,
Chiwah Carol Slater
The Pet Story Passionista
Word Weaver Chiwah
Founder, PetWrites.com, WordWeaver4U.com