Can a small slow feed pet bowl really keep a dog from gulping its dinner?

Jeani has a magical little dog named Tampa. Tampa is just a wee little thing, but she can outrun and out-jump every small dog in the neighborhood. And she can make a large meal disappear faster than you can blink your eyes. And then, she sits in the dish and gloats! Can you imagine?

Jeani (not her real name) encouraged her to learn those first two tricks. But Tampa mastered speed-eating on her own.
The trouble is, scarfing her food like this makes the little girl sick. She literally inhales the food, and her stomach fills with gas. Half an hour later, she's miserable. She hides under the couch, whimpering, and won't come out no matter how hard Jeani coaxes. How would it make you feel if your little dog did that?
A friend told Jeani that dogs that eat too fast derive less nutritional benefit from their food. And the vet warned that Tampa's eating habits could lead to gastric dilatation volvulus (GDV), a potentially fatal condition in which the stomach is stretched, and possibly twisted, beyond its normal size and shape.
Terrified of losing her little friend, Jeani started hand-feeding her to slow her down. Needless to say, Tampa loved the extra attention. All those hugs and kisses between bites! But it wasn't a tenable arrangement. Jeani is a busy businesswoman, and though she loves her dog she really didn't want to continue this scenario.
Besides, she realized she wasn't teaching her dog better eating habits. Instead, her dog had taken control of her life.
So … Jeani is wracking her brain to come up with other ways to slow the dog's eating.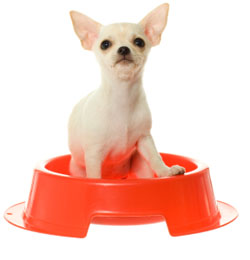 What would you advise her to do? Should she buy Tampa a small slow feed pet bowl? Have you tried them? Did they slow your dog's eating down enough to make a difference?
I told Jeani I would put the question out there and see whether I can come up with some feedback on the bowls, and perhaps some other suggestions for getting Tampa to slow down at mealtime. We have a small dog, but I haven't tried the small slow feed pet bowl. Please leave a comment below if you have.
All your dog stories, including your experiences with a small slow feed pet bowl, are grist for the mill of business marketing. As a Pet Writes member, you will learn how to use those stories to boost your business. Get started today with the Pet Writes 7-Day Trial.

Pawsitively,
Chiwah Carol Slater
The Pet Story Passionista
Word Weaver Chiwah
Founder, PetWrites.com, WordWeaver4U.com