What do you do when your dad may be in his last year of life and your kids want to go to Disney World for the summer? It wasn't a tough decision for Cindy and Ray (not their real names). If they didn't make it to Disney World, it would be there next summer. Sam, Cindy's dad, might not. He didn't seem to be doing so well after his heart attack.
In February, they had helped to move Sam from his home in Tampa to a senior residence in Fort Myers, just two miles from Cindy's sister Sara's home. Sara didn't have space for the four of them and their dog, Ruby. So it was time to look for pet friendly vacation rentals.
"Mom, Fort Myers is the end of the earth!" 11-year-old Josh complained. "It's four HOURS from Disney World. What are we going to do there?"  
Cindy understood. She remembered traveling to St. Petersburg with her parents as a teenager, and feeling the same way about it. But the kids would just have to make do.
Her main concern was the dog. Ruby was part of the family, and they never left her behind. Would they find a suitable rental?
Looking online for pet friendly vacation rentals, Ray was pleasantly surprised. As it turned out, Fort Myers was a pet-friendly place. He found several suitable houses at reasonable rates.
They rented one and started packing for the trip.
Josh and his sister Brittany were doing their best to look on the bright side. It would be good to see their grandfather. Brittany remembered riding on his shoulders when she was little, and Ray reminded Josh that the old man loved baseball. Ray and Josh were Orioles fans.
Still, Cindy worried the kids would be bored. Can you relate? Vacations can be a drag if your kids aren't happy. How would you have handled the situation?
Her sister assured her there were plenty of amusements in the area.
As it turned out, she needn't have worried. They spent ten days visiting with her dad, and never did get to Disney World. But they went on a number of delightful adventures, including:
Smugglers Cove Adventure Golf, in Fort Myers Beach. The kids rode bikes through the "jungle," and had a blast trying to feed the baby alligators. The gators weren't hungry, though. So Josh pocketed the treats and took them home to Rufus. They enjoyed a round of miniature golf in the evening, with plenty of uphills an downhills and twists and turns.
Plenty of play on the beach, with Ruby on a leash.
Just five miles south, next to Lover's Key State Park, they found Dog Beach, where dogs ran freely and played in the water. Ruby made friends easily, and the kids met other kids with big and little dogs in tow. Josh counted 17 dogs.
Brittany didn't much care for the mucky walk to get to Dog Beach, or the fact that some people didn't pick up their dogs' poop. But she did have a good time.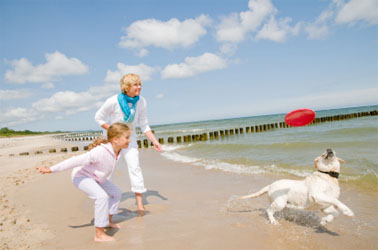 They spent a day at Lakes Regional Park, with the kids frolicking at the water park. The men barbecued lunch, and Brittany and Josh got to see exceptional birdlife up close — herons, anhingas, egrets, and the odd alligator. They rented a paddleboat, hiked, and rode the little train through a gorgeous flower garden.
Josh got a kick out of hearing the girls scream when they came upon a (harmless) red corn snake on the paved hiking trail.
They played miniature golf at Manatee Park, a great place to see the manatees that congregate there in the warm water from the electric plant down the way. The whole family, except for Cindy's dad, went kayaking and enjoyed the butterfly garden.
After another day of mini golf, this time at Castle Golf, Josh got to feed the humungous catfish in the pond there.
Looking back on the trip, Cindy says that next to spending time with her dad and her sister, her most memorable experience was the day they spent touring the Ford and Edison estates. They had their choice of a live tour or an audio self-guided tour of the superbly maintained grounds.
If you're planning a vacation in south Florida, Fort Myers is a good place to find pet friendly vacation rentals and fun for the whole family. CLICK HERE to become a Pet Writes Member, and you'll receive information about all sorts of great places to vacation with your pets this summer. And we'll show you how to create an entertaining log of your adventures, too!
Pawsitively,
Chiwah Carol Slater
The Pet Story Passionista
Word Weaver Chiwah
Founder, PetWrites.com, WordWeaver4U.com