Thinking of pet friendly vacation rentals as a way to take your pet with you on your summer trip?

There are lots of opportunities for vacationing with pets all over America. From Florida to San Diego, and from Maine to Seattle, you'll find pet friendly motels, hotels, and homes for rent. But you need to be sure your animal is ready for this experience.
This story about Mardi (not her real name) and her dog Spoof illustrates a point you may want to think about in advance.
Mardi wanted to travel and take Spoof along. Spoof was used to living free in the countryside. At home, he wasn't required to be on a leash. He had miles to roam, and had been known to chase deer and cows. (Bad habit. He got shot once by a rancher for that. But that's another story. He lived.)
Mardi knew she'd have to keep him on a leash where she was going, so she spent several months training him to accept it. That wasn't going to be a problem, she was sure.
Feeling sure that he would be all right in a new environment for a week, she made the flight arrangements and put him on the plane.
All the way to her destination, she sat in First Class and read a book. All the way to his destination, Spoof sat in his kennel and chewed. Mardi found all the fur from his left rear thigh pasted to the floor of the kennel.
He didn't like being left alone in a confined space! Mardi understood that. She sympathized with the dog, and gave him extra loving attention for the rest of the day.
The first night went fine. Mardi was glad she had decided to look into pet friendly vacation rentals. At least Spoof wouldn't have to be cooped up in a hotel room.
The next morning Mardi went out to a cafe for breakfast, leaving Spoof in the house. When she returned, she found a note from a neighbor asking her to please stop the dog from barking.
For the rest of the day, and that evening as well, Mardi sacrificed shopping and visiting museums to keep Spoof with her. That meant buying food for dinner at a little store while he sat outside and watched her, and cooking at the house.
Over the next few days, whenever she went out without Spoof, she made sure to tell the neighbor beforehand and promised not to be gone long. She asked him to let her know if the dog barked.
Mardi had thought this would be a great vacation with her dog. She had foreseen taking him for walks in parks and on the trails, and they had done that. But his behavior when he had to stay behind was putting a damper on her vacation.
She couldn't believe it. At home, he rarely barked. But then, he was never left alone in a confined space. He was never bored at home.
What would you have done if you were Mardi?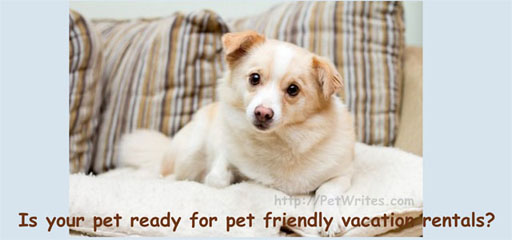 Here are some things she tried:
She got him bones

so he'd have something to chew on while she was out.


She turned the TV

on so the sound would keep him company.


She talked to him before going out

, explaining that she wouldn't be gone long. She even conjured up mental images of her anticipated outing for him, as she had read somewhere that dogs communicate telepathically in pictures.

The neighbor reported that Spoof barked less and less, so the things Mardi did seemed to be helping.

What are the implications of Mardi's experience for you? Have you been planning a trip with your dog? How will your pet respond to being left alone at times in a strange environment?
Your stories of how your pet responds to pet friendly vacation rental situations can be a real boon to your business. Join Pet Writes to find out exactly how you can use your pet stories to boost your business. Get started today with the Pet Writes 7-Day Trial.
Pawsitively,
Chiwah Carol Slater
The Pet Story Passionista
Word Weaver Chiwah
Founder, PetWrites.com, WordWeaver4U.com
Image credit: photopm / 123RF Stock Photo