Miriam (not her real name) was taking care of her son's dog, Bardo, an English Labrador, while he was away in Europe on vacation.
After three days her eyes were so swollen she could barely see. Her face and neck were swollen and covered with itchy bumps. What was the matter? Could it be dog allergies? She was sneezing and coughing, finding it difficult to breathe. She'd never had symptoms like this before.

Who had ever heard of anyone being allergic to a dog? Cat, yes. But a dog? The pet was adorable, with those big droopy ears and that plush, thick brown fur. It wasn't his fault. It was a dog health problem, visited on a human! One part of her wanted to hug him, and the other part wanted to throw him out of the house.
She bathed him. She vacuumed. She made him stay off the furniture. (That wasn't hard. The dog was well trained.)
She cried. Three weeks to go! How was she going to stand it?
On the fourth day, her cousin Natasha came to her rescue. Bardo could come to her house. Whew! The dog followed Natasha out to her car and they drove off.
Miriam's symptoms abated once the dog was out of the house and she had thoroughly cleaned the carpet.
That was her solution. But what if the dog had been her own? There would have been no easy solution.
Do you have a dog you're allergic to and can't bear to get rid of? What are you going to do about your dog allergies? If the dog lives with you, even getting rid of the dog won't necessarily solve the problem. It can take months, or even years, to rid your house of animal allergens.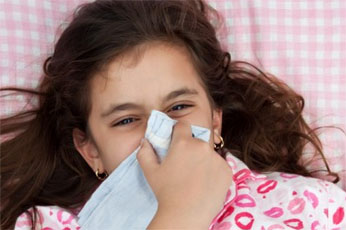 Here are some steps you can take to lessen your allergic reaction:
Bathe the dog at least once a week,

using an anti-allergen shampoo.

Between baths, wipe the dog down

with a wet wash cloth or hand towel.

Vacuum all your floors often, and have your rugs shampooed and your curtains cleaned

on a regular basis.

Keep the pet off the furniture and out of your bedroom

.

Open windows

daily to air your home thoroughly.

Get an air cleaner with a HEPA filter, and replace the filters

in your heater and air conditioner often.

Ask your doctor to recommend an allergy medicine and/or eyedrops

.
Allergy to dogs is more common than most people think, though far less common than allergic reactions to cats. This being the case, many people, like Miriam, are shocked to find that a dog causes an allergic reaction.
If you have dog allergies, you can surely sympathize with Miriam. CLICK HERE to become a Pet Writes member. You will receive a FREE introductory gift and a wealth of helpful information on getting over your allergies and solving other pet-related problems. Membership is FREE.

Pawsitively,
Chiwah Carol Slater
The Pet Story Passionista
Word Weaver Chiwah
Founder, PetWrites.com, WriteYourWayToProsperity.com, WordWeaver4U.com

Image credit: kmiragaya / 123RF Stock Photo