Adam has had dogs all his life. What stories he could tell! So dog allergies are nothing new to him.
He has had dogs with canine food allergies, dogs with allergies to mold. Even one dog that was allergic the cat. And one that would sneeze in the presence of his mother! Which one to get rid of, the dog or his mom? Needless to say, that dog soon found another home.
Now, Adam (not his real name) is married and has two kids. Uh, make that dogs. No human kids yet, though there is one on the way. His canine kids are Max and Ruby, two purebred English Cocker Spaniels.
While he'd been through just about every known challenge with dog allergies, Adam was for the first time encountering a problem common to both the English and the American varieties of Cocker Spaniels: partial deafness.
He first became aware of the problem while out walking his dogs. They were walking in the early evening along the country lane behind his home. Spotting a car approaching, he gave the dogs the command to heel. Max responded at once, but Ruby lagged. This was new and curious behavior for her.
Over the next week Adam watched Ruby's behavior closely. He began to see that she was slower to pick up on verbal commands than before. On one occasion she failed to move out of the street when the sound of a car behind them alerted Max. It was only when she saw her partner retreat to the side of the road that she followed suit.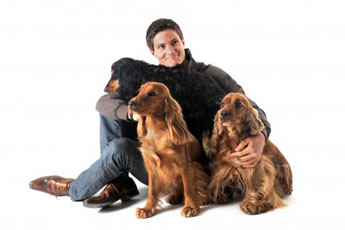 What could be causing this?
A trip to the vet brought clarity. "It's a common problem in Cockers," he said. "Probably caused by food in her ears."
"Food in her ears?" Adam raised his eyebrows.
"It's the long ears. They drag in the food bowl," the vet explained. "Have you noticed that?"
Yes, he had. Hadn't given it a second thought, though. She seemed to eat just fine.And he did brush her daily. But for that, her ears would be all matted.
The vet lifted one of the dog's ears to show him the thick hairs in her ear canal. "It gets damp in there," he explained. "The yeast from the food, and possibly from other sources as well, gets into the ear canal and grows. And before you know it, the dog has a raging infection. That's when canine deafness sets in."
Adam learned a few more things related to this topic:
Clipping a Cocker's ears together

(by the fur, where it won't hurt) will keep food out of the ears.

Weekly use of a canine ear cleanser will take care of yeast from non-food sources.

Would it reverse Ruby's deafness? The vet wasn't sure.

Not only the ears, but also the Cocker's deep lip fold can trap food and lead to dental and gum problems.

The vet advised him to check the dogs' mouths after meals to avoid this situation.
Now, Adam has something totally new to him to write about. I look forward to reading his stories.
Though I've spoken here of dog allergies and other Spaniel problems, most of Adam's stories seem to center on the things he's learned from being a pet parent over the years: how courageous a dog can be, the importance of consistent communication, and the depth of heart connection a human and his pet can enjoy.
You have stories in you, too. Animal stories that people would love to read. What's stopping you from writing them?
When you become a Pet Writes Member, you will receive information on our storytelling and writing programs. We will help you get your stories out where they can do some good. How can you fathom how deeply your stories may touch a person? Even to saving a life sometimes.
I am reminded of the story of a woman who was about to commit suicide, but who instead came across the story of a puppy that made her realize how much her own dog needed her. Instead of killing herself, she went into therapy. She became devoted to caring for her dog, and later got a job as a dog rescue adoption worker.
So share your pet stories, even if they're about dog allergies. People need them. If you think you can't write, you can talk your stories. CLICK HERE to become a Pet Writes Member, and I'll show you ways you can use them to do good. You'll also receive an immediate FREE GIFT to help you find greater joy with your cats and/or dogs, and after that you'll be treated to plenty of special pet-and-people stories. Membership is FREE. Join now!
Pawsitively,
Chiwah Carol Slater
The Pet Story Passionista
Word Weaver Chiwah
Founder, PetWrites.com, WriteYourWayToProsperity.com, WordWeaver4U.com