Bridgette and John wanted a Beagle. Why a Beagle? For Bridgette, it was an old association with the dog her uncle Bob had given her when she was six years old. She had loved that dog, and was sure that another Beagle would be perfect for them.
For John, it was a matter of going along with Bridgette. He had the idea that small dog breeds would be better for city living, but beyond that he didn't care. A Beagle would be fine.
They found Ziggy at a local shelter. The people at the shelter said he had been dropped off anonymously, and was about a year old. He came right up to them and stuck his nose out through the fence to rest it in the palm of John's upturned hand.
That did it. This was the dog.

As soon as they got him home, it became clear that Ziggy had a mind of his own. He didn't care for the bed they'd bought, preferring the end of their bed. He loved the smell of Bridgette's slippers – or was it the taste? No matter where Bridgette stowed them away, he would ferret them out  for a good chew.
Scolding him did no good.
When they went out in the evening, they inevitably came home to a mess. Ziggy loved to shred the old newspapers in the box next to the fireplace. No toilet paper roll was safe with him in the house. And they were left with many a single sock when Ziggy's powerful nose sniffed out their dirty laundry. Was this typical of small dog breeds, or of Beagles in particular? Or was their dog a special problem case?
Once, he pulled the tablecloth off the table. A vase of roses fell off, spilling water on the rug. That wasn't so bad. What upset Bridgette and John (not their real names, by the way) was the half-filled wine glass that left an ugly splash of deep red on the beige carpet.
When they stayed at home, on the other hand, he would lie around like a couch potato.
He could be aggressive, though. The neighbors learned better than to bring their dogs with them when they came to visit. Can you imagine how that affected his popularity rating in the neighborhood?
Have you ever had a willful dog? What did you do about it?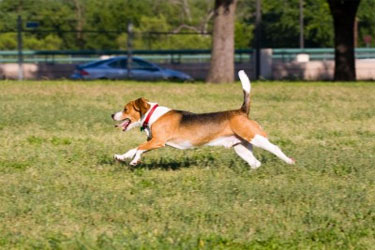 Bridgette believed in reinforcing good behavior rather than punishing bad. Here are some things they tried:
They bought him toys of his own to chew. Okay, he would chew them. But they didn't hold his attention. He would still scout out Bridgette's slippers and their dirty socks.
They offered treats as a reward when he didn't chew or shred. Ziggy accepted the treats, but never seemed to associate them with the good behavior.

Affectionate pats didn't seem to make an impression, either.
When they saw that neither scolding nor positive reinforcement was going to turn Ziggie into an obedient dog, John got the idea that finally turned the tide. The dog needed more exercise, he realized. They began going out for long morning walks and early evening runs, up and down hills.

Ziggie loved it, of course. Beagles were made to run. And John benefitted as well from the exercise. The best thing was that the exercise schedule started to turn Ziggie around. He would come home tired, and his human companions began to feel like they could go out without dreading coming home to a disaster.
Had they been more informed about the breed, Bridgette and John could have anticipated some of this behavior and been prepared to handle it more effectively from the start. Beagles are independent animals, and can be obstinate. They need a strong trainer, and they need socialization training from an early age.
Even small dog breeds need effective training. So you can be sure you're doing the right thing with your dog, I'm going to make sure you get a FREE mini-course on training and handling dogs that will get you off on the right foot and assure a happier, healthier relationship with your canine family member.
When you enroll in this FREE dog training course, you will also receive another FREE BONUS REPORT with tips on a wide variety of thorny dog care issues: Top Doggy Care Tips for Happy, Healthy Pets. To get your FREE BONUS REPORT, just email a copy of your enrollment confirmation in the complimentary Dog Training Course to petwrites@gmail.com. The download link for the gift report will be sent to you in a return email.
Both the FREE Report and the FREE Course will be lifesavers for training small dog breeds like Beagles. CLICK HERE to order your Free Dog Training Course and get your FREE BONUS REPORT.
If you're seeing this on the video, go to
http://petwrites.com/giftwithtrainpetdog.
Pawsitively,
Chiwah Carol Slater
The Pet Story Passionista
Word Weaver Chiwah
Founder, PetWrites.com, WriteYourWayToProsperity.com, WordWeaver4U.com

 Image credit: kenhurst / 123RF Stock Photo