What dog training treat would do the trick? Karen was trying to train her dog Midas to play Fetch the Stick. Midas was not the world's most intelligent dog. She knew she was going to have to work with him to get the idea across.

Since she didn't have a big yard, she put Midas on a leash and walked him down to the local park. There was no shortage of sticks there. That was good. What wasn't so good was the fact that the park was crowded. It was a Sunday afternoon, after all.
Looking around, Karen (not her real name) counted seven dogs. Some large, some small. Most of them were on leashes, but the two that were not – a Pit Bull and a Boxer dog – ran up to perform the doggie sniff test.
Karen pulled Midas away and picked up a good-sized stick. Midas nudged it with his nose. But as she was raising it for the first throw, a Pit Bull dog charged in and clapped his teeth onto the other end for a tug of war.
This wouldn't do. When no one came to take control of the two invading dogs, Karen realized the park was too distracting an environment for training a dog. On Sundays, anyway.
The next time she took Midas to the park, she made sure to do it on a weekday. There were only two dogs in the park, both on leashes. She led him to the far end where they wouldn't be likely to distract him. She threw sticks and Midas chased them, but he wouldn't bring them back to her. So she dug out the dog training treat she had brought with her.
She let Midas smell the treat, a piece of hot dog. Mmm, he liked that. She let him have one little bite, then put the rest away. Teasing him with another stick, she gave it a good toss. When he ran to get it, she held up a piece of the treat and called out to him. He dropped the stick and ran back to get the piece of hot dog!
Not exactly the response she'd hoped for. How do you teach a dog to fetch a stick?

Just then a young man walked by and made an uninvited comment on the treat. "You shouldn't use hot dogs," he said. "They're full of grain fillers and not good for your dog."
Hmmm… she hadn't thought of that. She didn't want to addict her dog to a treat that wasn't good for him. She threw a few more sticks for the heck of it, but her enthusiasm for the training session had been dampened.
The third time she took Midas to the park, she had a wholesome treat in her pocket. However, the smell from the barbecue across the park overpowered the scent of the treat. Midas ate it, but smell is a big part of a dog's enjoyment. He was not impressed.

What would you have done in her place? Do you have a training treat to recommend?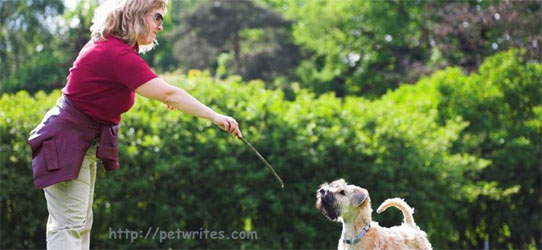 Here are some suggestions garnered from dog lovers with training experience:
• If you're going to be in an area with a lot of distractions, you need a smelly treat to keep the dog's attention.
• If there are other dogs around, be sure your treat's not too smelly or you'll be mobbed.
• In summertime, make doggy popsicles. Freeze unsalted chicken or beef broth cubes, and put a little piece of meat in the middle of each. Dogs love them.
• Read treat package labels and buy a treat without a lot of additives, preferably one not high in calories. Then, make sure your dog likes it before you take him out for a lesson.

These are all good suggestions, though the first two leave you in a no-win situation if the major distraction is other dogs. What then? 
Here's another question that merits consideration: Are treats really a necessary part of training?
For solid information on how and when to use a dog training treat, CLICK HERE to receive a FREE top-notch dog training course packed with proven training solutions. When you enroll in this FREE course and email us a copy of your enrollment confirmation, you will also receive a FREE BONUS REPORT with useful tips on just about any dog care issues you may be facing.
Pawsitively,
Chiwah Carol Slater
The Pet Story Passionista
Word Weaver Chiwah
Founder, PetWrites.com, WordWeaver4U.com
Image credit: d2b / 123RF Stock Photo