Teddy, Carla's seven-week-old puppy, wasn't his usually animated self on Sunday morning. He didn't want to play, and he didn't want to eat. She babied him, cuddled him, paced the floor holding him in her arms.
When he started having diarrhea and vomiting, she knew something was wrong. Her sister, who had lost her Rottweiler a year earlier, said it sounded like parvo symptoms.
No, it couldn't be, Carla said. He'd just received his first vaccination the previous week.
"You'd better get him to the vet," her sister insisted. "It's Sunday. Take him to the veterinary hospital. Now."
Carla (not her real name) wrapped the pup in a blanket, put him in his carrying kennel, and took him out to the car.
The attendant at the veterinary hospital greeted them with a look of concern on her face. The vet performed an ELISA blood serum test right away, and came out wearing a grim frown.
Yes indeed, Teddy had contracted the canine parvo virus. The good thing was that Carla had brought him in right away, so he stood a fair chance of recovering. He would require intense treatment for five to seven days, and the cost of treatment might exceed a thousand dollars.
But there was no guarantee that he would survive.
Furthermore, Tanya, Teddy's mom, would have to be watched closely in case she developed parvo symptoms. The virus was highly communicable, the vet explained, and she might also be at risk.
That bit of news shook Carla's world like an earthquake. Tanya had been with her for six years. Battling back tears, Carla forced herself to pay attention as the vet explained the treatment.

Teddy would receive IVs to rehydrate his system as part of a complex protocol to counteract the virus. There would be antibiotics to control often fatal bacteria growth, anti-nausea medication to control the vomiting, and high-calorie hand feedings once the vomiting stopped. Blood plasma transfusions and other extreme measures would be administered if needed to save the pup's life.

Numb to the core, Carla nodded. She would pay whatever it cost. Her main concern, apart from Tanya, was that the vet could not assure her that Teddy would make it through.
Have you ever been at risk of losing your pet? If so, you can feel her pain. Right?

She brought Tanya in for a canine blood titer. She tested negative, which the vet said was inconclusive. When the vet wanted to administer a dose of the vaccine, Carla didn't know what to say. She assented and held her breath.
All week long, she went through the motions of her daily routine. But she wasn't really there. Luckily, she had a highly trained team at the office. They were able to maintain an acceptable performance level without her usual level of involvement.
Every morning on her way to the office and each evening on her way home, Carla stopped to visit Teddy. She called at intervals throughout the day to check on his condition. Her sister had agreed to keep tabs on Tanya during the day and report immediately if she noted anything amiss.

Carla's mind demanded answers. How could it be that a pup vaccinated a week earlier have contracted the virus? During the day she sat at her desk and scoured the Internet, devouring every bit of information she could find. By Wednesday she could almost recite all the studies.
Still, she was driven to read, read, read.
Can you imagine her state of mind? Feel her tension?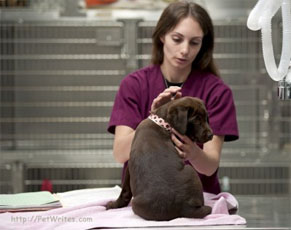 Here is some of what she learned:
Most vaccines target the 2a and 2b strains of the virus. But in 2006 a third strain, 2c, came to light. Confined at first to remote areas, it is now not uncommon in the U.S. and Europe.

The 2c strain is tougher and far more aggressive

than the other strains.
Unvaccinated puppies are particularly susceptible to parvo. But even after vaccination, a pup's system may be vulnerable if its mother's milk is low in antibodies.
There is concern (some might say certainty) that the vaccine itself can cause the disease, especially in a young pup.
Long story short: Even though your pup has had its shots, it can come down with any of the three strains of parvo. It's not all that common, but it happens.
When she arrived at the hospital Thursday evening, Carla breathed her first sigh of relief. Teddy was beginning to show signs of improvement. The vomiting had ended. He had lapped up a little chicken broth, and his fever was down.
When she went in to pick him up on Saturday morning he greeted her with a doggy smile and an enthusiastic bound into her arms.
And Tanya did not contract parvo. Whew!

I hope the reason you're reading this article is not that you've noticed parvo symptoms in your vaccinated dog. But if you have, whether your pet has been vaccinated or not, you need to take immediate action. Every minute counts. Get your dog to the vet. NOW.
To get answers to your questions on parvo symptoms, treatments, and prevention from leading pet experts AND huge savings on pet products and services, CLICK HERE for free membership in the Pet Writes community. In the spirit of community sharing, you will also receive a helpful FREE GIFT when you join.
Pawsitively,
Chiwah Carol Slater
The Pet Story Passionista
Word Weaver Chiwah
Founder, PetWrites.com, WordWeaver4U.com
Image credit: aspenrock / 123RF Stock Photo