Romper took Lisa Ann out for a walk this morning. Well, more like a run, with Lisa Ann doing her utmost to keep up. But she felt confident. She had a dog training treat bag in her pocket.
Did she know how and when to use the treat? She wasn't sure. When they got to the corner and she pulled hard on the leash, Romper stopped. So she gave him a treat, which he accepted with delight. Then he wanted another one, so she gave in and gave him one.
On they went, barreling down the street. "Stop!" she yelled, pulling hard on the leash. He stopped and looked back at her with an expression that said, "Are you crazy? We're having fun!" But he had been forced to stop. She pulled out a treat and gave it to him. And yes, a second one, too.
By the time they got back to the house, Lisa Ann was worn out. And the bag of treats was empty. Had Romper learned anything? Yes. He'd learned that if he stopped when she yelled and pulled on the leash, he would get treats.

Is this what he needs to learn? Not quite. If she wants him to learn to walk calmly and stop on command without physical force, she's going to have to find a better way of training.
Is relying on a dog training treat really the best way to train a dog?

The whole rationale behind training with a dog training treat is the concept of positive reinforcement. It's a good concept, as far as it goes. But there are ways to reinforce positive behavior in dogs that don't set up a conditioned response to a fattening treat.
If you're going to use treats to train your dog, my stand is that they should only be used initially. Before long, the dog's response should be transferred to something else.
This is the essence of clicker training.
But what if your dog goes deaf? It happens. Then he won't hear the clicker. What if you forget the clicker, leave it at home? No clicker, no click, no response from your dog. And the same applies to treats.
The question is, Do you really want to train your dog to respond to an external cue or treat? Or do you want to develop a mutually caring relationship that makes your dog want to do what it takes to please you?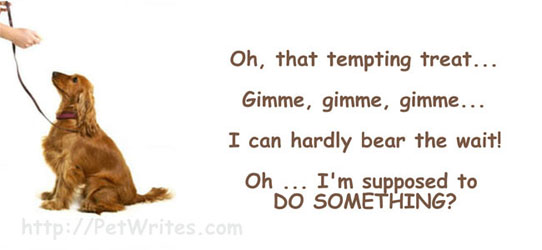 A dog wants to please a person it loves and respects. So:
Hug your dog and praise him when he follows your instructions or does something you approve of.

Turn away and withhold attention when he does something you don't approve of.

Make both responses immediate, so that the dog has no doubt what he is or is not being rewarded for.
Work daily with your dog. Don't let a week go by without some training. Dogs forget very quickly, and it can be frustrating to have to retrain the same lesson you trained a week earlier. And when you're frustrated, you can't train well.
I believe the best training happens when the dog and the trainer become so tuned in each other that they learn to work as a team. Why did you get a dog in the first place? Wasn't it because you wanted to develop a loving relationship with an animal companion? So why not build that into your training?
Am I totally against using treats to train a dog? Pretty much. Unless you go to the trouble to buy truly wholesome dog treats or make them yourself, they are bad for the dog. And treats give a dog a certain edge over you, a negotiation tool. Using a treat to get a dog to do something is basically teaching the dog to manipulate you.
Bear in mind that as a parent I also did not reward my child with candy. And he has grown up to be a caring, considerate man.
My point of view on this may be a bit unrealistic. I concede that. People love giving their dogs treats, and there are times when they come in very handy. Nonetheless, the more you train your dog to be in tune with YOU, the stronger your relationship will be.
Obviously, there is more to the question of whether or not to use a dog training treat than what can be conveyed in this short article. CLICK HERE to receive a FREE top-notch dog training course. When you enroll in this FREE course and email a copy of your enrollment confirmation to PetWrites@gmail.com, you will also receive a FREE BONUS REPORT with useful tips on just about any dog care issues you may be facing.
Pawsitively,
Chiwah Carol Slater
The Pet Story Passionista
Word Weaver Chiwah
Founder, PetWrites.com, WordWeaver4U.com
Image credit: blackcurrent1 / 123RF Stock Photo