Can handling pet product recall chicken jerky make you sick?
Catherine wondered about that. She'd been feeling unwell all day. She was nauseous. Her symptoms reminded her of a previous experience with food poisoning: Stomach cramps, vomiting, diarrhea. Yuck. It wasn't going to be a pleasant day.
Or could it have been something she'd eaten in the restaurant last night?
She sat down and flipped on the TV. Jasmine, her Terrier, came to sit beside her, laying her chin on her lap in an expression of sympathy.
Catherine (not her real name) flipped through the channels with the remote. Hmmm … sure enough, the news was reporting another pet product recall, some chicken jerky product. She looked closer. Oh dear. It was a product she had in her own cupboard, one she'd been giving Jasmine as a training treat.
Maybe she had salmonella poisoning? From handling the jerky? But Jasmine didn't appear to be suffering any ill effects. 
A visit to her doctor confirmed the salmonella hypothesis. But what was the source? Impossible to know. Still, she took the jerky out of the cupboard and put it in the trash.
Most instances of pet product recall are due to indications of salmonella poisoning. However, research shows that most human salmonella infections probably come either as a result of eating foods contaminated in the manufacturing process or from eating in restaurants where employees don't realize they are carrying the bacteria.
All the same, humans can and do contract salmonella poisoning in handling contaminated dog food. But if it was the chicken jerky dog treats that were responsible for her illness, why was it that Jasmine didn't seem to be suffering any ill effects?
She called her vet to ask about that and was told that healthy dogs and cats have a natural resilience to salmonella, probably born of millennia of eating raw flesh and raw fruits and vegetables in the wild.
It was likely , she decided, that her salmonella poisoning was due to handling the jerky that figured into the pet product recall. 
Have you experienced salmonella poisoning? It's not fun. 
So … how can you protect yourself against the salmonella poisoning responsible for most pet food recall situations?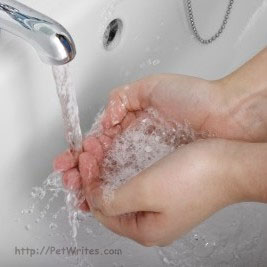 Here are some important steps you can take:
Keep your own immune system strong. Eat well, exercise well, rest well. 
Wash your hands thoroughly after handling pet food or treats.
Use different utensils for preparing pet food.
If possible, feed your pet away from the area where you prepare your own food. Instead of feeding in the kitchen, can you put the food bowl in the laundry room or on the porch?
Keep your pet off the counters and dining table. 
Taking these precautions will dramatically lower your likelihood of succumbing to salmonella poisoning from contaminated pet foods. But remember, there are plenty of other sources of salmonella. Always practice good hygiene by washing all fruits and vegetables and eating only high-grade meats and eggs.
You know, pet stories, even stories of pet product recall, can boost your business — even if it has nothing to do with pets! People everywhere respond to stories about animals. That's why the big corporations use pet stories. Learn how YOU can use them to your best advantage as a Pet Writes member. Get started today with the Pet Writes 7-Day Trial.

Pawsitively,
Chiwah Carol Slater
The Pet Story Passionista
Word Weaver Chiwah
Founder, PetWrites.com, WordWeaver4U.com
Image credit: flynt / 123RF Stock Photo