Pet product recall: How can you protect your dog from salmonella poisoning?
Mandy's little dog, Lady Blue, had fallen ill with salmonella last spring. Mandy (not her real name) couldn't figure out what was wrong with her. Lady just wasn't her usual self.
She took her to the vet, who ran some tests and reported that the culprit was salmonella. Since Lady was pregnant at the time, that was worrisome. The vet explained that salmonellosis had been known to cause spontaneous abortions.
He put Lady on an IV for a while and gave her electrolytes, and sent her home. After a couple of days, she was back to her playful self.

What had caused the salmomella episode? Mandy had purchased a bag of kibble on sale, only to discover a few days later that the brand was involved in a pet product recall. As it turned out, the product had been recalled a week before she bought it, but the store had left the food on the shelves to sell out its stock.
(Don't you hate that? There have even been online ads selling pet foods at a discount because they were recalled. However, I noticed today that I can't find any such ads online. Maybe the companies have been forced to be a bit more responsible in their actions.)

Mandy's pups were born  healthy, in spite of their mother's bout with the dangerous bacteria.
Then, a few weeks later, Lady started vomiting again. Mandy couldn't believe it. She had always been so healthy, and here she was with her second case of salmonellosis!
The big worry was that the pups would be infected. When Lady was infected the second time, they were seven weeks old, and mostly weaned. To protect them, Mandy rushed Lady to the vet at the first sign of illness and left her there until she had fully recovered.
It was the first time she had left her little dog anywhere overnight. Mandy worried that she would be lonely and feel abandoned. But she couldn't bring her home.
The pups came through it all unscathed, and were soon all sent off to good homes.
The big question was, how had Lady gotten salmonella poisoning the second time? It wasn't a case of recalled pet food. Mandy had made certain of that.

The vet said it might have been something she had eaten while out in the yard, or maybe in the park where Mandy walked her.

Hearing that, Mandy upped her level of watchfulness. At the park, she was careful not to let Lady sniff dog poop other owners had left behind. She also paid close attention to make sure there weren't any dead birds or rodents in the back yard that might be infected with the bacteria.
Since she had a big back yard on the path of numerous species of migrating birds, that was no easy task.
Mandy was afraid to let Lady out of the house. At the same time, she knew the dog needed exercise.
What would you have done in her place?
Do you know how to keep your pet healthy enough to resist salmonella-related illness if your dog spends time out of doors, or if you should inadvertently buy a pet recall product?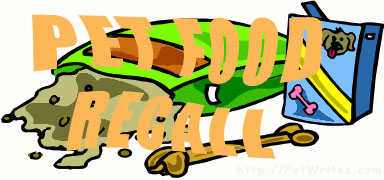 Here are some precautions you would be well advised to follow:
Feed your dog a nutritious diet and make sure it gets sufficient exercise. 

Keep vaccines and antibiotics to a minimum. Antibiotics kill the "good" bacteria in the digestive system, and overuse of vaccines can weaken your pet's overall immune response.

Give your dog a dialy probiotic subbasement to replace "good" bacteria.

Give your pet a high-quality digestive enzyme tablet, or a spoonful of goat milk yogurt, with each meal. This will help to maximize the nutritive value your pet is able to get out of its food.
Avoid giving your dog pig ears to chew, as some have been infected. If you do, buy the irradiated, individually packaged pig ears.
Don't buy food or treats made in China, where testing may be less rigorous.
Don't let your dog eat animal feces or dead wild animals, and carry a collapsible cup and a bottle of water when out walking instead of letting your dog drink water it might find along the way. This doesn't have to be difficult; you can use a shoulder strap carrier for the bottle.

The best defense against salmonella poisoning in dogs is a healthy immune system and a good supply of intestinal flora.
And, pay attention to your dog's behavior. If your dog is acting lethargic, vomiting, has diarrhea or a poor appetite, it's time for a consultation with the vet. Don't wait. These little lives are way too precious.
To be sure you have all the nutritional information you need to protect your dog from the dangers of a pet product recall, get a copy of Doggie Eats. Don't take chances with your pet's life.
And … to find out how you can use your love of pets to boost your service business, become a Pet Writes member. Get started today with the Pet Writes 7-Day Trial.
Pawsitively,
Chiwah Carol Slater
The Pet Story Passionista
Word Weaver Chiwah
Founder, PetWrites.com, WriteYourWayToProsperity.com, WordWeaver4U.com
Support Desk: http://petwrites.com/support