Thinking of visiting the San Diego area for a well deserved week of self-pampering? Maybe you've heard about the beauty of Carlsbad, nestled on the beach in the north end of San Diego County?
You know about La Costa Resort and Spa. And maybe you're planning to visit The Chopra Center. But where will you stay? Are there any lovely pet friendly hotel chains in Carlsbad?
Word has it that lodging the area is not exactly pet friendly. But there are exceptions. For the budget minded, there are several choices. But what if you want to go all out?
What if you're planning to honeymoon in San Diego, and you want to take your dog along? That's actually not far-fetched at all. A lot of couples do just that.
Some of the luckiest end up at Ocean Palms Beach Resort, just a few steps from the beach. They may have been looking for pet friendly hotel chains, but instead they found an independent pet friendly hotel that seems to be pretty keen on people, too.
Whether it's your honeymoon or your vacation, you and your pet will be at home here. The owners are pet owners themselves, and understand the needs of people traveling with pets.
They say on their website, "Bring your dog along for your Carlsbad Beach Hotel experience. We understand your dog is a part of your family, and sometimes needs a vacation as well."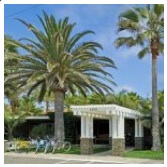 When Ikura and his lady came to Carlsbad for the first night of their honeymoon, the newlyweds couldn't' have been more delighted to land at the Ocean Palms Beach Resort. They were immediately upgraded from a studio to a one-bedroom upon check in.
Ikura says the room was fantastic. He loved the Dutch doors.
They prepared a romantic dinner in the kitchenette, and with the top door open they luxuriated in the ocean breeze, lulled by the sounds of the Pacific Ocean just outside.
Ikura says he went over everything with a fine-tooth comb. After all, that's his job when he's not honeymooning! He works as a Public Health inspector.
He checked the electrical connections.

He inspected the cabinets under the sink.

He took out all the pots and pans, looking for spots.

None to be found.
I don't know whether Ikura and his bride brought a dog with them. He didn't mention that when he wrote his rave review to Trip Advisor, where I found it online.
(Okay, I confess. I made up the part about the electrical connections and the cabinets. What do you expect? I am a story passionista! But he did say he went over everything with a fine-tooth comb, and he did mention the spotless pots and pans. Sometimes you have to flesh out the details a bit for the sake of the story!)
And here are his concluding remarks: "My only regret was not staying there the whole two weeks we were in San Diego! We're already planning a return trip, and this time we will be spending the whole time there."
No, I am not on the payroll of this hotel. No, I don't get an affiliate commission if you read this article and decide to stay there. And no, I've never stayed there. So you'll have to take Ikura's word for it. Or not.
If you're having a hard time finding pet friendly hotel chains at your travel destinations, you can stay up to date with articles like this one by becoming a Pet Writes member. It's free. And you even get  pet-useful FREE GIFT when you join. Plus, you'll have first crack at the wisdom of top-notch pet experts as we grow, and access to special pet deals every day. So CLICK HERE to join this community of pet lovers. And consider submitting your favorite pet photo in our monthly contest!
Pawsitively,
Chiwah Carol Slater
The Pet Story Passionista
Word Weaver Chiwah
Founder, PetWrites.com, WordWeaver4U.com
P.S. You can read the original of Ikura's review at http://www.tripadvisor.com/Hotel_Review-g32171-d119751-Reviews-Ocean_Palms_Beach_Resort-Carlsbad_California.html.