How can you recognize parvo symptoms before they endanger your pet's life?
Sampson, Laurie's beloved Dalmation, was her grandfather's dog. After his death two months ago, the dog was all she had left of the old man.
Her grandfather didn't believe in neutering, and Sampson was definitely all male. His dominant personality left no question as to who was the alpha dog anytime she took him to the dog park.
For the last couple of days, though, Sampson had been a bit off his pedestal.
The first thing Laurie (not her real name) noticed was the quiet. He didn't even bother to let her know when the UPS man came. Hmm, strange. Then, that night, he didn't touch his dinner. He whined to be let out of the house, though.
The next morning Laurie found a pile of mushy poop just outside the back door. What was going on? Should she call the vet? She'd never known Sampson to be ill.
All day, she kept her eye on him. When he didn't seem to be getting any better, she phoned the vet and took him in.
As it turned out, Sampson had contracted the Parvo virus.
The vet explained that most parvo victims are pups, and that older dogs usually don't get the disease if they've been properly protected with a vaccine series. Had Sampson been vaccinated? Laurie had no idea. Evidently not.
He congratulated her on not waiting any longer to bring the dog in. He would put him on an intravenous fluid intake program and give him antibiotics to prevent secondary bacterial infection, he said, but he warned that the dog might not survive.
"We can make sure he gets re-hydrated and stays that way," he said, "and give him antibiotics to kill any other opportunistic bacteria. Beyond that, we'll just have to wait and see. But since he's not showing advanced signs yet, his chances are good."
He also gave her an education on how to recognize the symptoms of the disease in the future.
Do you know how to recognize the symptoms of parvo?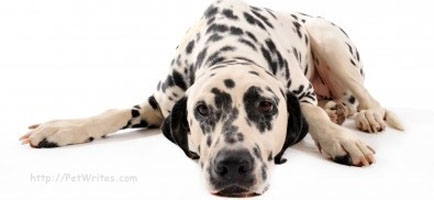 Knowledge is power. Familiarize yourself with the most common parvo symptoms:
    •    Uncharacteristic lethargy
    •    Loss of appetite,
    •    Diarrhea
    •    Severe vomiting, especially if it's full of mucus
    •    Severe fever
    •    Dehydration (not always easy to diagnose; its most likely signs are lethargy and fever)
    •    Bloody or dark feces; as the malady progresses the stool will have a highly unpleasant odor.
What should you do if your dog isn't eating and has diarrhea or is vomiting? Get your pet to a vet. Do not wait. It might be nothing. Or it might be parvo. Let your vet test so you can know.
And, if you have other dogs, or even a cat, watch them closely. If possible, isolate them from areas frequented by your sick animal, especially from his or her bedding. The disease is highly communicable, and the newest strain has infected cats as well. Rush them to the vet if they begin showing any signs associated with parvovirus.
Disinfect everything non-organic in your house and yard using a 32:1 water-to-bleach solution. Disinfect your own hands immediately after handling your dog. While humans do not contract Parvo, they can carry the virus on their skin, clothes, and shoe soles.
Throw away anything the dog has been in contact with that you cannot disinfect. This may mean scrapping your carpet. It's an expensive proposition, but since the Parvo virus can live outside the body for as long as six months it may be necessary if you have other pets in the home.
*     *     *
In case you're wondering, Sampson made it. He's back to terrorizing all the other dogs at the dog park. Thanks to Laura's early response.
Now that you know how to recognize parvo symptoms, what else do you need to know about protecting your pet from disease? CLICK HERE to receive your FREE BONUS and stay up to date on the best tips from leading pet experts. Your FREE membership in our growing community of pet lovers will also bring you HUGE SAVINGS on pet products and services. 

If you're seeing this on the video, go to
petwrites.com/newmembergift.
Pawsitively,
Chiwah Carol Slater
The Pet Story Passionista
Word Weaver Chiwah
Founder, PetWrites.com, WordWeaver4U.com