Whether you're looking at a small dog rescue facility or a dog shelter, how can you be sure the dog you're looking at is right for you?
This question came up today as I was out at the beach with a friend, engaging in a favorite pastime: talking to people about their dogs. My sister and her husband have a house right on the beach, and his son Mike was there with his wife, Lisa, and their son's girlfriend.
My friend Eileen and I were walking along and spotted Mike and Lisa out on the porch with Packer, their dog. I had never met Packer, but I was intrigued because he looked almost identical to a dog I'd loved for many years before she made her transition out of this life. So I inquired about his breed.
"He's a Chihuahua and Golden Retriever mix," Lisa told me. Who would have guessed it? Not I. But you can see the Chihuahua in the shape of his legs, Mike pointed out.
Lisa had had her previous dog for 16 and a half years. That's a long life for a dog, these days. When he died, three years ago, she missed him so much it hurt! Can you relate?
So they didn't wait long before getting another dog.
They found Packer at a shelter. He was there with all of his brothers and sisters – some long-haired, some short-haired, and all colors. They were just a few weeks old.
"We walked past the pens, and Packer bounded up and came running right up to us," she said. "When we turned to walk out, he started barking his head off. Mike said, 'Definitely NOT that one.' And I said, 'Definitely, THAT one.' Because he was calling to me. I knew it."
So … back into the shelter they went.
"They said we could adopt him. But we would have to wait a week because he hadn't had his shots yet," Mike said.
"But I said no, we couldn't wait. We couldn't make him stay there," Lisa said. "He wanted to go home with us, and it wasn't fair to make him wait."
So what did they do? What would you have done?

"We went in and talked to them, and they let us take him. Mike had to pay an extra deposit, though, and we had to promise to get him neutered. We took care of that that right away, of course."
All the while we were talking, Lisa couldn't keep her hands off the dog. She kept reaching out to pet him, stroke his ears. "See his Green Bay collar?" she said. Her tone of voice and her gestures said LOVE. And Mike, equally devoted to the pooch, reached out to cover him with a blanket.
Lisa and Mike had found the right dog. I love it when it happens that way. In fact, a lot of people have told me similar stories. A dog decides you're the one, and lays a claim on your heart.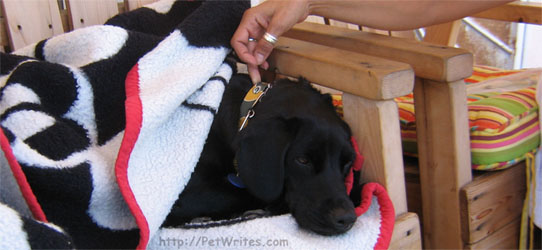 So … How can YOU tell which out of all the choices at the shelter or small dog rescue facility is the right dog for you?
Here are some things to consider:
Your Thoughts: Do you have a particular breed in mind? If so, you may want to hold out for it.
Your Feelings: On the other hand, if your heart goes out to a dog of a different breed, you might want to go with that. Sometimes a dog just grabs your heartstrings and won't let go, like Packer did with Lisa. That's a strong sign.
Your Situation: The size and location of your home and the makeup of your family may make it necessary for you to choose a smaller dog, a quieter dog, or a dog that's suitable for children.
There is no one recipe for choosing your dog. The important thing, before you go looking, is to be sure you're ready to commit. This is big, because anything less than a long-term commitment is bound to leave the dog in dire straits.
Don't get a dog if your living situation is unstable, or if there is any doubt about being able to keep him all his life. It's not fair to the dog. Too many dogs end up as shelter dogs because people can't take them when they move, for example. Of course, there are unforeseen circumstances.
Make a commitment to your dog as a family member, just as you would to a child. That way, you will overcome all odds to keep him or her with you.
For all the information you'll need to take the best care of your small dog rescue or shelter dog, you can become a Pet Writes member. It's FREE. You'll receive a helpful FREE GIFT when you join, and an ongoing wealth of compelling pet stories and solutions to your pet challenges.
Pawsitively,
Chiwah Carol Slater
The Pet Story Passionista
Word Weaver Chiwah
Founder, PetWrites.com, WordWeaver4U.com