When feeding orphaned kittens, how do you check their eyes and ears?
Cecilia found a pair of orphaned kittens under a tree near her home. They appeared to be newborn. Cecilia (not her real name) looked all around, but could not find the mother.
Never having taken care of tiny kittens before, she called a friend to find out what to do. The friend said she would call around to see who might have a nursing mother cat.
She told Cecilia to check the kittens for fleas and put them in a warm bed.
Cecilia was dismayed to find a little black crawly one one of the kits. And then another. Well, it made sense. They'd been left out of doors, unattended. It was a miracle they were even alive.
Following her friend's instructions, Cecilia carefully bathed first one kitten and then the other several times in warm water to make sure they were free of fleas. She wrapped each one in a warm towel to dry them. Then she fixed up a box with a heating pad set on low, covered it with a towel, and laid the kittens on the towel.
Meanwhile, her friend had found a nursing mother cat down the street.
The mother cat was agreeable, and took to feeding orphaned kittens as if they were her own. She adopted them as part of her brood, and they seemed to be developing normally.
Cecilia was fascinated. She kept in close touch with the lady who had the mother cat, and went over every evening to check in on their progress. When would they open their eyes? She made the woman promise to call her when that happened.
The call came on the sixth day. The male kitten had opened his eyes.  
Cecilia worried about the other one. When she didn't open her eyes the next day, she wondered whether something was wrong with her.
As it happened, she happened to be at the neighbor's house the instant the second kitty opened her eyes. What a treat!
They both had bright blue eyes. The neighbor explained that they wouldn't know what color their eyes would turn for several weeks. She showed Cecilia how to check the eyes and ears.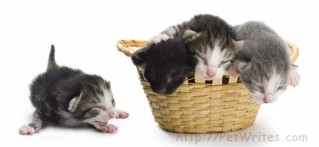 Would you know when to expect a kitten to open its eyes? Or how to check the eyes and ears of a newborn kitten? Or what to check for?
A kitten will normally open its eyes sometime between five and twelve days after birth.

If one or both eyes close back up, it can mean the kitten has an eye infection. Gently cleanse around the eyes with a damp tissue or cotton ball several times a day. Consult with a veterinarian right away to know whether this is sufficient or whether the kitten will need antibiotics.

At about the same time as the opening of the eyes, the ear canal will open as well.

To check for ear mites, gently wipe the eye area several times a day. A dark, crusty wax in the earshot resembles coffee grounds may mean ear mites. Spread a bit of the debris on a piece of dark paper and check for movement. If you're unsure, you can give your veterinarian a sample of the ear wax to look at under a microscope.
You can treat for ear mites at home by gently cleaning the ears and using a topical insecticide meant for this purpose in the ear canal. You have to treat all the cats in your household, or the mites will simply move to another cat.
Cecilia's kittens survived. Kittens that find a mother cat who will nurse them stand a much better chance than kittens that have to be fed by hand. So calling around to find a nursing mother is a really important step.
To learn more about feeding orphaned kittens and taking care of their needs as they grow up, you can become a Pet Writes member. You'll receive informative articles on a regular basis, and have Members Only access to advice from seasoned professionals. Plus, you'll receive a helpful FREE GIFT when you join.
Pawsitively,
Chiwah Carol Slater
The Pet Story Passionista
Word Weaver Chiwah
Founder, PetWrites.com, WordWeaver4U.com
Image credit: rrvachov / 123RF Stock Photo