Janie had named her new puppy Windemere. Big name for a little one! (That was where the 'mere' part came in, she said with a smile.)
Janie (not her real name) loved Windemere from day one. She took her to the vet right away for her shots. While she was there, she learned that another pup with parvo symptoms had just come in.
That set her on edge. Can you relate? The last thing she wanted was for Wildemere to catch the parvovirus.

She asked the vet about it, and felt better when she learned that the virus is not airborne.
But the vet explained that the disease sometimes hits even a vaccinated puppy. She should be extra careful, she told her, about avoiding exposure for the next four months.
Do you have a pup you love? Do you know how to protect it from coming down with the dreaded parvo symptoms?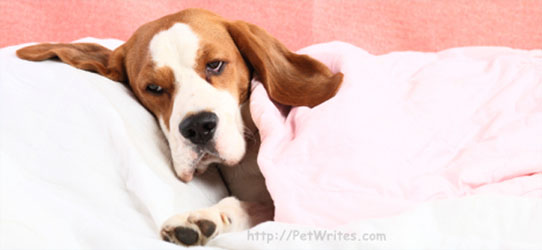 Here's the advice Janie's vet gave her:
A pup should receive its first canine parvo vaccination around 6 to 8 weeks of age, and then again at approximately 9, 12, and 16 weeks. Yes, some dogs can have problems with vaccines, she agreed. But far more doggy lives are saved by vaccination than are endangered by it.
When walking your dog, pay special attention to what the dog is attending to. The most common communicator of parvovirus is infected feces. Dogs love sniffing other animals' poop. If you see your dog heading for a pile of poop, new or old, don't let it stop and sniff. This is important even if your dog is older and therefore likely to be immune, as it an still be a carrier of the disease. You don't want it infecting some innocent puppy.
Always carry extra little plastic bags with you. If you see someone failing to pick up after their dog, offer them a baggie. Most people know they're supposed to pick up after their dogs.  "Oh, you don't have a baggie on you? Here's one!" will usually do the trick. "Oh, you don't have a baggie on you? Here's one!" will usually do the trick.
Keep your puppy at home as much as possible. Some of the most likely places for the spread of the disease include animal shelters, kennels, doggy daycares, dog parks, and other places where dogs congregate. If you take a pup to such places, pay special attention to how quickly poop is cleaned up.
If you step in infected dog poop, the safest thing would be to clean the soles with a 32:1 solution of bleach in water. (One quart of water with one ounce of bleach in it). Unsterilized, your shoes can carry the virus for up to six months.
Anytime you come into contact with dog poop, rinse your hands in a 32:1 solution of water with bleach. Jut washing your hands is not enough. There seems to be consensus that bleach is the only viable disinfectant.
Stay away from any location has been associated with parvovirus in the last six months.
Parvovirus is a deadly disease, highly contagious in weaned puppies up to the age of six months. Prevention is the best approach.
Caught in its early stages, the disease can often be reversed. So if your dog has severe vomiting and/or diarrhea, loss of appetite, uncharacteristic lethargy, or shows signs of dehydration, get it to a vet for a parvo check. Do not wait.
Better safe than sorry.
So pay attention. At the same time, don't allow yourself to become obsessed about parvo. You have a dog for enjoyment, right? So enjoy it. Just be attentive.
To receive frequent updates on new discoveries regarding parvo symptoms, parvo treatment, and prevention, as well as on a wide range of other pet topics, you can become a Pet Writes member. It's FREE, and you'll receive a useful welcome gift right away as a token of our appreciation.
Pawsitively,
Chiwah Carol Slater
The Pet Story Passionista
Word Weaver Chiwah
Founder, PetWrites.com, WordWeaver4U.com