Wondering which pet friendly hotel chains to consider for your trip to New York with your dog or cat? Though there is plenty of the pet friendly variety in just about any city, luxury accommodations are more scarce. But in the Big Apple, there are plenty of those, too!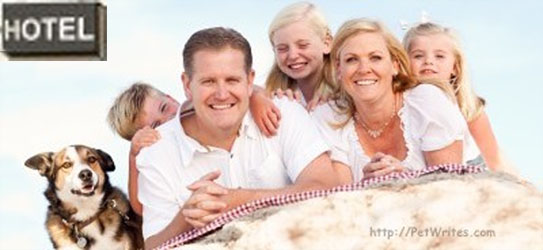 This is Part 2 of a long article on pet friendly travel to New York. In this part, the article gives you all the information you could possibly want on this topic. As always, you are strongly advised to call ahead to make sure the information is still correct and to reserve your room. Here you go:

PART 2

NYC.com's Recommended Pet Friendly Hotels

If you are willing to pay a bit more during your stay, there are a number of New York City hotels that provide the highest level of creature comforts and services specifically catering to the conscientious and perhaps more well-to-do pet owner traveling to New York City:

The entire Affinia chain of hotels is extremely pet-friendly, with each of their New York hotels offering first-class service for pet owners and their beloved companions, going so far as to offer a Jet Set Pets program, which includes services like grooming, walking, training, and—we couldn't make this up if we tried—pet psychics. For example, the Affinia Dumont at 150 East 34th Street, is a distinguished, all-suite hotel located in the Murray Hill neighborhood that greets your pet with gourmet treats, rooms equipped with food and water bowls, and information on local pet resources. Their other properties in New York are just as accommodating to pets, so check out the Affinia 50, Affinia Manhattan, Affinia Gardens, and the Affinia Shelburne for more great places for you and your pet. The Hilton Waldorf Towers also offers a Hilton Pet Friendly program, which includes the Crypton Clean Pet Pillow, bowls, and a placemat, as well as a list of local pet services.

The Loews Regency at 540 Park Avenue pampers pets with sleep mats, bowls, and a special menu. The hotel can also provide grooming, dog walkers, catnip, and pet videos. The "Loews Loves Pets" program features information on local dog-walking routes, pet services like groomers, and pet-friendly restaurants. The concierge desk can arrange pet walking and pet sitting. The "Did You Forget?" closet includes pet beds, toys, and leashes. And the pet room service menu, developed by a veterinarian, offers nutritious cat and dog specialties (including vegetarian entrées), bottled water and milk.

At the gorgeous Le Parker Meridien at 118 West 57th Street pets can enjoy mood music, scratch pads, and a "Feed the Party Animal" menu that features such delicacies as steak tartare. Le Parker Meridien welcomes all pets from aardvarks to zebras. The luxurious Peninsula Hotel at 700 Fifth Avenue features a welcome biscuit, in-room toys and dreamy bed, staff dog walkers, and a pet menu with items such as minced meat pies, and home-baked treats. The moderately priced Hotel Pennsylvania, one of New York's larger hotels, is across the street from Penn Station and Madison Square Garden and is no stranger to hosting pets: It is the host hotel for the annual Westminster Kennel Club Dog Show. Hotel Pennsylvania allows up to two dogs per room with no weight restrictions.

At the chic and trendy Sofitel New York, located at 45 West 44th Street, all pets are welcome–dogs, cats, birds, even ferrets.

Starwood Hotels—which owns the Sheraton, Westin and W brands—has rolled out a brand-wide "LTD (Love that Dog)" program that greets pets up to 25 pounds with a welcome goodie gift box, food and water bowls, temporary ID tags with hotel contact info, and custom-designed beds that mirror the human beds and guestroom décor. Other amenities include plush robes, leashes and collars, even turndown treats. New York City's W properties offer in-room doggie massages by a licensed dog massage therapist. Cats are given special treatment as well!

The Westin New York Times Square at 270 West 43rd Street features sleek, stylish, and sophisticated comfort, complete with "Heavenly Rest" beds. The flagship W New York at 541 Lexington Avenue is both cool and chic. The W New York Union Square" at 201 Park Avenue South is just diagonally across the street from an off-leash dog run. The W New York Times Square at 1567 Broadway is an oasis of tranquility amidst busy Times Square.

The Sheraton Manhattan at 790 Seventh Avenue and the Sheraton New York Hotel And Towers at 811 Seventh Avenue (just across the street), are steps away from the lights and drama of Broadway. The 1904 Beaux-Arts landmark in the heart of Midtown, Starwood's St. Regis at 2 East 55th Street welcomes pets and provides grand hotel atmosphere – from the crystal chandeliers to the silk wall coverings.

"Heavenly rest" pet beds are de rigueur at the luxurious Jumeirah Essex House at 160 Central Park South, with their new "Canine Turndown Program" designed to pamper even the most discerning four-legged guests. Run by "doggie designer to the stars" Amy Kizer (of the highly-acclaimed Wagwear New York City boutique), the program offers luxurious five-star canine amenities so that hotel guests and their fine furry friends can indulge in the lap of luxury together.

The Benjamin at 125 East 50th Street offers their own "Dream Dog" program, which includes a lush bathrobe, gourmet room service, spa treatments, specially designed dog beds, ceramic food and water bowls, even a consultation with a pet psychic. This luxurious program is offered to all pet owners booking at any rate, during any time period.

At the Tribeca Grand, 2 Sixth Avenue, upon request they can have your guestroom set up with pet bed, food and water bowls, and treats—all at no extra cost. They also loan kennels and pet beds of various sizes, food and water bowls, and kitty litter boxes. Along with complimentary treats at the front desk, they provide a pet food menu through room service, arrange for pet sitters, dog walkers, pet spas (all grooming done off property) and veterinary care through their concierge team. And if you don't have a pet, they'll even provide you with a pet goldfish upon request!

The glamorous and stylish Ritz Carlton New York Central Park at 50 Central Park South has a "Doggy and Me" weekend package that includes a gift photograph and a "VIP (Very Important Pooch)" program featuring use of ultra-chic pet carriers, 22-karat gold plated identification tags, aromatherapy coat spritz treatments, home-baked dog treats, and in case of bad weather, loan of rainproof trench coats, leather jackets, and cashmere sweaters. Pets up to 60 pounds are allowed, but the hotel will charge a fee and require a waiver be signed. At the downtown Ritz Carlton New York Battery Park at 2 West Street, pets are pampered with special sleeping bags and home-baked treats. Medium-sized pets are welcome at both. Like the Central Park location, this hotel requires a fee for pets ($125) and accepts pets up to 20lbs.

Other pampering properties include the Hotel 41 at Times Square at 200 West 41st Street, and the comfortable New York Marriott Marquis Times Square at 1535 Broadway, although the Marquis charges a non-refundable sanitation fee for pet owners to the tune of $250.

For smaller pets only:

At the Hilton Times Square at 234 West 42nd Street, room service can help with special food requests; and Concierge Teams can refer guests to dog walkers, pet groomers, and pet sitters. Pets under 12 lbs. are welcome. Pets under 15 lbs. are welcome at the Millenium Hilton at 55 Church Street across from Ground Zero in the heart of the Financial District. Four-footed guests are greeted with a biscuit the Waldorf Towers at 100 East 50th Street, an this Art Deco landmark that was one of the city's first "grand hotels," and with advance notice, their skillful concierges can organize a litany of services if you'll be spending more time on the town than with your pet during your stay.

The classy, all-suites Buckingham at 101 West 57th Street, located across from Carnegie Hall, accepts small pets only. A timeless classic, The Carlyle at 35 East 76th Street is an elegant showcase of great art, a purveyor of privacy, and a sanctuary of refined taste that welcomes small pets. Be advised: the Carlyle charges a $50 per night fee and limits its pet guests to under 25lbs. Pets under 12 lbs. can enjoy the panoramic views of Central Park from their rooms at the elegant Helmsley Park Lane at 36 Central Park South.

The Muse Hotel at 130 West 46th Street offers the Pampered Pooch Package, starting at $249* per night. Upon arrival, you'll find a delightful amenity basket in your guestroom, filled with canine treats and food and water bowls and New York's only doggie playground, "Canine Court," with open land and an obstacle course close by. Hotel guests and their dogs are welcome to shop together at Saks Fifth Avenue, Bergdorf Goodman, Tiffany's, Brooks Brothers, Banana Republic and the Gap.

The deluxe and spectacular New York Palace at 455 Madison Avenue gracefully blends a landmark 19th-century residence with a contemporary 55-story tower. It boasts some of the largest rooms in the city, but only accepts pets fewer than 20lbs. The Novotel at 226 West 52nd Street combines European service and the ambience of Broadway and accepts small pets, as does the entire Kimpton family of hotels.

The London NYC at 151 West 54th Street, an Art Deco luxury property, accepts pets under seven lbs. Featuring an ultra-modern design, the Shoreham at 33 West 55th Street is pet-friendly and within leash distance of Central Park; pet-weight limit 15 lbs.

For a quick-reference list to pet-friendly hotels, just click here.
Article first published at: http://www.nyc.com/visitor_guide/petfriendly_new_york_hotels.703633/editorial_review.aspx#tenfacts
Title of entire original article: Pet Friendly New York Hotels
In Part 3, titled "Need the Lowdown on Pet Friendly Travel to The Big Apple?" (coming later this week), you will learn about all the things you need to be sure to bring with you when visiting New York City with pets. For a wealth of information on traveling with pets, you can become a Pet Writes member. Membership is FREE. And full of benefits, like the latest updates on all kids of pet topics, as well as opportunities to share your stories in a variety of entertaining ways. Plus a valuable FREE GIFT to make your experience as a pet lover even more rewarding.
Pawsitively,

Chiwah Carol Slater

The Pet Story Passionista

Word Weaver Chiwah

Founder, PetWrites.com, WordWeaver4U.com
P.S.
Here is a list of the other four parts of this article:
    •    Part 1: So Many Pet Friendly Hotel Chains in The Big Apple? Who Knew?
    •    Part 3: Need the Lowdown on Pet Friendly Travel to The Big Apple?
    •    Part 4: What Are the Keys to Pet Friendly Travel Once You're in The Big Apple?
    •    Part 5: What Are Some Dog Friendly Restaurants in New York City?