If you're planning a trip to New York City and you want to take a pet or two with you, you may be looking for some pet friendly travel tips. Look no further. This post is Part 3 of a highly informative article packed with everything you need to know about what to take with you. Pet friendly vacations in the Big Apple are not nearly as difficult to arrange as one might think.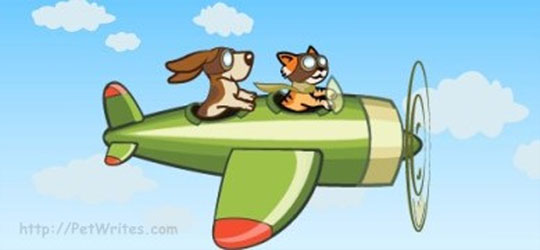 So here you go …
Part 3
Traveling To New York City With Your Pet

Traveling to New York City can be a harrowing or stressful experience even without the company of a pet and the responsibilities that go along with accommodating your four-legged or two-legged friend along the way. You and your pet will need to deal with a host of contingencies which relate to logistical planning, coping with people traffic, transportation schedules, and a variety of safety issues. None of these challenges will be a problem if you follow the golden rule of planning your itinerary in advance, seeing to it that you ask yourself all the pertinent questions before departing for New York City.

For starters, it would be advisable for pet owners to consider the following checklist of items which you may or may not need to bring along on your trip, depending on the type of animal accompanying you and his or her particular needs:

Ten Items To Bring Along When Traveling With Your Pet To NYC

1. A leash and collar with ID tags. Create a vacation tag giving your local address and a telephone number. It also may be helpful to bring along a photograph of your pet in case you are separated.

2. A few favorite toys, chew bones, balls, and treats.

3. A large container of fresh drinking water and a sizable supply of your pet's normal food.

4. A lightweight durable pet carrier or collapsible cage for easy transportation.

5. Portable food and water bowls, collapsible bowls and even paper bowls for the trip. If your pet eats canned food, don't forget the can opener.

6. A pet bed, whether it is a towel, mat, pillow, or travel crate.

7. Grooming brushes/aids. Any medication prescribed or suggested by your veterinarian, as well as vaccination records, particularly a rabies certificate or tag.

8. Pooper-scooper or plastic bags.

9. A flashlight for evening walks.

10. Paper towels for clean-up and old towels for drying wet dogs.

Although many pet friendly hotels provide or sell items that your pet might need during your stay in New York, it is smarter to bring the above items with you. Doing so will not only spare you a great deal of time, but also the expense of buying pet supplies which often cost much more when purchased at your pet friendly hotel . If you prefer to travel light, and need to pick up a few pet supplies while you're in the city, feel free to check out NYC.com's list of local pet stores.

Pet Documentation for Travel to the United States/ New York City

Upon arrival at one of New York City's major airports—JFK, La Guardia, or Newark—pet owners traveling domestically within the U.S. should be able to present a valid United States Veterinary certificate, which is available online.

All domestic dogs and cats must be free of evidence of disease communicable to humans when examined at the port of entry. If the animal is not in apparent good health, further examination by a licensed veterinarian may be required at the owner's expense.

A valid rabies vaccination certificate should also accompany your animal. This certificate should be in English or be accompanied by a translation into English. It should identify the animal, the dates of vaccination, the expiration date of the rabies vaccine, and be signed by a licensed veterinarian. The rabies vaccination must be given at least 30 days prior to arrival in New York City.

If a vaccination has not been performed, or if the certificate is not valid, the animal may be admitted if it is confined immediately upon arrival at a place of the owner's choosing. The dog must be vaccinated within four days after arrival at the final destination, but no more than 10 days after arrival at the port of entry. The animal must remain in confinement for at least 30 days after being vaccinated.

International travelers arriving in NYC with a pet, as well as U.S. residents returning to the U.S., will need to present an official Certificate of Health from an international vet, as well as a valid rabies vaccination certificate when moving through U.S. customs at one of New York City's airports.

So in general, if you're traveling to New York City any time soon, the veterinarian certificate and documentation of a recent rabies vaccination are the two most important documents you will need to have with you.

Pet owners traveling to New York who need very specific information regarding their particular pet, especially if it is an exotic species, should consult the most recent guidelines and restrictions set out by the Centers for Disease Control and Prevention.
Article originally published at: http://www.nyc.com/visitor_guide/petfriendly_new_york_hotels.703633/editorial_review.aspx#tenfacts
Title of entire original article: Pet Friendly New York Hotels
In Part 4, titled "What Are the Keys to Pet Friendly Travel Once You're in The Big Apple?" (coming later this week), you will learn the best ways to get around New York City with your pet companion.
For a wealth of information on pet friendly travel, you can become a Pet Writes member. Membership is FREE. And full of benefits, like the latest updates on all kids of pet topics, as well as opportunities to share your pet stories in a variety of entertaining ways. Plus a valuable FREE GIFT to make your experience as a pet lover even more rewarding.
Pawsitively,
Chiwah Carol Slater
The Pet Story Passionista
Word Weaver Chiwah
Founder, PetWrites.com, WordWeaver4U.com
P.S.
Here is a list of the other four parts of this article:
Part 1: So Many Pet Friendly Hotel Chains in The Big Apple? Who Knew?
Image credit: homoerectuss / 123RF Stock Photo