This is the fourth in a series of five parts of a longer article originally published elsewhere online. The topic is pet friendly travel to New York City. In this part, you will learn the ins and outs of getting a taxi, taking your dog to parks, and using dog runs in the Big Apple.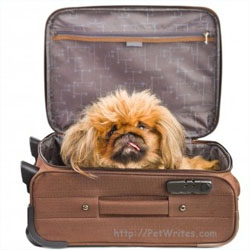 New York City is a pet friendly place! You're going to have a great time with your dog or cat, whichever you take with you.

Part 4
Getting Around New York City with Your Pet Companion

Traveling to and from New York's major airports into Manhattan also poses a number of questions for both the first time and frequent pet owner visiting the city. If you are traveling with a conventional pet, such as a dog or cat, pet owners should have relatively little problem using mass transit options heading into the city from the airport, so long as your dog is leashed or your cat is properly contained in a kitty carrier. For those pet owners traveling with more exotic pets, pets of a large size, or those with special health concerns, we recommend that you contact in advance one of New York City's specialized pet friendly taxi services to help you on your way.

244 Fifth Avenue #2908

New York NY 10001

212-755-1757

 

212-696-9744

718-752-1767

 

917-838-5557

 

These professional companies are well equipped and trained to handle any kind of problems that might come up in transporting you and your pet into and around the New York metropolitan area. Just give them a bit of advanced notice, especially if it's a busy time of day or on the weekend. They can also be very helpful in the unlikely and unfortunate case of emergency.

NYC Parks / Dog Run Guidelines

There are four signed designations for areas within NYC parkland:

1. No dogs allowed: Dogs are not permitted in these areas at any time. These areas include playgrounds, zoos, swimming pools/facilities, bathing areas/beaches*, fountains, ball fields, or on basketball/handball/tennis courts.

2. Dogs must be on leash at all times: Dogs must be kept on a leash at all times when in these areas.

3. Dog Runs: Dog runs are large, fenced-in areas for dogs to exercise unleashed. Created with the expertise of a Parks Department landscape architect and volunteers, the runs encourage play while supplying good drainage, safe lighting, and healthy plantings.

4. Designated Off-Leash Areas: Certain park areas allow dogs to be off-leash from the time the park opens until 9 a.m. AND from 9 p.m. until the park closes. Dog owners/attendants with dogs off-leash in these designated areas must obey all general rules, including having their dog under control at all times, licensing the dog, and carrying proof of the dog's rabies vaccination.

Obey the rules and regulations:

1. Dogs must be on a leash (no more than six feet long) at all times, except in dog runs and designated off-leash areas at prescribed times.

2. You must pick up after your dog and dispose of the waste in containers provided throughout the park.

3. You must prevent your dog from chasing birds, squirrels, and other animals.

4. Dogs are never allowed in playgrounds, zoos, swimming pools/facilities, bathing areas/beaches*, fountains, ballfields, or on b-ball/handball/tennis courts.

5. From May 1 to October 1: Pursuant to Park Rules and Regulations, dogs are not allowed to enter any bathing facilities, including New York City beaches. However, as a courtesy, leashed dogs are allowed on the sand and boardwalk at Rockaway Beach, Coney Island & Brighton Beach, Manhattan Beach, Midland Beach, and South Beach from October 1 until May 1.

6. No dogs are allowed on the sand at all New York City beaches. Leashed dogs are allowed on the boardwalk/promenade at Coney Island, Brighton, Midland, South, and Manhattan Beaches. *In the off-season, the Commissioner may use his discretion to permit dogs in bathing areas/beaches.

Respect the park and others:

1. Keep an eye on your dog at all times. Only you are responsible for your dog's actions. Please remember that other park visitors may be afraid of your dog.

2. Do not allow your dog to run and jump on other people or dogs without an invitation.

3. Do not allow your dog to drink from park fountains, unless a special dog fountain is provided.

4. Be good to the grass. Heavy use in a given area compacts soil and damages the turf. Keep walking – you'll see more and do less damage.

5. Please keep off wet grass. During and after a rainfall, topsoil is 20 times more vulnerable to compaction.
The entire article first appeared at: http://www.nyc.com/visitor_guide/petfriendly_new_york_hotels.703633/editorial_review.aspx#tenfacts
Title of entire original article: Pet Friendly New York Hotels
In Part 5, titled "What Are Some Dog Friendly Restaurants in New York City?" (coming in a day or two), you will learn about dining out with pets in New York City.
For a wealth of information on pet friendly travel, you can become a Pet Writes member. Membership is FREE. And full of benefits, like the latest updates on all kids of pet topics, as well as opportunities to share your stories in a variety of entertaining ways. Plus a valuable FREE GIFT to make your experience as a pet lover even more rewarding.
Pawsitively,

Chiwah Carol Slater

The Pet Story Passionista

Word Weaver Chiwah

Founder, PetWrites.com, WriteYourWayToProsperity.com, WordWeaver4U.com
P.S.
Here is a list of all five parts of this article:
    •    Part 1: So Many Pet Friendly Hotel Chains in The Big Apple? Who Knew?
    •    Part 2: What Are the Best Pet Friendly Hotel Chains in The Big Apple?
    •    Part 3: Need the Lowdown on Pet Friendly Travel to The Big Apple?
    •    Part 4: What Are the Keys to Pet Friendly Travel Once You're in The Big Apple?
    •    Part 5: What Are Some Dog Friendly Restaurants in New York City?
Image credit: violin / 123RF Stock Photo