How do dog breeders come up with Golden Retriever names?


Eldon Smith (not his real name) breeds Goldens. His favorite dam (I have never been able to refer to female dogs as "bitches"), Maggie, has a new litter coming in October. So Eldon is thinking about names for her pups. 


You may be wondering, why does a breeder name the pups? Shouldn't he leave that to the people who buy them? Not really. In order to register the pups, the breeder must come up with a unique breed name for each of them.


Since a show dog can't have a name already registered to another dog of the same breed, their kennel names are usually long combinations of single names. A new breed may have shorter names, of course. But if a breed has been around awhile, the kennel names can sound like the names of royalty. 


Golden Retrievers have been registered by the AKC since 1925. Over the last 87 years, you'd better believe it, the list of registered show dog names has grown quite long.
What new Golden Retriever names might he dream up?


Eldon is busy puzzling this out. But,though he's a good person and a dog lover from start to finish, he is the first to admit that he's just not endowed with a talent for choosing names.
(His wife balked when he wanted to name their daughter Gerta, after his German grandmother. They finally settled on Amber. When Eldon told her she nearly came to be named Gerta, she groaned. In 21st century America? No way!)

But Eldon's wife has told him that he needs to name the pups in Maggie's first litter. So Eldon is scratching his head. Can you relate? He wants to name them, but he feels kind of inadequate to the task.
Maggie's kennel name is Magical Day Gift. It's not an AKC name, because Eldon was the breeder and he isn't an AKC member. They gave her that name because her mother's name is Gift of the Magi, and she was born on what felt to Eldon and his wife like a magical day.
But those names are too long to be practical. So they call her mother Magi, and they call her Maggie.


Sounds like a good solution, right?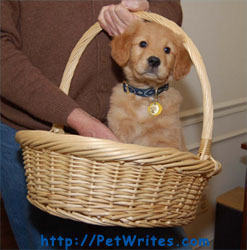 There are traditions in naming. Not that a breeder has to stick to them, but they are there to be called upon if the desire strikes.

 Eldon is thinking about following one of the following traditions:

• One tradition many breeders adhere to is that of giving a name (like a surname) to the litter as a whole, and giving the pups names that are subsets of that name.
For example, one person reports having  a dog named Mistral, from the Wind litter. The names of the other pups in that litter? We can imagine names like Breeze, Gale, Twister, Monson, Seabreeze, Sirocco, Zephr, Bise (the French name for a cold, moist Alpine wind) … and even Chicago (the 'Windy City').


This same person also has a dog from the Raptor litter, named Falconet; this dog might have siblings named Aerie, Eagle, Talon, Osprey, Kite, Hawk, Harrier, and Owl. Vulture? Let us hope not.


• Similarly, some breeders give each litter the name of a letter of the alphabet. The A litter might have names like Ale, Andy, Aster, Agatha, Alpine, Angel, and Apollo, and the B litter might be Buttercup, Barbie, Bacall, Baby, Bella, and Bo. And so on.


The person who buys Barbie or Zephyr or any other pup may choose to call the pup by their kennel name or to give them a new name. So there is no guarantee that the pups will be called by names Eldon chooses. Still, he wants to give them good, usable names.


If he follows either of these traditions, Eldon is going to need both a litter name and individual names for the pups based on that litter name. Do you have a good idea for  him? If so, leave it in a comment at the end of this post. 


For solid information on how to use your stories about coming up with Golden Retriever names to boost your business, become a Pet Writes member. That way you will receive all of our articles on the subject, plus all the information you need to keep your dog or cat (of any breed) healthy and happy. Plus, you will have access to members-only updates on how to tell great pet stories!
Pawsitively,
Chiwah Carol Slater
The Pet Story Passionista
Word Weaver Chiwah
Founder, PetWrites.com, WriteYourWayToProsperity.com, WordWeaver4U.com
Support Desk: http://petwrites.com/support
image credit: Golden Retriever by Pat Taylor