Lanie has had dogs all her life, a grand total of six so far. Her last dog, Prema, a gorgeous Rottweiler, died this last spring at the ripe old age of fourteen.
Prema was a survivor. From the very beginning, she managed to stand against all odds. Her first trial came  when she started showing parvo symptoms just a few months after Lanie (not this dog lover's real name) brought her home from the breeder.
Distressed to see her puppy suffering, Lanie took her to the vet. When the vet said the vomiting and diarrhea might be parvo symptoms, she was devastated. Would she die? She might, he told her.
Lanie remembers that week of calling every day to find out how Prema was doing, hoping and praying she would make it. "It was awful," she says. "I don't want to ever go through that again, ever."
Prema came through the parvo attack with flying colors, and lived a long and happy life. The parvo wasn't the last of her life-threatening challenges, though. One time she fell off a cliff and broke seven bones, and just a few years ago she was hit by a car.But those are stories for another day.

Now that she is gone, Lanie is ready to get another dog. What kind of dog? She is puzzling over that question. One thing she is sure of is that she does not want to get a dog from a breed especially sensitive to the parvo virus.
Are some breeds more sensitive than others? Yes, that appears to be the case. Just why this is so is not clear; some think it has to do with the environments in which the more susceptible breeds are typically kept, while others chalk it up to heredity.
Do you know which breeds might be more likely to contract the virus?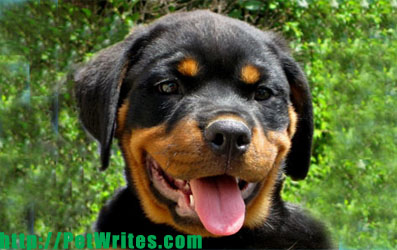 The most susceptible breeds include:
Doberman Pinschers

Rottweilers

Black Labradors

Staffordshire Terriers

Dachshunds
Even so, puppies and young dogs of all breeds can be infected with the virus. So while it may be advisable to pick a pup from a breed less likely to become infected, as Lanie is determined to do, that will not absolutely insure your pup against parvo.
The important thing, no matter what breed you choose, is awareness. Learn how to protect your dog against the disease, how to recognize the parvo symptoms, and what do if you suspect your dog is infected. When you join the Pet Writes community, your FREE PetWrites membership will provide you with all the information you need.
Pawsitively,
Chiwah Carol Slater
The Pet Story Passionista
Word Weaver Chiwah
Founder, PetWrites.com, WriteYourWayToProsperity.com, WordWeaver4U.com
Support Desk: http://petwrites.com/support
image source: Rottweiler puppy face on Public Domain Images