Are all the good Golden Retriever names already taken?
This question came to Arnie as he reviewed lists of suggested Golden Retriever names. If people had already come up with all these names, how was a person to find a name that hadn't already been taken?
He didn't have a lot of time to mull it over. His new pup needed a name, now.
His father had called his pup "Pup" for nearly a year, and then settled on "Aerie." It was a nice name. The wait hadn't been a registry issue, but only because his dad hadn't bothered to register him.
The real problem? Both man and dog had had a tough time making the switch.
Arnie didn't want to make that mistake.
He pored through lists of names, hoping one would strike a creative thought. And some of them did. But when he searched them out, he found they'd already been used.
Are you looking for an original kennel name for your Golden?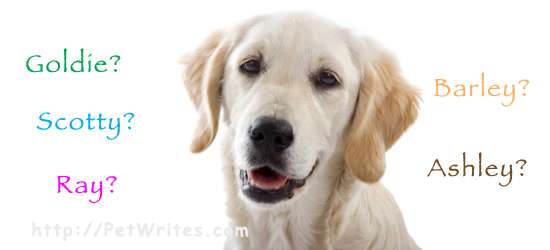 Here are some things to consider:
• An original name based on your dog's color is going to be the hardest to come up with.
• Likewise, people have been giving their Goldens names based in the history of the breed for a long time. So if you want a name with breed significance, you're going to have to dig deep.
• On the other hand, it shouldn't be hard to find a name in either of these two categories by using two words. "Claire Luca" (two words for light), for example, or "King Arthur" (Arthur being the English translation of the Celtic 'Artair,' meaning 'Bear').
• Remember, a dog's kennel name doesn't have to be its call name. King Arthur might be called Artie, a name easier for a dog to relate to, and Claire Luca might be called Clara, Luca, or even Blondie.
There are two important things about a call name. First, it must strike a warm note in your heart, and socond, it be easy for your dog to recognize as his or her name.
Join the Pet Writes community for more discussion of Golden Retriever names, as well as answers to a wide range of issues likely to come up with Goldens and members-only special offers. Membership is FREE, and comes with a range of unique opportunities for your enjoyment and enrichment.
Pawsitively,
Chiwah Carol Slater
The Pet Story Passionista
Word Weaver Chiwah
Founder, PetWrites.com, WriteYourWayToProsperity.com, WordWeaver4U.com
Support Desk: http://petwrites.com/support