Leontine was a big orange tabby with a big curiosity. She liked to play, and she liked to sneak out to visit the cat next door. But most of all, she loved to eat.
Elizabeth loved sardines. More often than not, she'd head for the kitchen in the middle of the afternoon after a client session to open a can for a snack.
Of course, Leontine wanted some. Should she give her a bite? Can you feed cats sardines? Elizabeth wasn't sure.
One day she gave in. Just one sardine. But first, she rinsed the mustard off for fear it might make the kitty sick. Besides, she probably wouldn't like the taste of mustard.
Mm … she liked it. No teasing it around her bowl, uh-uh. Leontine chowed down on that little fish, and came up licking her chops, ready for more.
Another one? Elizabeth wasn't sure. She finished off the can herself and vowed to find out more about that question. Can you feed cats sardines? Does it pose any dangers? In the wild, wouldn't cats eat them given half the chance?
So … What do you think? Do you feed your cat sardines? How about salmon? Tuna? A bit of sushi on an Asian night?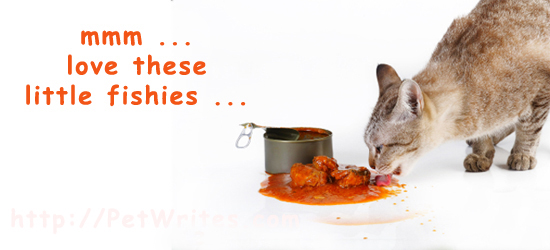 There are several dangers inherent in a fish diet for cats. Here's what we learned as a result of our investigation, checking in with several cat experts:
One danger is heavy metals, very common in fish. The smaller the fish, the lower on the food chain. Tuna is much more likely to give a cat (or a human) mercury poisoning than sardines.
Another danger is bacterial infection, like Salmonella. Be sure any fish you feed has been properly stored and not left out.
Salt. Sardines are salty, and should be fed sparingly. Too much salt is very bad.
Raw? Some say you should feed only cooked foods to avoid Salmonella, and hence no raw fish; others favor a raw diet for its higher nutrient content, and point out that processed foods have been recalled for Salmonella, too.
One argument against feeding cats raw fish is the presence of an enzyme that destroys thiamine, an essential B vitamin. This can lead to serious neurological problems. This enzyme is destroyed through cooking.
Some cats don't care for fish. But those that do can easily become addicted. If you are going to feed fish you should do it only occasionally, and in small doses.
Because of their lower mercury content, sardines (packed in water, rinsed of spices) are a better choice than tuna. But even after rinsing, they are still inherently salty. So don't make them a dietary staple.
So … Can you feed cats sardines? Yes! In moderation.
At its best, your business is an inherent part of your life. Like Elizabeth, you may have a cat or dog or bird that means everything to you, one that hangs around while you work and brightens up your day. 
Your stories about your pets can do great things for your business. That's one of the things a Pet Writes membership can help you take maximum advantage of. Get started now, with the 7-Day Trial. As a member, you will have excellent opportunities to learn all about how to touch more lives with your heart-centered business … and how to monetize in a way that will bring you the life of your dreams.
Pawsitively,
Chiwah Carol Slater
The Pet Story Passionista
Word Weaver Chiwah
Founder, PetWrites.com, WriteYourWayToProsperity.com, WordWeaver4U.com
Support Desk: http://petwrites.com/support