How about a dog training treat to help your pet get into the Hallowe'en spirit?
There was a time when I wrote about how I'm not much of a fan of using treats with your dog. Well … even I will concede that there are times when a dog training treat can come in mighty handy!
Hallowe'en just may be one of those times. Here's an excellent article on the topic. written by Laurie C. Williams for the Stafford County Sun, reformatted a bit here for ease of reading online:
It's that time of the year again. Pet costume contest season is upon us and soon we'll be receiving those e-mails of photos of dogs and cats dressed in the craziest get-ups. Most will have captions demeaning the horrible humans who would do this to their pets, despite their best intentions.

However, it doesn't have to be this way. Wearing clothes can and should be a pleasurable (or at least tolerable) experience for your pet if introduced in the right way.

The key lies in giving the pet time to acclimate to the feeling of having clothes on his body. Think back to the first time you put a collar on your dog. At first balked at the idea, am I right? But you were patient and allowed him time to get used to it, likely several days.

Well, clothes are really no different. You can't expect a dog to immediately love that pirate costume the moment you put it on him. Many dogs will either immediately try shaking or tearing the clothes off or simply sit still and refuse to move. In either case, they're not embarrassed, they're uncomfortable.

So, if you have a pet costume contest in mind or want your dog to go trick-or-treating with the kids this year, start acclimating him to his outfit now. If it's a multi-part costume, start dressing him in the separate pieces one at a time, allowing him a chance to get used to each one.

I have found that hats, wigs, and things that go on a dog's head like glasses or goggles, and things that go on the paws like booties or socks are the hardest items for your dog to get used to. If your dog finds any particular piece excessively objectionable, select an appropriate alternative.

Just how important is winning that contest anyway? Hopefully it isn't more important than the comfort and happiness of your beloved companion. Some of the most creative pet costumes I've seen were based more on the theme or idea rather than the actual clothing.

A pet is more likely to win a costume contest if he appears happy and animated while wearing it. Getting your dog to view wearing clothes as a good thing rather than a punishment is easy to accomplish if you remember to make it a pleasurable experience.

Reward your dog with the highest value rewards you can think of. If he is food motivated, tasty treats should do the trick. If he loves to play, buy him a brand new ball or tug toy that comes out each time you put him in his costume. Lavish your dog with lots of praise and touch and let him know he is doing a great job.

Clothing acclimation sessions, just like any other training, should be kept short, sweet and should always end on a positive note. In no time, your dog could be strutting his stuff down the runway!

Stafford business owner Laurie Williams is a television and radio personality and nationally-recognized dog trainer.
(Originally titled "Dressing your pets for success," the above article was published on October 3, 2012, here.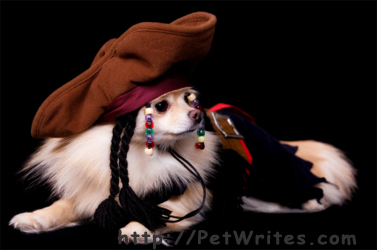 So … what do you think? Don't you agree that this is one of those times when I ought to eat my words? Like, who made me the resident dog training expert?
One thing I do know is that we all love a treat! 
If you're in business for yourself, this is something you can't afford to forget. But … one person's treat is another person's trick! That's why it's so important to really understand your target audience, what kinds of things will elicit from them the response you're looking for.
As a Pet Writes member, you'll learn the secrets to getting to know your target audience fast. Say goodbye to failed promotions! Get started now with the complimentary 7-Day Trial of our Pet Writes Business M.A.G.I.C. GOLD Membership.
To your Halloween fun … and a successful business!
Chiwah Carol Slater
Founder, PetWrites.com, WordWeaver4U.com
Support Desk: http://petwrites.com/support