Back in the early '70s our black Dalmation/Doberman cross, Cory, lived with my husband and me out in the country. We had bought part of the old Devil's Gulch Ranch in Marin County, California, when it was divided up. We had another dog with us too, a little German Shorthair Pointer named T-Bone.

Dobermans are considered one of the smartest dog breeds, and Dalmations are quite intelligent, too. Cory had the best of both. Though no match for T-Bone when it came to pointing out birds, in every other respect she beat him hands-down in intelligence.

She had been with us for a couple of years. We had trained her as a pup to come and heel and stay out of the street. It was easy, because she learned fast.

In addition to being one the most energetic and smartest dog breeds around, Dobermans make wonderful pets. And Dalmations are renowned for their perky personalities and unquestioning loyalty. Cory was smart, perky, and incredibly loyal.
And she loved the woods. After we moved to the country she loved being out on the trail with us.
Sometimes, walking along a trail, Hal or I would ask, "Where's Cory?" Looking around, we wouldn't see her. Why? She was too close! Right down there between my legs and his, totally unobtrusive.
And she wasn't a little dog.
One day, hanging out at the ranch while Hal was away on business, I heard a cry. It sounded for all the world like the cry of a baby. Since we didn't have any babies in our valley, I wondered who it could be.
Stepping outside, I was horrified to find Cory standing over the prone body of a fallen fawn as it bawled for its life.
What to do? Would she come if I called her off? Had she hurt the fawn? I didn't know.
I called out to her sharply. "Cory, come here, NOW!"
It may have been the desperation in my voice that broke through her intense focus on her prey. She turned her head and looked up at me, and I called out again.
She amazed me by dropping her stance and coming to me! She held her head high, eyes wild and alert.
The little fawn scrambled to its feet, unharmed. After looking around in confusion and disbelief, it bounded away.
I was shaken, to say the least, and shocked. Shocked that my dog had responded so well! To tell you the truth, I don't remember whether I expressed my outrage at finding her standing over the fawn before I congratulated her on coming to me so quickly when I called her off.
But congratulate her I did, for she had certainly done what she had been trained to do. She had come when called, even at a moment when I would have expected her animal instincts to predominate.
Would your dog respond as well in a similar situation? If he were drawn into a fight, would he come when you called?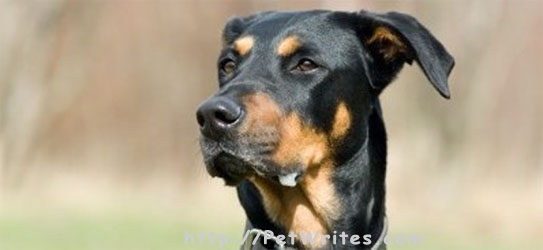 Here are some tips for making sure your dog will return to you whenever you call him.
Use one specific command, the same one each time you call your dog. Use that command when you call her for things she loves … like dinner, or a game of fetch, or a tasty treat. That way, she will develop a positive association with your call.
Be sure to reward your dog for coming when called. If she hates baths and you're planning to give her one, give her a reward first. Wait a few minutes, keeping her nearby, before you introduce the bath idea.
"If you and your pooch haven't been active outdoors in a while because of the summer heat, do some remedial recall training. Dogs, like people, get rusty on their skills if they aren't using them." (Taken from an article titled "Pet Tips for Fall" at www.skycrestvet.com/newsletter.htm)
Truth be told, I wasn't up on training tactics in those days. But when I wanted my dog to come, I called her by name and said "Come!" or "Come here!" So there was that consistency, no matter how unconscious on my part. And I'm sure the tone of my voice played a part in bringing Cory off that fawn. Plus, it may have helped that she had sufficient intelligence to override her canine instincts when I called out to her.
Whether your dog is one of the smartest dog breeds or just lovable and sweet, training is essential to protect your dog from harm and to keep him or her from doing damage to others or to property. To learn more about how to train your dog without spending a penny, go to http://petwrites.com/get-a-bonus-gift-when-you-order-your-free-dog-training-course/.
Pawsitively,
Chiwah Carol Slater
The Pet Story Passionista
Word Weaver Chiwah
Founder, PetWrites.com, WordWeaver4U.com
Support Desk: http://petwrites.com/support
Image credit: laengauer / 123RF Stock Photo