There are many reasons for training your dog. Some of them are critically important. And sometimes, like Ellie, you just might want your dog to learn to like something you like.

Gracie had adapted easily to the special bowl Ellie bought her last fall to slow down her eating.
This darling little white pooch had always gobbled her food. But now, forced to take her time and work her tongue around the mini-obstacle course built into her bowl, she seemed to take it in stride.
Last Christmas, Ellie found a way to use the bowl to help Gracie get used to her Christmas present. Ellie had knitted her a cute multi-colored sweater and cap with big pompoms on it. On Christmas morning, she presented the box to Gracie and let her have at it.
The first thing Gracie did was chew through the ribbon. Then, she used her teeth and paws to pry the lid off the box and nuzzled her nose down into the tissue paper.
At this point Ellie reached in to grab the sweater and cap before the dog destroyed them. "Look, Gracie! A new sweater, just for you! And a snow cap!" Gracie sniffed the sweater and cap.
Hmm, nothing good to eat there.
Gracie sat quietly while Ellie slipped the sweater over her head and worked her forelegs into the sleeves. She even seemed to enjoy the attention. But she was not going to sit still for the cap. No way! Every time Ellie managed to get it over her ears, Gracie grabbed her head between her paws and pulled it off.
Ellie took her to see herself in the mirror. But Gracie showed no interest in viewing her newly attired self.
The following day, Ellie pulled out the sweater and cap to put them on her dog. Again, Gracie was fine with the sweater. But as soon as Ellie showed her the cap, Gracie ran and hid in the closet!
Ellie was crushed.
Living in South Florida, the weather isn't cold enough to require dog sweaters. Ellie had made the sweater and cap set thinking it would be fun to dress Gracie up for her training lessons. But Gracie was having none of that cap.
Ellie thought that training your dog should be a fun thing. She did not want to force it on her.

What would you have done?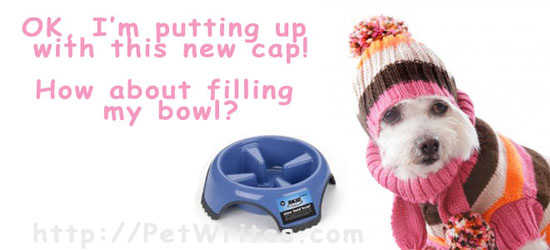 Here are some options Ellie considered:
Giving up on the cap and just being grateful that her dog was okay with the sweater

Handing the sweater and the cap over to her sister's dog, who loves wearing doggie fashions

Tying the sweater to something besides treats that Gracie already loved
What Gracie did like was DINNER. So Ellie began putting the sweater and the cap on her just before mealtime, and then making sure Gracie had an extra special meal in her small slow feed pet bowl, the lamb dinner she loved most.
Now Gracie had a choice. She could take the time to paw the cap off, or she could go for her dinner. What do you think she did?
Gracie is from one of the smartest dog breeds around. After the third meal in her cap, Gracie had gotten used to the feel of the cap over her ears. After that, she started coming to get the sweater and cap off the shelf herself and bringing them to Ellie to put them on her before dinner!
Reflecting on the experience, Ellie realized that some of the lessons she was learning training Gracie had application to her business. Surely she could be as trainable as her dog! What if she were to use the principle of positive association to train herself to tackle some of the administrative tasks she had been putting off?
Why is training your dog important to YOU? For one thing, you can apply what you learn in the process to strengthen your business! As a Pet Writes member you will have all the info you need to find out how, at your fingertips. Get started today with the 7-Day Trial!

Looking forward to showing you how to use what you learn in training your dog to move your business forward,
Chiwah Carol Slater
Word Weaver Chiwah
Founder, PetWrites.com, WordWeaver4U.com
Support Desk: http://petwrites.com/support
Image credit: lovleah / 123RF Stock Photo