Are you thinking of launching a business of your own? Or maybe you already have. Either way, do you think you might benefit from expanding your repertoire of home based business ideas?
Sally and Maryann (not their real names) found ideas that have transformed their lives.
Sally and her husband Jake owned a bakery. Last winter, they decided they were tired of the "same old same old" and needed something new to make life interesting.
They considered ditching their bakery operation and opening an antique shop. Vintage furnishings was an interest they shared and had been talking about for years. But they didn't want to throw away the success they had created with their bakery. But how could they handle their old business and a new one, too?
Maryann had never been in business for herself. Recently retired from teaching, she had no idea how to start. In her quest for home based business ideas she met Matt, who got her excited about network marketing.
But after her first couple of months as a distributor for a major nutrition company she threw up her hands in despair. She wasn't a marketer at heart, and though she knew nutrition was important and that the products were top-notch, she wasn't making any headway.
So … you may be wondering, how do you find and choose between home based business ideas to refresh your old business or get a new one off the ground?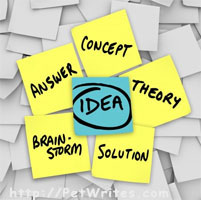 Here are a few suggestions:
Be clear about what feeds your heart and soul, and stick to that.

Search Google for keyword phrases related to 'business ideas.' For example, if you love tennis, search 'tennis business ideas.'
Get creative in your Googling, and read and digest reviews on whatever you find.
Make your business stand out by finding creative ways to combine two or more things you love (and excel at) into one business. For example, I combined my love and expertise in entrepreneurship, pets, and writing and publishing to come up with my new entrepreneurial focus on PetWrites.com.
Both Sally and Maryann were stumped. What to do? They went looking for answers. And they didn't give up.
Sally and Jake hired a business transformation coach. Today they are partners in Sweetie's Old Tyme Bakery Bistro. Named after their beloved kitty, Sweetie, the cafe offers outdoor seating for people and their pets. The couple spends their weekends indulging their antique hobby, shopping for vintage furnishings their customers love to buy and take home.
And Maryann? Once she decided to leave network marketing behind, she went online and paid top dollar for business coaching. These days she is putting all the skills she developed managing high school students into running a profitable nutritional spa.
Can you get similar results, without spending all your savings? Yes, you can. All it takes is the right mindset, a qualified mentor, and putting one foot in front of the other.

For in-depth insight on how to bring more life to your life and your income source, become a Pet Writes member!  In March 2013 we launch our multi-tier membership program to lead you step-by-step from Entrepreneur Mindset … to Building Your Brand … to Intuitive Business Plan … to becoming a Published Authority … to Business Success.

Best of all, we'll show you how your pet can help you bring more life to your business! (It worked for Sally and Jake, and it can work for you. And no, the business doesn't need to be pet-related or named after your pet.)
Don't wait. Get in now as a Founding Member and receive not only our FREE membership, but also a FREE 3-month upgrade to our Gold Membership, with weekly webinars featuring home based business ideas that can turn your life around. This offer will only be available for a short while, so take advantage of it today.
If you're seeing this on the video, go to
petwrites.com/foundingmember
Pawsitively,
Chiwah Carol Slater
The Pet Story Passionista
Word Weaver Chiwah
Founder, PetWrites.com, WordWeaver4U.com
Support Desk: http://petwrites.com/support