Do you suffer from a love-hate relationship with Jewelry Television?
I can't say I blame you for loving it. Very tempting, all that dazzle. They make it so EASY to get sucked in, don't they?
I can't say I blame you for hating it, either. But there is a really good solution. Read on.

Before I get to the solution, let me tell you that Tanya was in the same boat. Rings were her big weakness. She could spend a whole morning oohing and aahing over them.
Even her Shih-Tzu, Sachie, loved the jewelry. Tanya was sure of it. Sachie loved dressing up, and she would sit on her lap as Tanya oohed and aahed at the parade of gorgeous jewels on the tube. (Did Sachie really watch? Hard to say. But it felt to Tanya like she did.)
Trouble was, Tanya (not her real name) had a business to run.
Oh, she would survive if she just snuggled up with JTV. But it's hard to just snuggle, isn't it? With all those great deals on drop-dead gorgeous jewelry?
And those "Save $15 When You Spend $150" banners?
Out comes the credit card! Whoosh! Uh-oh, Tanya's inner voice whispers. Better make some money.
Tanya's business was suffering, and it wasn't just because of her addiction to Jewelry Television. There were all her other favorite shows, too. And the grandchildren. And volunteering. And … and … and ….
Besides that, Sachie's whine reminded her that the poor dog wasn't getting her exercise. Why? Because Tanya couldn't pull herself off the couch to get out and walk her! Jewelry TV had become way too addictive.
Tanya (not her real name) knew she needed to develop the self-discipline habit. But she didn't have the first idea how.
Can you relate? What are you going to do about it?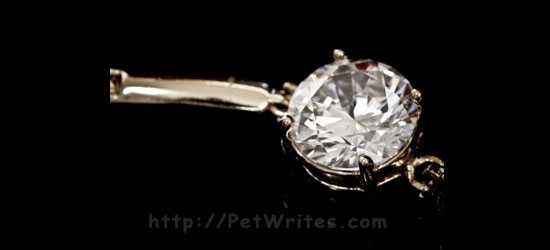 If Jewelry TV is a big tempter for you, here are some things you might try:
Limit your TV time.

Ask your friends to help by asking you how your business is doing.

Bring out all the jewelry you already have and revel in it. I t may help you to feel less tempted by what you see on JTV.
Tanya finally came across a solution that can work for you as well. A friend was out walking his dog and invited Tanya and Sachie to join them. He was wearing a pedometer that turned the walking into a game. Tanya got inspired and bought one, too.

Now she walks Sachie twice a day!
The grateful little dog is so much happier now. And she has lost that half-pound of fat she had put on lying around while Tanya watched TV.
Even Tanya is feeling better – physically, thanks to the walking, and psychologically, too. She's excited about taking care of her business again.
What about you?
If you need motivation to stop wasting time on Jewelry Television, get the Striiv Smart Pedometer. Turning walking your dog into a game – complete with points and coins and real-life rewards for your favorite charities – is a much healthier addiction!

If you're seeing this on the video, go to
petwrites.com/foundingmember
Pawsitively,
Chiwah Carol Slater
The Pet Story Passionista
Word Weaver Chiwah
Founder, PetWrites.com, WordWeaver4U.com
Support Desk: http://petwrites.com/support