There are pet friendly hotel chains in most large American cities. In the Gulf area of Florida, though, people report that it's pretty tough to find a quality hotel that will accept your pets.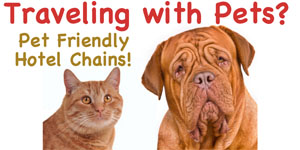 You shouldn't have to camp out to travel with your cat or dog!
My friend Tracy (not her real name) wanted to take her cat and dog with her to a business conference in Tampa.
The last time she'd traveled, she'd had a pet sitter come stay at the house.
Reina, Tracy's kitty, calm and sedate by nature, had responded with characteristic aplomb.
But Koochie, Tracy's French Mastiff, hadn't taken kindly to Tracy's replacement. The poor house sitter reported that he insisted on sitting at the door, whining constantly, all week long. By the time Tracy returned, Koochie was thin from not eating. And although the sitter had done her best to comfort him, he had ugly bald spots where he had pulled out tufts of his formerly gorgeous red fur.
The last thing Tracy wanted was a repeat performance. She thought she might take the dogs along this time. She had heard about pet-friendly hotels, and went online to see what she could find.
To her dismay, she saw right away that most pet friendly hotel chains allowed only one pet per room, and there seemed to be a marked reticence to accept large dogs. Most  wanted only dogs that weighed under 25 pounds!
Koochie was both way over that. He weighed in at over 70 pounds!
The dog's size was a definite limiting factor, but Tracy did find a listing for a Hampton Inn, a Hilton, and another smaller hotel in Tampa that said they would accept dogs weighing up to 75 pounds.
But two pets? That was another issue. "We can only allow one pet per room, or things get totally out of hand," the concierge at the smaller hotel said. "I'm so sorry, but I'm sure you can understand. Perhaps you might consider taking two rooms?"
Tracy actually considered that. But she had read the stipulation that pets had to be crated when the owner was not in the room with them. That wouldn't do. She couldn't be in two rooms at once, and she did not want to leave her pets crated for long periods.

She called the Hilton. "Oh, no, we do not accept pets," she was told.

Beginning to doubt that she would find lodging for herself and her two canines in Tampa, Tracy called the Hampton. "Yes, no problem," the concierge said. "You just pay a $20 fee per animal each day you're with us."
Tracy was delighted to have found that there are hotels in the Gulf area that are truly pet friendly. The charge was minimal, and they even told her she could take the dog and the cat into the seminar room as long as she kept them on a leash and they didn't bother anyone.
If you're thinking of traveling with your pets, here are a few tips to keep in mind:
Start out by looking for a hotel that welcomes pets. Googling "pet friendly motel chains" plus the name of the city is a good way to find a list of pet friendly hotels in the area.
Check out any restrictions, fees, etc., and then call the hotels you're interested in to verify what you found online.
Look on the hotel site for Emergency Veterinary Clinics in the area, or use Google to find that information.
Check with the airline in you are flying to find out about any size or weight restrictions for your carrier, whether you will need a health certificate or proof of vaccination, whether you can have the dog in its carrier with you in the cabin, and what extra pet fees the airline will charge.
Keep your pet on a leash when outside your car or hotel. Pets can easily become disoriented in a strange area.

Make sure your pet wears identification tags or some device by which you can be located should it become lost.

Traveling may upset your pet's stomach. Feed light meals during travel, a few hours before departure to give the food time to digest.

Be sure your pet gets sufficient water in the hours before the trip.

Arrive at the airport in plenty of time. Find out online or by contacting the airline how much extra time will be required for traveling with a pet.
Traveling with a pet, or even two, can be a real delight. Sharing experiences and adventures, being together, knowing your pets are getting the love they need– all this can add up to a memorable trip! One your friends will enjoy hearing about when you get home. None of us is here forever; the point is to make the most of what you have and use it to touch other hearts.
Good thing you can find pet friendly hotel chains in cities all over the world, right?
When you become a Pet Writes member, you will have lots of information about pet friendly hotel chains at your fingertips. And ample opportunity to share your pet stories, too. If you have a business, you'll learn the secret to using your pet stories to impact more people and make more money. Get started today with the 7-Day Trial.

Pawsitively,
Chiwah Carol Slater
The Pet Story Passionista
Word Weaver Chiwah
Founder, PetWrites.com, WordWeaver4U.com