Have you recently lost one or more valued clients? If so, it might be time to take a close look at your customer relationships management system.

Elizabeth was puzzled. Though she had thought she was doing a great job of serving them, in the last two months she had lost three valued cleints. For a little coaching business like hers, that was significant. And just when she'd begun to feel safe about her economic future!
She tried to remain objective, examining each case in turn. Why had they left?
One had said she could no longer afford coaching.
Another had told her he was leaving the area. But so what? Coaching by phone was as effective as coaching in person. She'd tried to make that clear, but he seemed to have already made up his mind.

And the third? He had simply disappeared. No explanation. He'd been a good client, too, had even brought her a number of referrals. Clients like that were pure gold.

She was frustrated. She had bills to pay, commitments to keep, and three demanding cats to feed and care for – not to mention the myriad expenses of running a home business.
Her back ached. Her weekly massage was a luxury she couldn't afford right now.
She sighed deeply.
Then, opening the front door, she was greeted by Tommy, one of her orange tabby kitties. Right on time, with a loving brush against her left calf! Tommy was glad to see her. That made her feel better.
Meow! Meow!
She opened a can of cat food, and suddenly the kitchen was alive with feline activity. Well, at least her cats were happy customers.
She needed to get to the bottom of her problem. She hated the thought that she might have offended them, or that they might not feel they were getting good value for their time and money. Plus, she really couldn't afford a continuing client drain. She had heard about customer relationships management systems, but she didn't have any formal approach in place. Was it time to implement something?

Is this something that's been on your mind as well? Have you been losing clients? Do their explanations for leaving ring hollow to your ears?

What more could you be doing to make sure your clients stay with you?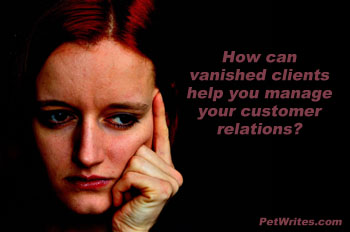 Here are some things to keep in mind about customer relationships management:
Staying in touch with existing clients via email, phone calls, and social media is the first step to managing your clients' experience. If you don't have systems set up for this, you need some. Don't wait.
A client may have reasons for leaving that they don't want to disclose. But if you can get them talking, you may begin to see the light. What have you got to lose?
Contacting departed clients to find out why they left can help you serve future clients better. If you don't know what's wrong, you can't fix it.

Believe it or not, departed clients can be a goldmine of new business.
Remember, life is change. Sometimes those changes don't feel good. But if you can find out why your clients are leaving, you will have the information you need to make needed changes.
It may turn out that your departed clients were not at all dissatisfied with your services. If so, you can at least salvage the peace of mind that comes from knowing their leaving was beyond your control. But you can't know until you talk to them.

And it ALWAYS helps to talk out your worries with your pets! At its best, your business is an inherent part of your life. Like Elizabeth, you may have a cat or dog or bird that means everything to you … and even an otherwise aloof kitty will usually soften if he sees you're in a bit of a funk.

Your stories about how your pets help you get through the rough days can do great things for your business. Storytelling is one thing a Pet Writes membership can teach you to use to great advantage. Get started now, with the 7-Day Trial. As a member, you will have excellent opportunities to learn all about how to touch more lives with your heart-centered business … and how to monetize in a way that will bring you the life of your dreams.

To your continuing success in managing client relationships,
Chiwah Carol Slater
The Pet Story Passionista
Founder, PetWrites.com, WordWeaver4U.com
Founder, Facebook.com/PetWrites
Support Desk: http://petwrites.com/support
image credit: http://goo.gl/i9BcVy