Welcome to PetWrites!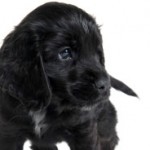 Hi, I'm Chiwah Carol Slater, the Pet Story Fairie of PetWrites.com.
Like you, I love animals. These days I share my home with a cute little terrier, a pet rescue adoption arranged through a friend. She and the host of dogs, cats, goats, rats, birds, and horses with whom I've shared my life have brought me an untold wealth of love, fun, heartache and joy.
I'm sure your pets have done the same for you.
"My" animals taught me that it was really they who took care of me, at least as much as I took care of them.
It all started with Nippy, a black Cocker Spaniel mix pup we found at the pet rescue adoption center (we called it "the pound") when I was six. I don't recall how she came to us. From a shelter, I suppose. Or maybe from a neighbor whose dog had birthed a batch of new pups.
For three years, Nippy shared my bed, my play, my heart. And for that, all I did was feed her out of a can, twice a day! And give her water.
I confess I cheated a bit on the water, rinsing her dish only every other time.
In return, Nippy put up with my wrapping those little green rubber bands that came on the morning newspaper around her nose.
She loved me through wads of peanut butter stuffed into her mouth, and didn't seem to mind my laughing as she contorted her tongue and lips in an effort to unstick her teeth.
She walked me to school every morning and met me to walk me home in the afternoons.
And she snuggled close to comfort me on dark, scary nights when big shadows moved about the room.
She was the family dog, but she was my best friend.
I admired the sheen of her wavy coat in the sun's rays. I bathed daily in the sea of warm brown love streaming from her eyes. And when she lifted a paw to my shoulder, I knew beyond a shadow of a doubt that she "got" me to the core.
She never barked. (None of my dogs have been barkers.) She never complained, not even when we sat on her back and goaded her forward. She had the softest belly!
She wasn't perfect. As a pup, she nipped at our heels. Hence her name. And if my sister couldn't find her left blue slipper, we all knew Nippy had hauled it away and that when we found it it would be wet and gooey.
The day Nippy had puppies under my parents' bed, my awe was unending. So wet and warm and squeaky… six little Nippies, two of them with white on their chests just like their mama.
 Other animals had come and gone in my life, each leaving its own mark on my heart. None of them has eclipsed my love for my childhood black spaniel soulmate.
Some of my most beloved pets came to me through pet rescue adoption centers. How can you know whether you should you should try it? Consider the following:
The most important thing in choosing the right pet is how the animal relates to you. Even if you're buying for breed, would you want to live with an animal who didn't open your heart? Rescue centers and breeders both have loving dogs, but you won't relate to all of them. So take your time. Go to a rescue center, and go to a breeder. Feel them both out and then decide.
If you're thinking you want a particular breed, it's just possible the right dog may be sitting at your local rescue center. Most of the pedigreed dogs that end up in rescue centers are never picked up by their original families.
If it's the pedigree that matters to you, go to a breeder. You won't get papers from a shelter.
On the other hand, if you're a softie who would delight in saving the life of a healthy, good-natured dog, head out for the nearest shelter. Every time you look into your pet's eyes, you'll be so glad you did.
PetWrites.com is intended as a haven for the animal lover in you, and offers you a special opportunity if you are also a lover of words. I invite you to explore upcoming posts for solutions to your pet challenges. And feel free to express the emotions your own pet stories bring up for you.
If you're a professional who loves animals and stories about animals, there are many ways you can use your animal stories to boost your business. As a pet Writes member, you'll learn the ins and outs of how to do that, as well as the secrets to getting your life back while you take your business to the top. Get started today with the Pet Writes 7-Day Trial.

Pawsitively,
Chiwah Carol Slater
The Pet Story Passionista
Word Weaver Chiwah
Founder, PetWrites.com, WordWeaver4U.com