How hard is it to find pet friendly hotel chains in New York City? You might imagine that dogs might be unwelcome in big city hotels. But, to my astonishment, I found that the Big Apple is quite a dog-friendly city!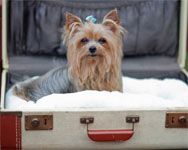 Rather than try to give you a report on what I found – and what you might find – in New York, I'm going to just let you read this a particularly informative excerpt from a website focusing on the abundance of pet friendly hotel chains in the Big Apple:  
New York City: Your Number One Pet Friendly Destination

Thinking about traveling to New York City in the near future? Can't bear the thought of leaving your beloved animal companion to stay with strangers while you're gone?

Think no more! Visitors to the Big Apple will be pleasantly surprised to learn that New York City is one of the pet friendliest cities on the planet, a destination where just about every basic pet need can be accommodated.With hundreds of pet friendly hotels, dog runs, restaurants, attractions, pet stores—and dog and cat sitters galore—you can do it all here in the city that never sleeps! In other words, your pet companion never really has to leave your side. Just call up a pet friendly taxi or chauffeur, grab your leash or carrier, and start navigating the city, and you and your pet are good to go. In New York City "location is everything", and that applies not only to the resident New Yorker. It also applies to pet owner tourists and visitors to the city who want to a find conveniently located pet friendly things, all of which can be found here on NYC.com.

Our Pet Friendly Hotel Guide gives you information below about:

• Top Ten Facts about Pet Friendly Hotels & Motels

• Recommended Pet Friendly Hotels

• Traveling To New York City With Your Pet

• Ten Items To Bring Along When Traveling With Your Pet To NYC

• Pet Documentation for Travel to the United States/ New York City

• Getting Around New York City with Your Pet Companion

• NYC Parks / Dog Run Guidelines

• Pet Friendly Restaurants In New York City

• Pet Sitters In New York City

Home to over 120,000 dogs, countless cats, birds, fish, and other exotic creatures, New York City was recently ranked as the number one pet friendliest city in the United States by Animal Fair Magazine. Over 100 hotels in the city accept and cater to visitors arriving in the Big Apple with pet companions in tow. In fact, if you're willing and able to spend a little money on your pet during your stay in New York City, your pet might feel so lovingly pampered here that he or she might not want to leave when it is time to head back home.

NYC.com's Top Ten Facts about Pet Friendly Hotels & Motels

1. The majority of hotels, motels, and resorts in the US and Canada do not allow guests to have pets of any sort in their rooms.

2. A "pet friendly hotel" is a hotel that allows guests to have a dog, cat, or other small animal in their rooms, and they usually provide services and items that cater directly to your pet's day to day needs.

3. A "pet tolerant hotel" allows guests to have a dog, cat, or other small animal in their rooms, but offers little or no services or items which a traveling pet in a guest's company might need.

4. Some pet friendly hotels do not charge extra for pets. But many charge either a per stay or per night pet fee. These fees are usually non-refundable and vary according to each hotel.

5. A deposit, on the other hand, will usually be refunded if your pet does no damage.

6. Some hotels are dog friendly only. Cats are not allowed.

7. Most hotels will expel dogs that bark and disturb other guests.

8. Pets are required to be on a leash or in a box or carrier during their stay at a pet friendly hotel when they are in places frequented by other hotel guests.

9. Pets are generally not allowed on furniture or beds, and are not allowed to enter hotel room bathroom facilities.

10. Hotel staff always need to be notified of a pet's presence before room cleaning takes place each day during a guest's stay.

All the above facts generally apply when making reservations for New York City pet friendly hotels or motels. In addition to understanding this pet relevant information, you will also need to decide on the right location of your hotel and the types of pet services and amenities you would like during your visit.

At the low end of the pet friendly hotel scale, you can book a "pet tolerant" hotel which allows your pet to stay with you in your room, but offers very little in terms of pet creature comforts or pampering. Sometimes this can actually mean that you are booked into a room that is normally reserved for hotel guests who smoke, and you are pretty much left to your own devices regarding the care and supervision of the pet traveling with you. At the high end of the pet friendly hotel scale are established hotels which not only welcome your pet, but also offer numerous services and amenities intended to provide them with a kind of royal pet treatment. Gold-plated id tags, massages, bone-shaped pillows, customized pet beds, complimentary toys and treats, boutique products, spa treatments and grooming services, even pet psychic consultations can be arranged at pet friendly hotels which operate according to the maxim that not only the customer, but also the pet, is king.

The advantage of booking a "pet tolerant" is, of course, price. So if you are concerned about the additional costs involved in staying in New York City with your pet, and feel comfortable shouldering the burden of responsibility in taking care of every aspect of your pet's accommodations and overall well-being, this is definitely the way to go.

NYC.com's Recommended Pet Friendly Hotels

If you are willing to pay a bit more during your stay, there are a number of New York City hotels that provide the highest level of creature comforts and services specifically catering to the conscientious and perhaps more well-to-do pet owner traveling to New York City:

The entire Affinia chain of hotels is extremely pet-friendly, with each of their New York hotels offering first-class service for pet owners and their beloved companions, going so far as to offer a Jet Set Pets program, which includes services like grooming, walking, training, and—we couldn't make this up if we tried—pet psychics. For example, the Affinia Dumont at 150 East 34th Street, is a distinguished, all-suite hotel located in the Murray Hill neighborhood that greets your pet with gourmet treats, rooms equipped with food and water bowls, and information on local pet resources. Their other properties in New York are just as accommodating to pets, so check out the Affinia 50, Affinia Manhattan, Affinia Gardens, and the Affinia Shelburne for more great places for you and your pet. The Hilton Waldorf Towers also offers a Hilton Pet Friendly program, which includes the Crypton Clean Pet Pillow, bowls, and a placemat, as well as a list of local pet services.

The Loews Regency at 540 Park Avenue pampers pets with sleep mats, bowls, and a special menu. The hotel can also provide grooming, dog walkers, catnip, and pet videos. The "Loews Loves Pets" program features information on local dog-walking routes, pet services like groomers, and pet-friendly restaurants. The concierge desk can arrange pet walking and pet sitting. The "Did You Forget?" closet includes pet beds, toys, and leashes. And the pet room service menu, developed by a veterinarian, offers nutritious cat and dog specialties (including vegetarian entrées), bottled water and milk.

At the gorgeous Le Parker Meridien at 118 West 57th Street pets can enjoy mood music, scratch pads, and a "Feed the Party Animal" menu that features such delicacies as steak tartare. Le Parker Meridien welcomes all pets from aardvarks to zebras. The luxurious Peninsula Hotel at 700 Fifth Avenue features a welcome biscuit, in-room toys and dreamy bed, staff dog walkers, and a pet menu with items such as minced meat pies, and home-baked treats. The moderately priced Hotel Pennsylvania, one of New York's larger hotels, is across the street from Penn Station and Madison Square Garden and is no stranger to hosting pets: It is the host hotel for the annual Westminster Kennel Club Dog Show. Hotel Pennsylvania allows up to two dogs per room with no weight restrictions.

At the chic and trendy Sofitel New York, located at 45 West 44th Street, all pets are welcome–dogs, cats, birds, even ferrets.

Starwood Hotels—which owns the Sheraton, Westin and W brands—has rolled out a brand-wide "LTD (Love that Dog)" program that greets pets up to 25 pounds with a welcome goodie gift box, food and water bowls, temporary ID tags with hotel contact info, and custom-designed beds that mirror the human beds and guestroom décor. Other amenities include plush robes, leashes and collars, even turndown treats. New York City's W properties offer in-room doggie massages by a licensed dog massage therapist. Cats are given special treatment as well!

The Westin New York Times Square at 270 West 43rd Street features sleek, stylish, and sophisticated comfort, complete with "Heavenly Rest" beds. The flagship W New York at 541 Lexington Avenue is both cool and chic. The W New York Union Square" at 201 Park Avenue South is just diagonally across the street from an off-leash dog run. The W New York Times Square at 1567 Broadway is an oasis of tranquility amidst busy Times Square.

The Sheraton Manhattan at 790 Seventh Avenue and the Sheraton New York Hotel And Towers at 811 Seventh Avenue (just across the street), are steps away from the lights and drama of Broadway. The 1904 Beaux-Arts landmark in the heart of Midtown, Starwood's St. Regis at 2 East 55th Street welcomes pets and provides grand hotel atmosphere – from the crystal chandeliers to the silk wall coverings.

"Heavenly rest" pet beds are de rigueur at the luxurious Jumeirah Essex House at 160 Central Park South, with their new "Canine Turndown Program" designed to pamper even the most discerning four-legged guests. Run by "doggie designer to the stars" Amy Kizer (of the highly-acclaimed Wagwear New York City boutique), the program offers luxurious five-star canine amenities so that hotel guests and their fine furry friends can indulge in the lap of luxury together.

The Benjamin at 125 East 50th Street offers their own "Dream Dog" program, which includes a lush bathrobe, gourmet room service, spa treatments, specially designed dog beds, ceramic food and water bowls, even a consultation with a pet psychic. This luxurious program is offered to all pet owners booking at any rate, during any time period.

At the Tribeca Grand, 2 Sixth Avenue, upon request they can have your guestroom set up with pet bed, food and water bowls, and treats—all at no extra cost. They also loan kennels and pet beds of various sizes, food and water bowls, and kitty litter boxes. Along with complimentary treats at the front desk, they provide a pet food menu through room service, arrange for pet sitters, dog walkers, pet spas (all grooming done off property) and veterinary care through their concierge team. And if you don't have a pet, they'll even provide you with a pet goldfish upon request!

The glamorous and stylish Ritz Carlton New York Central Park at 50 Central Park South has a "Doggy and Me" weekend package that includes a gift photograph and a "VIP (Very Important Pooch)" program featuring use of ultra-chic pet carriers, 22-karat gold plated identification tags, aromatherapy coat spritz treatments, home-baked dog treats, and in case of bad weather, loan of rainproof trench coats, leather jackets, and cashmere sweaters. Pets up to 60 pounds are allowed, but the hotel will charge a fee and require a waiver be signed. At the downtown Ritz Carlton New York Battery Park at 2 West Street, pets are pampered with special sleeping bags and home-baked treats. Medium-sized pets are welcome at both. Like the Central Park location, this hotel requires a fee for pets ($125) and accepts pets up to 20lbs.

Other pampering properties include the Hotel 41 at Times Square at 200 West 41st Street, and the comfortable New York Marriott Marquis Times Square at 1535 Broadway, although the Marquis charges a non-refundable sanitation fee for pet owners to the tune of $250.

For smaller pets only:

At the Hilton Times Square at 234 West 42nd Street, room service can help with special food requests; and Concierge Teams can refer guests to dog walkers, pet groomers, and pet sitters. Pets under 12 lbs. are welcome. Pets under 15 lbs. are welcome at the Millenium Hilton at 55 Church Street across from Ground Zero in the heart of the Financial District. Four-footed guests are greeted with a biscuit the Waldorf Towers at 100 East 50th Street, an this Art Deco landmark that was one of the city's first "grand hotels," and with advance notice, their skillful concierges can organize a litany of services if you'll be spending more time on the town than with your pet during your stay.

The classy, all-suites Buckingham at 101 West 57th Street, located across from Carnegie Hall, accepts small pets only. A timeless classic, The Carlyle at 35 East 76th Street is an elegant showcase of great art, a purveyor of privacy, and a sanctuary of refined taste that welcomes small pets. Be advised: the Carlyle charges a $50 per night fee and limits its pet guests to under 25lbs. Pets under 12 lbs. can enjoy the panoramic views of Central Park from their rooms at the elegant Helmsley Park Lane at 36 Central Park South.

The Muse Hotel at 130 West 46th Street offers the Pampered Pooch Package, starting at $249* per night. Upon arrival, you'll find a delightful amenity basket in your guestroom, filled with canine treats and food and water bowls and New York's only doggie playground, "Canine Court," with open land and an obstacle course close by. Hotel guests and their dogs are welcome to shop together at Saks Fifth Avenue, Bergdorf Goodman, Tiffany's, Brooks Brothers, Banana Republic and the Gap.

The deluxe and spectacular New York Palace at 455 Madison Avenue gracefully blends a landmark 19th-century residence with a contemporary 55-story tower. It boasts some of the largest rooms in the city, but only accepts pets fewer than 20lbs. The Novotel at 226 West 52nd Street combines European service and the ambience of Broadway and accepts small pets, as does the entire Kimpton family of hotels.

The London NYC at 151 West 54th Street, an Art Deco luxury property, accepts pets under seven lbs. Featuring an ultra-modern design, the Shoreham at 33 West 55th Street is pet-friendly and within leash distance of Central Park; pet-weight limit 15 lbs.

For a quick-reference list to pet-friendly hotels, just click here.

Traveling To New York City With Your Pet

Traveling to New York City can be a harrowing or stressful experience even without the company of a pet and the responsibilities that go along with accommodating your four-legged or two-legged friend along the way. You and your pet will need to deal with a host of contingencies which relate to logistical planning, coping with people traffic, transportation schedules, and a variety of safety issues. None of these challenges will be a problem if you follow the golden rule of planning your itinerary in advance, seeing to it that you ask yourself all the pertinent questions before departing for New York City.

For starters, it would be advisable for pet owners to consider the following checklist of items which you may or may not need to bring along on your trip, depending on the type of animal accompanying you and his or her particular needs:

Ten Items To Bring Along When Traveling With Your Pet To NYC

1. A leash and collar with ID tags. Create a vacation tag giving your local address and a telephone number. It also may be helpful to bring along a photograph of your pet in case you are separated.

2. A few favorite toys, chew bones, balls, and treats.

3. A large container of fresh drinking water and a sizable supply of your pet's normal food.

4. A lightweight durable pet carrier or collapsible cage for easy transportation.

5. Portable food and water bowls, collapsible bowls and even paper bowls for the trip. If your pet eats canned food, don't forget the can opener.

6. A pet bed, whether it is a towel, mat, pillow, or travel crate.

7. Grooming brushes/aids. Any medication prescribed or suggested by your veterinarian, as well as vaccination records, particularly a rabies certificate or tag.

8. Pooper-scooper or plastic bags.

9. A flashlight for evening walks.

10. Paper towels for clean-up and old towels for drying wet dogs.

Although many pet friendly hotels provide or sell items that your pet might need during your stay in New York, it is smarter to bring the above items with you. Doing so will not only spare you a great deal of time, but also the expense of buying pet supplies which often cost much more when purchased at your pet friendly hotel . If you prefer to travel light, and need to pick up a few pet supplies while you're in the city, feel free to check out NYC.com's list of local pet stores.

Pet Documentation for Travel to the United States/ New York City

Upon arrival at one of New York City's major airports—JFK, La Guardia, or Newark—pet owners traveling domestically within the U.S. should be able to present a valid United States Veterinary certificate, which is available online.

All domestic dogs and cats must be free of evidence of disease communicable to humans when examined at the port of entry. If the animal is not in apparent good health, further examination by a licensed veterinarian may be required at the owner's expense.

A valid rabies vaccination certificate should also accompany your animal. This certificate should be in English or be accompanied by a translation into English. It should identify the animal, the dates of vaccination, the expiration date of the rabies vaccine, and be signed by a licensed veterinarian. The rabies vaccination must be given at least 30 days prior to arrival in New York City.

If a vaccination has not been performed, or if the certificate is not valid, the animal may be admitted if it is confined immediately upon arrival at a place of the owner's choosing. The dog must be vaccinated within four days after arrival at the final destination, but no more than 10 days after arrival at the port of entry. The animal must remain in confinement for at least 30 days after being vaccinated.

International travelers arriving in NYC with a pet, as well as U.S. residents returning to the U.S., will need to present an official Certificate of Health from an international vet, as well as a valid rabies vaccination certificate when moving through U.S. customs at one of New York City's airports.

So in general, if you're traveling to New York City any time soon, the veterinarian certificate and documentation of a recent rabies vaccination are the two most important documents you will need to have with you.

Pet owners traveling to New York who need very specific information regarding their particular pet, especially if it is an exotic species, should consult the most recent guidelines and restrictions set out by the Centers for Disease Control and Prevention.

Getting Around New York City with Your Pet Companion

Traveling to and from New York's major airports into Manhattan also poses a number of questions for both the first time and frequent pet owner visiting the city. If you are traveling with a conventional pet, such as a dog or cat, pet owners should have relatively little problem using mass transit options heading into the city from the airport, so long as your dog is leashed or your cat is properly contained in a kitty carrier. For those pet owners traveling with more exotic pets, pets of a large size, or those with special health concerns, we recommend that you contact in advance one of New York City's specialized pet friendly taxi services to help you on your way.

244 Fifth Avenue #2908

New York NY 10001

212-755-1757

 

212-696-9744

718-752-1767

 

917-838-5557

 

These professional companies are well equipped and trained to handle any kind of problems that might come up in transporting you and your pet into and around the New York metropolitan area. Just give them a bit of advanced notice, especially if it's a busy time of day or on the weekend. They can also be very helpful in the unlikely and unfortunate case of emergency.

NYC Parks / Dog Run Guidelines

There are four signed designations for areas within NYC parkland:

1. No dogs allowed: Dogs are not permitted in these areas at any time. These areas include playgrounds, zoos, swimming pools/facilities, bathing areas/beaches*, fountains, ball fields, or on basketball/handball/tennis courts.

2. Dogs must be on leash at all times: Dogs must be kept on a leash at all times when in these areas.

3. Dog Runs: Dog runs are large, fenced-in areas for dogs to exercise unleashed. Created with the expertise of a Parks Department landscape architect and volunteers, the runs encourage play while supplying good drainage, safe lighting, and healthy plantings.

4. Designated Off-Leash Areas: Certain park areas allow dogs to be off-leash from the time the park opens until 9 a.m. AND from 9 p.m. until the park closes. Dog owners/attendants with dogs off-leash in these designated areas must obey all general rules, including having their dog under control at all times, licensing the dog, and carrying proof of the dog's rabies vaccination.

Obey the rules and regulations:

1. Dogs must be on a leash (no more than six feet long) at all times, except in dog runs and designated off-leash areas at prescribed times.

2. You must pick up after your dog and dispose of the waste in containers provided throughout the park.

3. You must prevent your dog from chasing birds, squirrels, and other animals.

4. Dogs are never allowed in playgrounds, zoos, swimming pools/facilities, bathing areas/beaches*, fountains, ballfields, or on b-ball/handball/tennis courts.

5. From May 1 to October 1: Pursuant to Park Rules and Regulations, dogs are not allowed to enter any bathing facilities, including New York City beaches. However, as a courtesy, leashed dogs are allowed on the sand and boardwalk at Rockaway Beach, Coney Island & Brighton Beach, Manhattan Beach, Midland Beach, and South Beach from October 1 until May 1.

6. No dogs are allowed on the sand at all New York City beaches. Leashed dogs are allowed on the boardwalk/promenade at Coney Island, Brighton, Midland, South, and Manhattan Beaches. *In the off-season, the Commissioner may use his discretion to permit dogs in bathing areas/beaches.

Respect the park and others:

1. Keep an eye on your dog at all times. Only you are responsible for your dog's actions. Please remember that other park visitors may be afraid of your dog.

2. Do not allow your dog to run and jump on other people or dogs without an invitation.

3. Do not allow your dog to drink from park fountains, unless a special dog fountain is provided.

4. Be good to the grass. Heavy use in a given area compacts soil and damages the turf. Keep walking – you'll see more and do less damage.

5. Please keep off wet grass. During and after a rainfall, topsoil is 20 times more vulnerable to compaction.

Pet Friendly Restaurants In New York City

Pet friendly restaurants in New York generally mean dog friendly, since it is rare for a cat or bird owner to show up at a restaurant with those types of pets. Many restaurants with outdoor cafes will permit you to dine with your dog, but make sure to call in advance and ask! Dogs must be leashed and well behaved so as not to disturb other customers or your party could be asked to leave. Most dog friendly restaurants in Manhattan will offer your dog a bowl of water upon request. Since outdoor tables are generally the rule, visits to these restaurants is usually only possible during the warmer spring, summer and early autumn months. The location of a pet friendly restaurant near your hotel can save you a lot of time and can be an important consideration in your choice of accommodations in New York City. Here are some of our favorites:

1678 Third Avenue

Pets allowed in outdoor café; "dog bar" water trough provided for thirsty pets.

West 79th Street

Outdoor restaurant not open during winter

1700 Broadway

Dogs allowed in outdoor patio

120 Hudson Street

Dogs allowed at outdoor tables

210 Tenth Avenue

Dogs are permitted at the outdoor tables

9 Ninth Avenue

Dogs permitted (leashed) outside during summer

208 Thompson St.

Dogs permitted at outdoor tables

132 Mulberry St.

Dogs permitted at end tables

232 Bleecker Street

Dogs permitted in outdoor seating area

Pet Sitters In New York City

In closing, should you desire some down time from your family member, perhaps consider hiring one of New York's reputable pet sitters. We've selected a few well-known care providers and offer them here:

Manhattan:

Ovi's Pack

(917) 406-7699

(212) 772-2181

(646) 723-1282

(347) 829-PUPS

(212) 949-1818

Brooklyn:

(718) 855-1363

[/jbox]

Article originally published at: http://www.nyc.com/visitor_guide/petfriendly_new_york_hotels.703633/editorial_review.aspx#tenfacts

Title of original article: Pet Friendly New York Hotels
So … the next time you go out of town, will you consider taking your pooches with you? It's not for everyone, but if it's right for you, know that arrangements can always be made if you look hard enough.

And sometimes, finding the right hotel for a stay with your pet can be downright easy and pleasant! Your trip out of town with your pets is sure to make a great story, no matter where you go or what kind of accommodations you choose.
For a wealth of information on traveling with pets and finding pet friendly hotel chains, CLICK HERE to become a Pet Writes member. Membership is FREE. And full of benefits, like the latest updates on all kids of pet topics, as well as opportunities to share your stories in a variety of entertaining ways. Plus a valuable FREE GIFT to make your experience as a pet lover even more rewarding.
Pawsitively,
Chiwah Carol Slater
The Pet Story Passionista
Word Weaver Chiwah
Founder, PetWrites.com, WordWeaver4U.com