Boxer dogs make a wonderful pets. Boxers have gentle dispositions, love to cuddle, and play well with children. They're faithful and protective. They thrive in human company and nourish the human heart.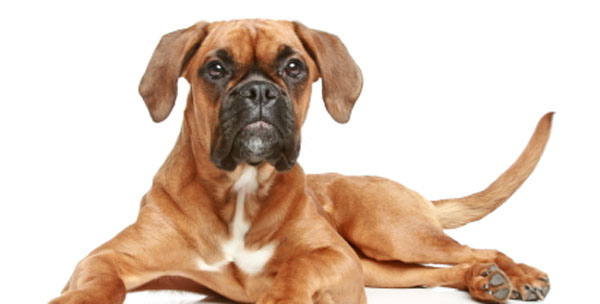 Michelle and Shawn Bertolli knew this when they welcomed Bertie, their beloved Boxer, into their home. Bertie was a tiny pup at the time, but his oversize paws made it clear he would grow into a large charge.
The son of Shawn's brother's female Boxer, Bertie stole everyone's heart from the start. As a pup, he had a way of crossing his front legs and pointing his nose down while he looked up at you with those big, expressive brown eyes … an innocent, silly look guaranteed to make you smile.
Michelle says she wouldn't have taken Bertie if their children had been small, but Ryan was five and Tiffany was seven, so she felt safe with a large breed.
Bertie claimed his place as the family clown right from the beginning. He loved playing with any brightly colored object, and the kids howled at the sight of him coming into the living room with their mother's red shorts or a striped sneaker or her bright blue scarf on his head.
Exuberant by nature, Bertie had a bad habit of jumping up on people. Michelle made sure he got the training he needed for proper socialization.
Shawn made it a point to run with him every evening. It wasn't long before he and the dog became regular exercise partners.
The kids and Bertie grew up together. They adored him, and the feeling was mutual. In the afternoons after school, it wasn't uncommon to see all the children in the neighborhood roughhousing with the Boxer, rolling on the ground with him, throwing sticks for him to fetch.
Bertie grew and grew. The children soon learned that he loved to box, and they boxed back. The dog could dish it out, and he could take it, too, all in good sport.
When Bertie was four years old, one of the families down the street got a Boxer dog, too. The two often played together. It was a great way for them both to get the workouts they needed. They would chase each other around the yard and jump up on their hind legs and box, then run around some more.
There was never a hint of anger in their play. They knew their boxing was all in fun.
At a regular veterinary checkup when Bertie was seven years old, the vet detected an irregular heartbeat. Boxer cardiomyopathy, he said. Enlarged heart. One of the biggest killers of Boxers.
"Has he been coughing?" the vet asked. No. "Wheezing?" No. "How's his appetite?" Good. "Does he tire easily?" Are you kidding? The dog had more energy than any two humans. "No difficulty breathing?" No. "No fainting spells?" None. "No extended belly, either."
Bertie was asymptomatic. "That's not uncommon in boxers in the early stages," the vet said.
So what was the prognosis? "His condition is likely to worsen," the vet said. He explained that the disease seemed to be hereditary and was nearly always fatal.
"Most boxers aren't diagnosed until later in the disease, when they begin fainting or coughing or wheezing. Bertie may have a couple of good years in him, if you're lucky."
Michelle was heartbroken. She knew she had to tell Shawn and the kids, but she didn't know how. After puzzling over it for several days, she finally just sat them down and reported what the vet had told her.
"Is there a cure?" Ryan asked.
"No, there's no known medical cure. Very few dogs survive cardiomyopathy. But the vet wants us to try some medications that may help extend his life."
"But he could be one of the few that make it," Tiffany pointed out.
The only family member who didn't feel like crying was Bertie. Whether he didn't have any idea of his condition or just decided to pay no attention to it, he remained the attentive, lovable, playful family jester.
"He kept our spirits up," Tiffany recalled later. "He wouldn't let us take it seriously. And he never seemed to have any symptoms, so it was easy to forget there was anything wrong with him."
And then one day, a year and a half after his diagnosis, Bertie simply fell down on the ground and left his body behind.
None of the Bertollis was prepared for this, even though they knew Bertie was sick. He didn't act sick.
"His lack of symptoms was wonderful for him, since he never had to suffer, but it means that this comes as a big shock to us," Shawn said, holding back a sob. "He was our perpetual baby, a big, blustering baby. And now he's gone."
Unfortunately for Boxer owners, heart disease is common in the breed. There are several forms of cardiomyopathy, and the breed is affected by other heart diseases as well.
And unlike other breeds, boxers most often show little or no symptoms until the disease is advanced.
So … If you're a Boxer lover, what can you do to assure that your dog doesn't fall victim to heart disease?
Never accept a Boxer pup that has not undergone health testing to rule out heart disorders. In the case of cardiomyopathy, the only effective test is a 24-hour Holter Mohitor examination. This test is more revealing than others because it records heart activity over an extended period.

An ACE-inhibitor can delay the onset of symptoms for an asymptomatic Boxer.

There are natural remedies that work to strengthen the heart and keep it functioning normally; they may also help to heal the heart.

Once symptoms develop, drugs like Pimobendan and Furosemide can help with respiratory issues.
If the condition worsens, the dog may begin to have fainting spells. caused by the heart's loss of effectiveness in pumping blood. A run of these irregular heartbeats, called VPCs, can lead to ventricular fibrillation, which can spell death.
Alternatively, the walls of the heart may thin, leading to lung congestion.
However, the disease is not always fatal. Sometimes a boxer with cardiomyopathy shows no symptoms and lives to a ripe old age without any problems.
Boxer dogs are one of my favorite dog breeds. Fun-loving and gentle, faithful and protective, they embody a wealth of admirable characteristics and can easily turn a human heart to mush.
There is much more to a heart than the physical components, so if yours has been captured by a Boxer dog, be grateful for whatever time you have to enjoy that gift. Make the most of it. None of us is here forever; the point, it seems to me, is to make the most of what we have and use it to touch other hearts.
That's why I'm so keen on encouraging dog lovers to share their stories. To start sharing your Boxer dog pictures and stories, become a Pet Writes Member. Get started with the Pet Writes 7-Day Trial.

Pawsitively,
Chiwah Carol Slater
The Pet Story Passionista
Word Weaver Chiwah
Founder, PetWrites.com, WordWeaver4U.comdWeaver4U.com