How can you turn the social media into powerful Internet marketing solutions? In our exploration of that and other social media questions you should consider for your small business marketing, let's begin by looking at the results Elizabeth got with the picture she snapped of her friend's dog Shadow strutting on his hind legs.
Elizabeth was having a tough time with her social media presence. She just wasn't getting any real response. She was about ready to give up on it. When she snapped Shadow's picture, it struck her that posting it might be just the change she needed. It was so cute—wouldn't people want to share it on their own timelines?
If your social media plans have gone awry, you are probably wondering what results she got. Right? Hang tight. We will get to that. But first, let's look at an article titled "What To Do When Your Social Media Plan Fails" to see some of the things you need to keep in mind when using social media to create Internet marketing solutions.
We all know the saying about the best laid plans and you probably have also heard the saying about the road to hell being paved with good intentions.There are loads of adages to help you commemorate the exact moment when things start to go downhill, but if you're anything like me, you'd rather focus on the best, most effective way to get out of the mess you've found yourself in.

A portion of the title of this article is a bit misleading. Social media doesn't fail people, people fail people; and many times people fail themselves because their expectations are skewed.

Additionally, because most people are not social media "experts," they're not quite sure what it takes to extract themselves from certain situations and it's at that point when it becomes really convenient and easy to hang the blame on social media. Does, "I hate Facebook!" sound familiar?

To help you avoid that blame-infused scenario, here are some solutions to common sticking points to help you get back on track if you feel like you're not getting the results you want from your social media activities.

1. Are you clear about why you're using social media? This is the source of many, many problems. People just start using Twitter or Facebook… or they just start blogging and the end-game isn't clear. Once you determine where you'd like to go, the exact action steps will stand out from the fray a bit, making your next step less dubious.

2. Are you being consistent? You get out what you put in. If your blog is not being updated with relevant content at least three times a week and using some sort of viral vehicle to connect with other people, you shouldn't expect any results at all.

Yes, three times per week. You needn't write a tome. If you don't have three blog posts' worth of insight to offer over the course of a week, then you might want to consider another line of work.

Want more tips on social media? Check these stories out:    

3. Are you connecting? I mean, really connecting? Are you taking time out of your schedule at least twice a week to pop into Twitter or Facebook and "show your face." It doesn't have to be for hours, but take the time to connect.

If you're taking the time to connect with your market, chances are you're building trust and within the social media sphere, trust expands income. If you say you don't have time then don't expect results.

4. Do you genuinely like your social media activities? If you don't like to blog, stop doing it or ask someone on your team to pitch in. Do something else. There are hundreds of social media activities you could be doing and some you'll probably like. When you don't like what you're doing, it comes through in the end product.

5. Are you organized, on-purpose, and focused? If you're not getting results, it might be because your approach is all over the map. One minute your company is bullish on Facebook and the next minute it's Twitter.

Social media connections should be authentic (there's that word again!), but the use of the tools should be nothing short of methodical, pre-meditated and laser-focused — you don't have time to waste.

Take some time to sit down with your team and get real about whether your expectations are in alignment with your efforts and approach. Then adjust what isn't working in a way that resonates with the brand you're trying to build.

By Lena West, xynoMedia. Originally published Feb. 3, 2011, under the title "What to Do When Your Social Media Plan Fails."
Now that you have those five points in mind, let's come back to Elizabeth and the picture of her friend's dog, Shadow. What do you think? Did it work?
Sort of. Posting that photo generated three "likes."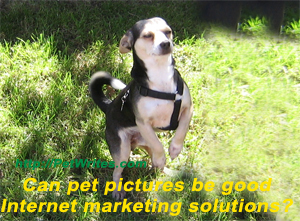 Was that enough for Elizabeth to call it a success? Hardly.
Why didn't she have better success with it? Well, for starters, though the picture was cute, it didn't exactly stand out amongst the plethora of delightful images posted on Facebook that day.
Are you having trouble getting the response you want with images you post to Facebook?
If so, you need to learn more about how to use visuals to capitalize on the power of social media. For better effect, consider posting not just images, but videos. This is the video age, after all! And video is fun to create, not hard at all if you have good instruction.

For better, faster tips for using video to catapult your social media posts to the Internet Marketing Solutions Hall of Fame, look no further than Bullard's new YouTube Marketing Manual. Very down to earth, packed with video tips you can use today to draw in your ideal client.
Offering you a "pawsitive" approach to finding and implementing the very best Internet marketing solutions for small business marketing,
Chiwah Carol Slater
Author, Editor, Book Coach, Business Ghostwriter, Business Branding Coach
Founder, PetWrites.com, WordWeaver4U.com
Facebook.com/petwrites, LinkedIn.com/in/chiwah
petwrites@gmail.com