Are you considering hiring a marketing coach?
As you well know, good small business marketing is priceless. As an illustration, consider the case of a dog groomer. Our little Precious went to the doggie beauty shop today, and came home all clean and clipped. Our groomer always sends her home happy, wearing a bright new little scarf around her neck.
(No, the dog in the picture below is not Precious. That's a boy dog, and that's a tie he's wearing, not a scarf! Sorry, I didn't get a chance to snap a photo of Precious in her new scarf before writing this post.)
Like most service professionals, our groomer opened her business motivated by a heartfelt calling. Her primary reward is serving her clients. The money is good too, of course, but only of secondary importance to her. The main thing is going all out to give her clients top-notch service.
Don't you feel that way about your business?
Elizabeth, who has a coaching business, has always felt that way.
Recently, she found herself at a turning point in her business. Most of her recent coaching clients had completed their work and moved on, and she had decided she wanted to attract new clients who are at a little different stage in their evolution.
But she wasn't not sure how to accomplish that. So she was thinking of engaging the services of a marketing coach.
She had other marketing questions, too. For one thing, being a coach herself, she was well aware of the importance of setting smart goals. But clarity eluded her. Can you relate?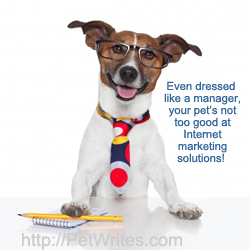 So … what are some of the other things she needed (and you need) to be clear on?
First, you need a detailed description of your ideal client.

Second, you need to know what kind of marketing message your ideal client will respond to.

Third, you need an understanding of

which media work best for reaching your ideal client

.
As she got clearer on the kind of client she wanted to attract, Elizabeth checked up-to-date marketing statistics. Doing that, she came to understand that her ideal client would probably respond better to messages that included video. This is true in most markets today. It's not that you should switch to video, but rather that you need to offer your message in a variety of formats, including video.
And … if you do decide to go for video, how will you use it? In your posts? In video podcasts? On social media? This question deserves your serious attention. To come to the right answer for your special case, you really need to think about WHY you're using video, what you want to achieve with it, and how much energy you want to give it. 
This is the kind of question Pet Writes members discuss in depth in our dedicated member calls and workshops, facilitated by input from experts who know the ins and outs of making important choices like this. You can get a taste of what that's like by taking advantage of the Pet Writes Business M.A.G.I.C. 7-Day Trial Membership.
Dedicated to bringing you all the advice you need from a marketing coach,
Chiwah Carol Slater
Author, Editor, Book Coach, Business Ghostwriter, Business Branding Coach
Founder, PetWrites.com, WordWeaver4U.com
Facebook.com/petwrites, LinkedIn.com/in/chiwah
petwrites@gmail.com