Pet Lovers: Are you using pet stories, videos, and quotes in your Internet business marketing?
If not, you are missing a priceless opportunity to broaden your reach without having to invest a ton of money.
Elizabeth was looking for an inexpensive way to get more exposure for her coaching business. She had tried ads in local publications and pay-per-click ads on the Internet, without remarkable success.
Then someone "put a bee in her bonnet" about using pet stories, animal pictures, and famous animal quotes in creative ways. A pet lover herself, she shares her life with two dogs and a cat. So she had the "actors" at her disposal. And they were always doing the funniest things!
Elizabeth started posting her pet photos on social media. She had already been posting other kinds of pictures, but she found that the posts that invariably got the most "likes," comments, and "shares" were either animal pictures or images with quotes superimposed on them. So she decided to combine the best with the best: animal pictures with interesting quotes on them!
It didn't take long before she started putting her images out to the world. Did it matter than her business had nothing to do with animals? Not at all!
The response was tremendous. Not everyone who responded was Elizabeth's ideal client, but people were touched, and they told their friends. And some of those friends checked out her website and her took advantage of her services.

Best of all, Elizabeth enjoyed posting animal pictures and quotes. Suddenly she was having more FUN marketing her business on the Internet!

Here are four of the quotes she used:
"I am fond of pigs. Dogs look up to us. Cats look down on us. Pigs treat us as equals." –Winston Churchill
"There are two means of refuge from the miseries of life: music and cats.  –Albert Schweitzer
"Dogs are not our whole life, but they make us whole." –Roger Caras
"I realized that if I had to choose, I would rather have birds than airplanes." –Charles Lindbergh, shortly before he died.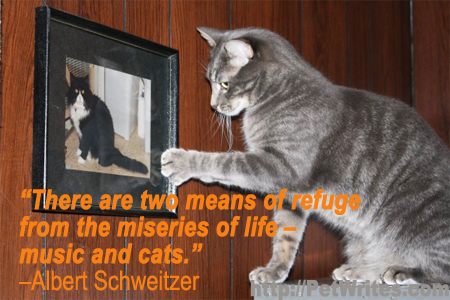 So … I'm sure you're wondering … What did she do to get her pictures and quotes out there?
She put them up on Facebook.

She put them on Pinterest.

She put them up on Twitter.

She posted them on Google+.
Using pictures with superimposed quotes online was the least inexpensive and the most effective way she had ever found to advertise her business.
But posting great images on social media turned out to be just the first step. As a Pet Writes member, Elizabeth also learned about other creative ways to get more mileage out of her animal images.
So … what does it take? Here's what you can do to get started:
To avoid copyright issues, take lots of your own photos. You can also use public domain photos, or buy from photo stock companies.
Use a simple free program like Picasa or PicMonkey to overlay quotes and size your images.
Post them on all the social channels with a text message of your own.
For more great ideas and faster ways on how to use animal pictures and quotes to ramp up your business fast, take advantage of the Pet Writes Business MAGIC 7-Day Trial! You'll learn other simple ways to get more mileage out of every posting.

To your prosperity in marketing your business on the Internet,
Chiwah Carol Slater
Founder, PetWrites.com, WordWeaver4U.com
Support Desk: http://petwrites.com/support