How can you boost your Internet business marketing efforts with pet pictures?
Pet Writes Success Team Mentor Gina Gaudio-Graves and her husband Bill both adore their dog, Fritz. He goes everywhere with them, and has his say about everything in their lives – frequently quite loudly. 
Gina often shows a picture of herself with Fritz on the introductory slide when she leads public webinars. Not too long ago, she co-led a webinar with marketing expert Ken Krell. The topic? Using social media, Google+, and YouTube to attract a constant stream of high-value traffic. Here's a screenshot of their introductory slide: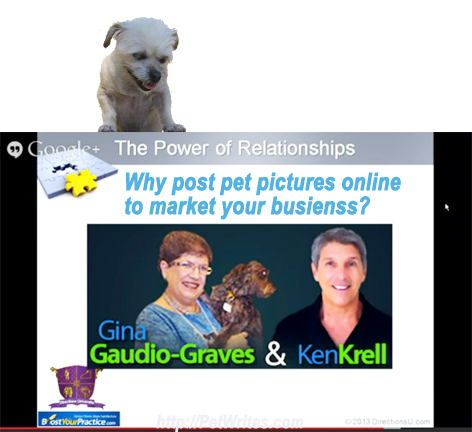 (That's our dog, Precious, checking Fritz out from above. She wasn't on the webinar. But she wouldn't let me write this post without doing her little barky thing at Fritz!)
Here's a shot of Gina and Fritz relaxing at home in south Florida (uh-oh, Precious snuck in here, too – always got to be center stage! I guess she must have decided Fritz is OK):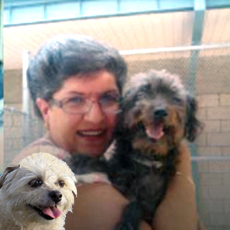 How about YOU? How many pictures have you taken of your pet? And every picture has its story. Get a group of pet lovers together, and the stories never stop!
Pets, kids, and grandkids – the love you feel for them – isn't that what life is really all about? (Well, OK, maybe not entirely, not for everyone. But … you know what I mean, right?)
Clearly, Gina is proud of her dog. She shares photos of him in a variety of spots around the net. And people respond.
For instance: imagine the first photo above without Fritz. Just Gina and Ken. It wouldn't be a bad photo – but would it give you the same feeling?
What is the feeling you get seeing Gina holding the dog? It's warm, right? Homey. You can feel her supportive "mom" energy. And that comes across to prospective clients. It totally fits Gina's image. "I tend to watch over my students rather like a mother hen," she has been known to say.
Her students thrive in that energy. And Fritz is a part of all that.
Pictures of you with your pet become irresistible drawing cards. This is true whether you put them online, adorning the walls of your office, or in print announcements you send out. Taking the time to pair your photos with a story, even a short one, gives people a little window into your life. It's a highly effective way to build trust.
And isn't trust what it's all about?
Including your pet in your marketing is a powerful trust-building tool. As Gina is fond of saying, "People will buy your products and services when they know, like, and trust you."
If you're not doing webinars yet, the easiest and most affordable way to capitalize on your pet pictures is in social media and on your blog. And in the best of all possible worlds, you are doing both of these on a regular basis.
So … would you like some tips for taking maximum advantage of your pet pictures to boost your Internet business marketing?
Even a scruffy pet can capture hearts, but you'll probably want your pet to look its best. Our dog, Precious, feels so proud after a grooming that she will eagerly pose for pictures. Dogs have vanity, too!
When you post a picture anywhere online, make sure it links to a page that invites people to buy something you make money on. People naturally click on images, so you might as well use them to make some money.
Studies show that people are more apt to click on an image centered on its own line than on one placed to the right or left of text. Don't worry about the white space on either side of the image – it doesn't hurt you even a little bit.
To "get your feet wet" using your photos to attract new clients, take advantage of our complimentary 7-Day Trial Membership. You can listen to our member podcasts and be invited to take part our weekly members-only webinar, where you can ask any question you have.

Pawsitively devoted to boosting your Internet business marketing,
Chiwah Carol Slater
Author, Editor, Book Coach, Business Branding Coach
Founder, PetWrites.com, WordWeaver4U.com
Facebook.com/petwrites, LinkedIn.com/in/chiwah
petwrites@gmail.com
P.S.
How does your pet react to other pets on its turf? Precious was a little anxious about Fritz. And Fritz looks like he's not so sure about Ken! How would you handle that? Share your thoughts in a comment below!