Out of all the options, which is the best dog food? There is no consensus on this. Because every dog is different and every family situation is unique unto itself, no one dog food is suited to every dog.
Jennifer's dog Pixel (just a little mite she was!) was suffering from bloating and upset stomach, and Jennifer herself was suffering from the odoriferous gas the poor little thing passed continuously.
How could such a tiny little thing fart so much? It didn't seem possible. But the reality could not be denied. Jennifer was embarrassed to take her anywhere. Heads would turn, and it wasn't because Pixel was cute. (Though she was, of course.)
For her dog's good for and for her own well being, Jennifer (not her real name) had to find a solution.
She called her vet to ask for advice.  The vet told her that the dog's flatulence could be due to one or more of the following factors: eating too fast, a sensitivity to food ingredients, and fleas and ticks, which can cause a nervous reaction and upset digestion.
So… what was she to do?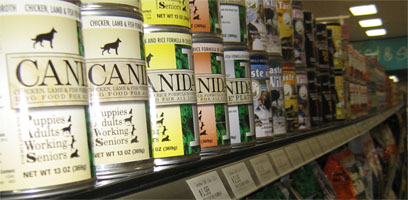 So … what was the solution? The vet recommended:

Trying a grain-free dog food, making sure the food had high-quality ingredients
Trying out a slow-feed dog food bowl
Feeding smaller amounts throughout the day
Giving the dog a spoonful of goat milk yogurt or a probiotic capsule with each meal, either separately or stirred into her food
Checking for fleas and ticks.

Living with a flatulent dog is no picnic. If that's your situation, I don't have to tell you that! The good thing is, there is something you can do about it.
And your dog will thank you for it. He or she will feel so much better once the gas is a thing of the past!
If you're a service professional, here's a challenge for you: What kind of problems do your clients face that you could use this story to illuminate? I would suggest that this would be a great story to illustrate that the solution has to be different depending on what is causing the problem.
Pet stories are a powerful tool for getting your message across to your audience, be they clients or prospective clients.
To learn more about how you can use your pet stories – even a story about dealing with a farty dog, or a story about finding the best dog food, to boost your business – get active in the Pet Writes community! Get started today with the Pet Writes Business M.A.G.I.C. 7-Day Trial.
Pawsitively,
Chiwah Carol Slater
The Pet Story Passionista
Word Weaver Chiwah
Founder, PetWrites.com, WordWeaver4U.com