Are you wondering where to look for financing to take the next step in your business planning process?
Maybe you're a bit like Elizabeth, who wanted to expand her coaching business online. She knew she'd need some money to do that. She talked to friends who had their own businesses, and learned enough to be thoroughly confused.
Then, as she always did before taking important steps, she consulted Leontine, her kitty. It didn't always clear up the issue at hand, but it did always make her feel better!
Refreshed, she sat down to give the question some more thought. She decided it would be a good idea to find a professional in the financial field who could offer her a good summary. That way she would at least have an overview of the option, a starting place for coming to some kind of decision as to what would be her best path.
But when she did, she realized the decision before her was anything but simple.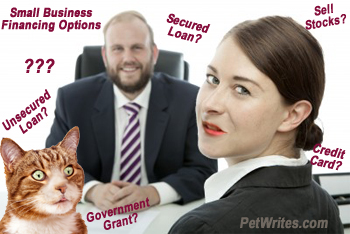 If you find yourself in a similar situation, you may want to go hug your pet (or pets) until you're feeling better. Let yourself absorb some of their glow!
Done? OK, here are some excerpts from an article by a finance professional that you might consider:
Summary
In the world of finance there are many different options available to businesses of all sizes and types. The overall goal of business financing is to raise the capital to meet your business's current needs. Those needs can range from equipment purchases to renovations, all of which will help your business to grow further in its industry. Next is to get this capital at the least cost for your business to ensure you will be able to meet the repayment obligation.

Top Business Financing Options

Bank Loan

The first financing option that most business owners will look to is a bank loan. Lender approval will be based on the businesses credit history and rating, type of business, number of years in operation and assets. Most lenders require businesses to place an asset as security on a bank loan. If the business defaults on repayment the lender can seize the asset and sell it to cover the cost of the loan.

Lender Requirements

Lender requirements for a bank loan include:

Personal and Business Background Check

Business Plan

Personal Credit Report

Business Credit Report

Income Tax Return

Financial and bank statements

Legal Documents

Terms and Conditions of a Bank Loan

Upon approval for a bank loan the business is agreeing to repay the capital borrowed along with any interest that accrues on the loan along with other fees that may apply. Assets placed as collateral on the loan will be seized and sold to cover the cost of the loan if the borrowing business fails to meet the repayment obligation.

Factor Business Debts

Businesses are able to factoring their accounts receivable invoices, receiving up to 80% of the total from the factoring company. This is an advance on the companies account receivables that will be repaid when the businesses client pays their invoice.

Lender Requirements for Factoring Business Debts

The only true requirement for factoring business debts is having high accounts receivables. Businesses with client invoices in collection, awaiting payment, are eligible to receive factoring of their business debts. This will get them the capital they need without waiting until clients make payment.

SBA Loans

SBA Loans are business loans that are backed by the small business administration. The SBA does not themselves offer business loans but offers their promise that the borrowing business will repay the loan to the lender.

Benefits to SBA Loans

SBA loans are designed to help small businesses get the capital they need for a variety of financial needs regardless to the size of their business, their assets or credit status. SBA loans have similar terms and conditions to a traditional business loan.

Government Grants

Government grants are free money to businesses. Government websites list out grants available to businesses of different types and sizes. The business must meet the grant requirements and fulfill the terms to the grant to avoid having to repay the capital received.

Benefits to Government Grants

Government Grants are FREE money to businesses. This means that as long as the business follows the grant requirements they will not need to repay the money. These grants are designed to help small businesses grow without having large amounts of debt as a result.

Secured Working Capital Loan

A secured working capital loan involves the business putting its assets as collateral in order to obtain working capital. The business is basically exchanging its assets for cash. If the business defaults on the loan the lender can seize the assets and sell them to cover the cost of the loan.

Why Choose Secured Working Capital Loans?

Secured working capital loans are easier to obtain than an unsecured loan because the business has assets to place as collateral. This can get the business a lower interest rate and more flexible repayment schedule.

Unsecured Working Capital Loans

Unsecured working capital loans require no assets to obtain the loan. However the borrowing business must have a high credit rating and profile to receive approval.

Lender Requirements for Unsecured Working Capital Loans

High credit rating

Business Plan

Business financial history

Income Tax Return

Legal Documents

Bank Statements

Credit Report

Start Up Loans

Start up loans provide new businesses with the capital they need to meet start up costs in purchases of equipment, inventory, obtaining a location and working capital to meet payroll and other business expenses.

Why Choose a Start Up Loan?

Start Up Loans allow businesses to meet the financial needs when just starting. Obtaining a bank loan at this stage in a business is nearly impossible because there is no guarantee the business will succeed. Start up loan approval is based off the business owner's personal credit, history and assets.

Short-term Loans

Short-term loans are used to meet current business financial needs such as accounts payable. Typically short-term loans require less collateral assets and have low interest rates because of the short repayment term.

Terms and Conditions To Short-term Loans

The terms and conditions to a short term loan allows the borrowing business to receive the capital that they need without high interest rates. The repayment term is kept short, making for monthly payments that are high.

Long-term Loans

Long-term loans are typically used for big purchases and expenses within the business. The business has a loan term of 6 plus years which stretches out the businesses monthly payments making for lower monthly payments. Long-term business loans tend to hold high interest rates.

Uses for Long-term Loans

business expansions

improvement

remodel

purchases:

facilities
 industrial plants
major equipment
real estate

Revolving Check Credit

Revolving check credit is offered by banks only. The business is provided a specific amount of capital as credit to be used for various business costs. The business simply writes a special check that is repaid over 3 installments. Financing charges are based off the amount of credit used each month.

Benefits to Revolving Check Credit

Businesses are able to get the capital they need on a line of credit by simply writing a special check. Lenders allow businesses a fair length of time to repay the debt within 3 installments, averaging 3 months. Interest and fees are low and based off the amount of credit used only.

Professional Loans

Professional loans are provided to CPA's, Dentists, Doctors, and Lawyers only. This capital can be used for a variety of financial expenses within their office.

Why Choose a Professional Loan?

CPA's, Dentists, Doctors, and Lawyers choose to take out professional loans because they offer them lower interest rates and more flexible terms and conditions. The capital received does not need to have a direct purpose and can be used for nearly any expense within the office.

Micro-Loans

Micro-Loans are approved by the Small Business Administration (SBA) to either not-for-profit or non-profit organizations. They are intended for equipment purchases, working capital and other business expenses. Micro-loans are not to be used to pay existing business debts.

Terms and Conditions to Micro-Loans

Micro-loans typically average $13,000 but can go up to $35,000, depending on the borrowing businesses needs.  They are issued for an average term of 6 years. Interest rates a low and monthly payment are kept affordable for the borrowing business.

Debt Financing

Debt financing is provided by banks and other traditional lenders. The loan receive is typically limited to the businesses assets. The capital received is used to pay off debts.

Why Choose Debt Financing?

Debt financing is a great way to consolidate a business's debts into one low monthly payment. Debts in collections will be taken out of default and the business owner will be able to mend their credit and open up new financing options for themselves where needed.

 

– The above includes only the options that might be most relevant for independent professionals. To see all the options listed in the original article by Michael Mesa, visit this link: Small Business Financing Options & Resources.

Whew! What a lot of information! Elizabeth was delighted to find all of it in one place.
The world of financing can be intimidating for an independent professional, no matter where you are in your business planning process. Be sure you're not jumping the gun. Do you really need to go into debt to take yourself to the next level?

Chances are you don't. It's likely that you just need a new business model that will set you up to succeed without a large financial investment. For help from the experts in exploring that possibility, take advantage of the Pet Writes Business M.A.G.I.C. 7-Day Trial Membership. (Pet Writes members rarely look for outside financing, thanks to the business model introduced by Gina Gaudio-Graves, our business mentor.)

Pawsitively dedicated to your success in your business planning process,
Chiwah Carol Slater
The Pet Story Passionista
Author, Editor, Book Coach, Business Branding Coach
Founder, PetWrites.com, WordWeaver4U.com
Facebook.com/petwrites, LinkedIn.com/in/chiwah
petwrites@gmail.com
P.S.
About the photo: Who do you think looks more confused, Elizabeth or Leontine? And what issues have you run into in the process of planning your business expansion? Any advice you might offer? Share your thoughts in a comment below!