What Internet business marketing strategies get the best response today?
Elizabeth had asked herself that question. She was bringing her coaching business online, and she wanted to do it right. So she tuned in to see what seasoned marketers were recommending in response to recent changes in the Google algorithm.
She was happy to hear that Google and the Internet were evolving in a more human and less "techie" direction.
She was hearing a lot of talk about "engagement" and "conversion." 
Her question was, what did this mean for her efforts to attract more clients to her coaching business?
A friend checked her site analytics and told her that visitors weren't staying long enough to read her articles. Well … that explained why they weren't signing up for a coaching interview.
She saw that she needed a better strategy for engaging visitors to her site. And on the social media sites, too. The question became, What could she do that would accomplish that?
Think about it: What kinds of things do people willingly give their attention to? Here are a few of the top draws:
Sports

.
Fashion.

Movies

.
The News.

Pets and Babies

.
In short: drama and emotional content. Human beings respond to stories that engage the mind and the emotions, allowing them to experience someone else's life as their own … without the risk.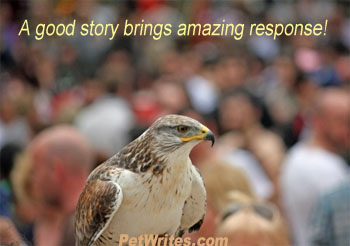 People respond to stories that entertain, inform, and teach by example rather than punishing with a lecture.
Think back to your own childhood. Did you learn anything from "The Three Little Pigs" and "Little Red Riding Hood"? Sure you did, and you remember what it was, too. A lot better than you remember what you learned when adults lectured at you.
Why?
Because of the indelible emotional impact of story.
Reflecting on that, Elizabeth came to realize how important stories can be for communicating a message that moves people to action.
Once she caught on to that little piece of wisdom, she knew she had to start telling more stories on her website and in social media. And in her personal interactions with clients and prospects, too.
But telling a story well turned out to be more complex than she had realized.
She'd find herself in the middle of a story only to discover that it didn't really illustrate the point she'd thought it would.
Sometimes her stories would wind around and lose her somewhere along the way. That could be downright embarrassing. Like the time her cat had done something she'd flashed on as a good illustration of a point she wanted to drive home with a client, but she got lost in the telling and the parallel didn't come through clearly.
Often, her stories just plain fell flat.
She had grown so accustomed to just dealing with the facts of life that she found it difficult to arrange them into compelling stories that got her message across. She began to develop a real appreciation for those who did so easily and effortlessly.
She needed help to hone her business storytelling skills. And to show her how to adapt them for her adult audience, to achieve her intended result.
If you're wanting to enhance your ability to use your Internet business marketing to influence and motivate people, you'll learn a lot from the Pet Writes Business M.A.G.I.C. Calls and daily podcasts.
Here are some of the things you will discover:
    •    how to find relevant lessons in your pet's behavior
    •    how to choose, place and develop your stories to make your points
    •    how to craft your stories for greater effectiveness
    •    how to add humor and drama to your stories
•    how to get your message across with the confidence of a pro.
Best of all, you can try it out for free with the Pet Writes 7-Day Trial Membership.
Dedicated to enhancing your Internet business marketing with storytelling skills,
Chiwah Carol Slater
Founder, PetWrites.com, WriteYourWayToProsperity.com, WordWeaver4U.com
Support Desk: http://petwrites.com/support
P.S.
Leave a comment to let us know what kinds of stories you're thinking about integrating stories into your Internet marketing, or ask a question you might have about how to use stories more effectively in your business.