Would you like a delightful full-color Christmas ebook to give to your children or grandchildren?
With three grandbabies, Elizabeth was intrigued by a story she saw about our FREE Christmas ebook for kids. She figured she'd check it out.
Here's what she found: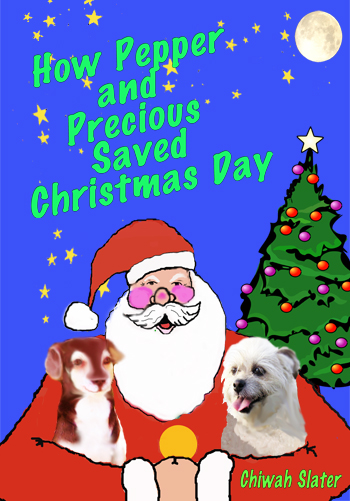 The book features Santa and Rudolph and two delightful pets who save the day when Santa gets too fat to fit down the chimneys. And the author is giving it away for free this week. What could be better?
'What-Ifs' about Christmas can create a great deal of excitement in a child's mind:
What if Santa got too fat to fit down the chimney?
What if Rudolph fell sick and

couldn't lead the reindeer

?
What if good little girls and boys all over the world had to wake up to … a Christmas with no toys?
In twenty pages of original colorful artwork and delightful dog-gerel, the story of how Precious the 'can-do' PetWrites pup and Pepper the big-hearted Chihuahua saved Christmas will entertain and amuse children who love dogs, Santa, toys, and Rudolph.
Elizabeth had as much fun reading it to her kids as they had listening to it. Now, they're really in the Christmas spirit!
I think you'll enjoy it, too. In keeping with the Christmas spirit, I'm giving this original Christmas ebook away this month – FREE. (Please don't share your free eBook with anyone. Tell others about it if you love it, and send them the link to this page!) Claim your free ebook here: 
(You will receive an email from us, and you need to click the confirmation link in that email to receive your eBook.
To make sure you receive your confirmation message, e sure to whitelist these addresses now in your email program:
http://bounces@netprosoftmail.com and http://petwrites.com