You know how giving feeds the soul? 'Tis the season! Yes, I know you ventured into Internet business marketing hoping to maximize your earnings. But is that what you're really about? In the depths of your soul, aren't you really here to make a difference in the world?

Consider the case of Elizabeth. She came online because she felt stuck in her offline coaching practice trading hours for dollars. It limited her growth. But a big part of why that bothered her had less to do with money than with the number of lives she could touch.
That being the case, she was intrigued to learn that Pet Writes has created an opportunity designed to open hearts as it builds stronger client relationships.
AND it even sets you up to earn instant affiliate commissions! But that wasn't the thing that really drew her in.

She figured she'd check it out. Here's what she found: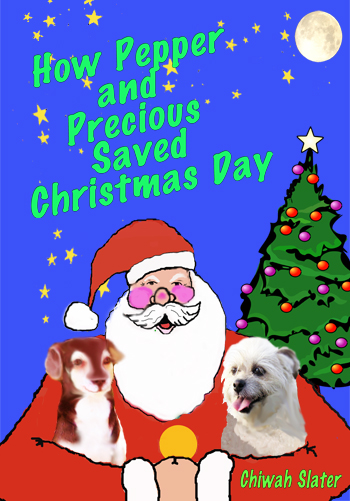 It all starts with a FREE ebook featuring Santa and Rudolph and two delightful pets who save the day when Santa gets too fat to fit down the chimneys. What could be better for a confirmed pet lover?

She imagined her grandson's face as he pondered these important 'What-Ifs':

What if Santa got too fat to fit down the chimney?
What if Rudolph fell sick and

couldn't lead the reindeer

?
What if good little girls and boys all over the world had to wake up to … a Christmas with no toys?
In twenty pages of original colorful artwork and delightful dog-gerel, the story of how Precious the 'can-do' PetWrites pup and Pepper the bright-hearted Chihuahua saved Christmas is enthralling to children who love dogs, Santa, toys, and Rudolph.
Elizabeth had as much fun reading it to the kids as they did listening to it. Now, they're all really in the Christmas spirit!
Now she is hearing back from the people on her email list to whom she sent a free copy of the ebook. Before sending it, she had it personalized to feature her kitty Leontine in the starring role.
Using social media, Elizabeth can reach tons of people she's never met. And of course she knows tons of people – her clients included – who have kids or grandkids, and nephews and nieces. It occurred to her that they might enjoy reading about Leontine. 
Well, they are loving it. It's not just a story about a cat saving Christmas. It's a story about a real cat, in some cases one they've known or heard about all their lives.
The personalized ebook having just the effect Elizabeth hoped it would. Adults are calling to tell her how much more connected to her they feel.
That's the magic of pet stories! They connect people at a level deeper than business-as-usual could ever do. Reading about Elizabeth's pet to their kids or grandkids and seeing their faces light up has really sunk that connection deep.
Do you think clients who feel that way about her might feel good about recommending her to friends who could benefit from hiring a coach? If marketing your  business on the Internet is really all about strong relationships, as everyone's saying these days, you might say Elizabeth has just tapped into a little vein of gold.
People are asking her how they can get their own personalized version.
Elizabeth is doing her happy dance. Not only is she getting to share a fun experience, she's also opening up opportunities for others – and making an affiliate commission when they upgrade to either of two ebook personalization options.
Who would have dreamed such a simple and fun story idea would turn into genius relationship marketing on the Internet for a business that had nothing to do with kids or pets?
If you're thinking maybe YOU would enjoy being the center of this kind of whirlwind of activity … well, you can! It's as easy as sliding down a snow-covered hill.
Here's what you do:
Get your own customized ebook for $24.95, featuring your favorite pet.
When you buy it, get the resale package as well – there's no extra charge for that.
Give it away to everyone you can reach out to. Imagine – for that little bit of money you get a gift guaranteed to brighten the lives 10, 20, even 100 children or more once you start telling about it on Facebook and Pinterest.
When the adults ask how they can get their own version featuring their pets, suggest that they do just what you did. Let them buy the customized version from you, using your affiliate link! Use your 33% instant commissions for Christmas, or put the money into your kids' or grandkids' college funds!
Internet business marketing doesn't have to be hard. There's not a lot of time left before Christmas – just enough to use this ebook to make a real difference if you act now.

To your joyous Internet business marketing success this holiday season,
Chiwah Carol Slater
Founder, PetWrites.com
Facebook.com/PetWrites,LinkedIn.com/in/chiwah
Email: petwrites@gmail.com
 P.S. What benefit do you think Leontine might be getting out of this caper? If your animal were the star of its own book, do you think that might change your behavior toward it? In what way? Leave us your thoughts in the comments. And please, share this post now, today, on your social media profiles.