The Pet Writes motto:Let the Magic of Pet Stories Work for You!

Has it ever occurred to you that telling your pet stories might be the key to the success that has so far eluded you? It's something you can take advantage of in the brick-and-mortar world or in your Internet business marketing.

PetWrites.com is devoted to helping professionals learn how to cash in on their businesses by adopting an entrepreneur mindset, planning strategically, writing an authoritative book, and using stories to create irresistible emotional rapport with their prospects and customers or clients.
True, stories about anything you feel passionately about will have their effect on your clients and prospective clients. The advantage of using stories about pets is their universal appeal. Hardly a person alive can resist the allure of an animal story.
Are you a business owner and a pet lover?

Rest assured, you do NOT need to have a pet-related business to use pet stories to good advantage. Any business can benefit from a pet's capacity to open hearts.
Think of some of the businesses you have seen bring animals into their marketing — offline and Internet businesses that have absolutely nothing to do with pet products or services.
• One that you may well recall is RCA Victor. In the '50s and '60s, every RCA promotion had a statue or a picture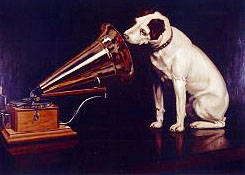 of Nipper, a dog that had belonged to the English painter Francis Barraud.
That picture, originally titled Dog Looking At and Listening to a Phonograph, became one of the best known trademarks in the world. First trademarked in the U.S. in 1900, its popularity spanned well over half a century and two continents; it was used as the "His Master's Voice" logo in France, Spain, Portugal, Italy, Germany, Sweden, Poland, Norway, and Turkey.
What did RCA Victor have to do with dogs? Nothing. But the image conveyed a message everyone could relate to.
• Another well known company that has introduced a pet-type animals in their branding over the years is Anheuser-Busch. First, there were the Busch Clydesdales. Then came the Olympia bear. And in 1987, Spuds MacKenzie, the company billed a 50-pound English Bull Terrier as "The Original Party Animal."
And did you catch their commercial on Super Bowl Sunday, 2013? The Clydesdales are back, with a heart-rending story about a colt and his trainer. The implication? Drinking Bud makes you a better man.

• In 1987, Aflac Insurance introduced a duck in its marketing. The duck is now enshrined on Madison Avenue's Walk of Fame as one of America's Favorite Advertising Icons.
• And of course you remember the Taco Bell Chihuahua. Actually a female Chihuahua, this one passed away in 2009.
• And who could forget the Geico Gecko? Cute! Stylized, of course. And not too many of us keep Geckos as pets.
The point is, none of these animals has any intrinsic relationship to the product or services provided by the companies that made them popular icons. But they have done wonders to boost the companies' popularity.
If you have a pet you love, it is highly likely that bringing him or her into the marketing for your business (offline or on the Internet) will help you broaden and stabilize your customer base. And no, you don't have to turn your pet into a cartoon character to accomplish this. Pets are heart stealers in their own natural right.

Telling your pet stories allows you to express the pet lover side of your life in your business, thereby making it easy for your customers and clients to feel like they know you. Of course, you need to know how do it without having it look contrived or hokey. No worry—it's all covered in the Pet Writes 'Actualize Your PASSION' program.

(For you bottom-line thinkers, there is of course the added advantage of turning all of your pet expenses into tax write-offs!)
Stay tuned to this site for engaging stories on how others are succeeding by bringing their pets into their business's marketing mix, both offline and on the Internet. To find out more right away, take advantage of the Pet Writes 7-Day Trial Membership. You'll be amazed at what you'll learn, both about using your pet stories and a dynamite new business model to boost your business or practice. 

Pawsitively devoted to boosting your Internet business marketing,
Chiwah Slater
Founder, PetWrites.com, WordWeaver4U.com
Support Desk: http://petwrites.com/support