How important is it to pick a vet for your Chihuahua that specializes in small dog breeds?
Jeremy and Selena (not their real names) had never considered that question. It just didn't occur to them. I mean, a vet is a vet, right?
They had been talking about getting a dog. Selena had always loved small dog breeds. Jeremy had a soft spot in his heart for Chihuahuas. Selena called the breeder a friend had recommended and made an appointment for two o'clock Saturday afternoon.
On Saturday morning, however, a friend called. She had just learned that a neighbor's Chihuahua had given birth to seven pups. They had just been weaned. There was one she knew would be perfect for Jeremy and Selena. Could they come over and look?
When they walked into the area of the house the woman had dedicated to the little Chihuahua family, their friend pointed to a sandy-colored female pup with a white blaze on her chest. To seal the deal, the pup trotted over to sniff Jeremy's fingers when he held them out. It was love at first sight.
"The mother has been healthy all her life," the neighbor assured them, "and the father's a healthy dog too. Chihuahuas seem to have fewer health problems than other small dog breeds I've had experience with."
It was clear they'd found their pup. Or had she found them?
One of the first things they did, of course, was to take the pup to the vet for a checkup and vaccinations. There was a veterinary clinic a few blocks from their house. While they sat in the waiting room, a man came in with a  Rottweiler and a woman with a Dobie.
During the examination, the vet pointed out a large soft spot on the top of Chica's cute little head. It could be a problem, she said. Was there any history of hydrocephalus (water on the brain) in the dog's line?
Selena didn't know. The woman hadn't mentioned it. What if she did? She was afraid to ask.
The vet performed an ultrasound test, which came out negative. But just to be sure, she recommended an MRI as well. She had her assistant make an appointment with the radiology imaging center.
Selena was concerned, to say the least. Wouldn't you have been?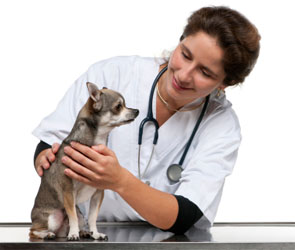 That night, she and Jeremy did some research. This is what they learned:
Like human babies, many Chihuahuas are born with a soft spot at the top of their skull.
Known as the fontanelle in human babies, this soft spot is so common in Chihuahuas that it is considered a characteristic of the breed. It even has its own special name, the "molera."
Unlike human babies, most Chihuahuas do not completely outgrow this condition. But the molera has a tendency to shrink as the dog matures.
Although in most breeds a soft spot on the top of the head might indicate hydrocephalus (water on the brain), in Chihuahuas this is rarely the case.
An MRI is non-invasive and pain-free for the animal, but it does require sedation. And sedation, even if expertly administered, can pose some risk.
 They were so relieved! Their little Chica was normal. Selena canceled the appointment with the radiology clinic.
As the pup grew, Selena and Jeremy had occasion to talk with other people who shared their lives with Chihuahuas. Nothing to worry about, they all said.
"Your vet probably doesn't see many Chihuahuas," one lady said. "If she did, she'd have known how common the molera is in the breed, that it's not a sign of hydrocephalus." Selena thought back to the waiting room — the Rottweiler and the Dobie — and nodded.
There was nothing wrong with the veterinarian she had taken Chica to. She had done her job well, tested to make sure there was no problem.
No vet will be familiar with every condition in every dog.
And yet … a vet that sees a lot of your kind of dog will know the ins and outs of the breed, what conditions are likely to occur, and what is and is not a problem for your dog. Does this sound right to you?
Serena talked with other Chihuahua lovers and found that some knew about the molera and others didn't. So she wrote up a report on the subject and submitted it to a local newspaper, and was delighted to see it published.
It made her feel good to be able to alert others to what she had learned. And it made her day when a woman called to thank her for saving her Teacup Chihuahua puppy from unnecessary testing.
Ask yourself: What have I learned from living with my pets that's worth passing along to others?
Sharing the things you learn along the way with your pets can really make a difference. Can you recall a time when something you read turned out to be just the information you needed?
Becoming a Pet Writes Member is an easy way to get started sharing your stories. It's a great way to share your favorite pictures with others who love small dog breeds, too! Plus, you gain access to a steady stream of stories and information from other pet lovers to solve YOUR pet challenges. Membership is FREE. Just CLICK HERE.
Pawsitively,
Chiwah Carol Slater
The Pet Story Passionista
Word Weaver Chiwah
Founder, PetWrites.com, WordWeaver4U.com