If dog allergies are separating you from friends' pets you love, I sympathize.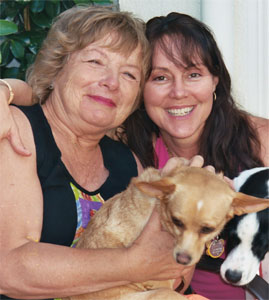 Ally, a mixed breed Chihuahua, has always felt like a little doggie sister to me. She was my friend Maureen's dog. I say 'was' because dear Maureen passed on to the next world a couple of weeks ago.
Maureen was a friend to all. Everywhere she went, she connected with the people and the animals. And she knew how to have fun! It is indeed sad that in the last days of her life she was isolated by the pain of fibromyalgia and other maladies the doctors didn't know how to treat.
This writing is sort of the last bit of my farewell to Maureen. A friend's death can be hard on the emotions. I will remember her always. Her sister has kindly made sure I would have mementos of our friendship to tuck away for moments of indulgence on Memory Lane.
As for Ally, she and I first met when Maureen brought her home as a wee pup, ten years ago. She was so cute! And she really took to me. Dogs generally like me, but with Ally it was pure love. She used to pester Maureen to come visit me. I'm grateful I don't suffer from dog allergies, as they would have limited our ability to visit.
What was the reason for this strong attraction? Maureen and I decided Ally and I must have been sisters in a former life. (If you can't relate to that idea, chalk it up to dog lover insanity.)
In the early days of sweet Ally's life Maureen and I lived quite near each other, and visiting was easy.
I would go to Maureen's place and ring the bell. Maureen said Ally always knew it was me. She said the dog would come and announce my presence at the door with a full-body wag she didn't do for any other visitors.
We often walked on the boulevard, the three of us. Ally walked right between us, but never got caught in our feet. We would pass other dog lovers, and they nearly always remarked on our Ally.
Why? She was nothing short of macha. We didn't know what breed her father had been. She had inherited the Chihuahua look from her mom, but she was larger, and broader-chested. Macha.
When Ally was five, I moved to another town. Not so distant we never saw each other, but our visits became more spaced out.
Last year, I began to notice that she wasn't greeting me with the same level of enthusiasm when I visited. Her hearing was going, for one thing. But it seemed that her memory was falling away as well.
The last few years, Maureen was in tremendous pain most of the time. When it became too difficult for her to walk Ally, her neighbor, Jim, took over. What a blessing! He and Ally became close friends. When Maureen passed, he and his wife took the now ten-year-old Ally into their home.
Seeing them at Maureen's memorial ceremony last week brought tears to my eyes. I knelt down to give Ally some love, but she didn't give any obvious signs of recognition. Very friendly, but not her old sister self I had known in the past.
What lessons do you think I should learn from this?
Here are my thoughts:
Stay in close touch with your friends, even if you move away.

Age changes people, and it changes animals, too

. Memory can diminish in both species.
Be grateful for the closeness you share with your human and animal friends. Treasure it while you can.
I told Jim I intend to visit Ally at his home, and I shall. I'll make the trip more often than I have over the last five years. I don't know how long my little doggie sister will remain with us in this world, and I intend to make the most of the time we have left.
If you do have dog allergies, there are solutions. CLICK HERE to become a Pet Writes member. You'll receive a wealth of helpful information on this and other dog-related topics. And lots of compelling dog stories, too. Membership is free, and you will receive a helpful free gift when you join.
Pawsitively,
Chiwah Carol Slater
The Pet Story Passionista
Word Weaver Chiwah
Founder, PetWrites.com, WordWeaver4U.com