Can the proposed California Pet Lover's License Plate Make a real difference?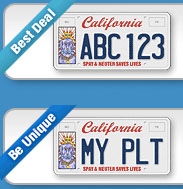 Maybe.
If you live in Westwood, California, today's the day! It's your chance to meet first dog Sutter Brown and his dad, Jerry, at Petco at 2:30 this afternoon. 
The occasion? Woofing it up over the new one-year extension of the pre-order period for the California Pet Lover's License Plate.
You can have yours for just $50, or $98 for a specialty plate. Funds raised from orders of the plates is set to help fund spay and neuter programs throughout the state.
This dog-eared public appearance is without a doubt the governor's way of reaching out to So-Cal pet owners who resent his efforts to neuter the Hayden Act, California's landmark shelter animal welfare law being fought over in the state legislature.
We must face the fact that we are producing way too many dogs and cats. And not just in California. USA Today reports that U.S. taxpayers pay out an estimated $2 billion each year to round up, shelter, and dispose of stray animals. When you read the shelter statistics, can you even relate to the numbers?
If you've ever visited a shelter, you know what it's like. So many to choose from. So few … like maybe one … you can give a home to. How does that make you feel?
Did you know that over 56% of the dogs and puppies entering shelters are killed? The Humane Society of the United States reports an estimated 5 million cats and dogs are killed in shelters each year.
That's 5 million!
It amounts to a lot of death. A lot of cute, innocent animals meeting their Maker every minute of the day. It makes me weep. I know it makes you sad, too. Right?
There are two obvious approaches to this problem: either stop killing the animals, or stop producing them. Or both.
Unfortunately, although the bill to end the enforcement of no-kill shelters is unpopular, the fact remains that if we keep on producing pets at our current rate (7 times the human birthrate!) there just won't be anywhere to put them.
The funds raised from the sale of the California Pet Lover's License Plate are slated to go to funding spay and neuter programs. Do you think the cost of spaying and neutering is the problem? Or is it one of education?
If you considered that in six years one unspayed female and her offspring can reproduce 67,000 new animals, would that make you stop and think before you decided to let your pet breed?
Just hearing or reading the facts isn't enough; the enormity of the numbers has to be brought home with an emotional punch. Would the funds from the new license plates be better spent on a concerted ad campaign? One designed to make people realize, at an emotional level, that failing to spay and neuter today is nothing short of barbaric?
How do you feel about the issue of requiring no-kill shelters? What if it means terrible overcrowding of the existing shelters?
Build more shelters? How many more shelters are we prepared to cough up the money to build and run?
These are all tough questions. I believe it comes down to getting the message out, loud and clear, in an emotionally irresistible format, that failure to spay and neuter is tantamount to sentencing animals to death.
If you have ever taken a pet to a shelter, you probably carry a load of guilt. I  have, and I do. I cannot think back to that day without heartbreak. At the time I felt I had exhausted all of my options, and I didn't know what else to do.
I loved that dog, a German Shorthair Pointer. We were dirt poor in those days. We lived out in the middle of nowhere. Yet somehow that dog had walked the three miles to the road and been hit by three different cars—that we knew of.
He never was hurt! It was a miracle. But I knew he would be. He needed a hunter to keep him busy. I didn't know any hunters, and I had zero money to put an ad in the paper.
I pray they found him a home. The woman at the shelter assured me they would. And yet I know that most shelter dogs do not find homes.
Telling that story took courage. It's an ugly secret I've harbored for over thirty years. I'll never know what happened to him.
Sharing about the things we regret is a powerful tool for coming to terms with our past and our present. It's one of many good reasons for writing pet stories—which brings me to the topic of YOUR STORIES.
If you will let yourself open to the memories, I know you have sweet stories, funny stories, and sad stories in you. If you share them, every one of them will touch someone's heart. What if the story I just confessed to were to save the lives of the thousands of pups?
Pups that would be saved if even one person was swayed to have their pups spayed and neutered.
Remember, in just six years, the offspring of one dog can produce 67,000 pups.
This is a topic that touches all of us deeply. I would love to hear from you on these issues. Please leave your comments at the end of this post.
Whether or not you get a California Pet Lover's License Plate, you can start sharing your pet pictures and stories. CLICK HERE to become a Pet Writes Member. It's FREE. You'll receive a helpful free gift when you do, and a wealth of tender pet stories and solutions to your pet-related challenges.
Pawsitively,
Chiwah Carol Slater
The Pet Story Passionista
Word Weaver Chiwah
Founder, PetWrites.com, WordWeaver4U.com