What Are the Pros and Cons of Electric Dog Training Collars?
Living as I do near the beach, I often go for an afternoon stroll down the Strand, my town's cement and asphalt boardwalk. There I invariably meet dog lovers and their pets, out for a bit of exercise in the beauty of nature.
Walking your dog is the easiest way I know of to make new friends. Pets bring out the best in people, I've found, and people love talking about their pets. I'm a friendly person, but not generally one to walk up to strangers and introduce myself. However, on the Strand it's a different story.
I do observe people first, and I don't approach people indiscriminately. I look first at their faces and how they hold their bodies to pick up on their state of mind. Are they relaxed, enjoying their jaunt with their dog? Or are they just there out of duty? It's usually pretty obvious, and it shows as well in the way they treat their pet.
The other day I saw a fellow coming my way with a large Boxer dog in tow. Literally. Whereas most people are pulled along by their dogs, or walk with them heeling or at their side, this dog was lagging behind. And every so often the guy would tug hard on the leash, pulling the animal up beside him, its foot pads sliding on the cement. I could feel the burn. Not a fellow I'd want to stop and talk with.
Vicki, on the other hand, was someone I was drawn to from the first moment I spotted her and Spot, her dog, an English Bulldog/Mastiff mix. She appeared to be attempting a leisurely stroll, but Spot was cavorting, this way and that, forward and back, excited about every little thing that came to his attention. She seemed to struggle for control. I could see this dog was a lot to handle.
What made me want to approach her was that she seemed to be enjoying all this. She talked and laughed at her dog's antics. And Spot had a warm glow about him, and warm brown eyes as soft and sweet as honey.
Vicki and I chatted a bit, and I remarked that he seemed to be quite a handful. I asked her how she managed to control him.
"Electric collar," she said, pointing to the thick metal chain around his neck. "I had to get one. I know people think they're cruel, but it's the only thing I've found that works."
The collar has a beeper warning device, she said, and Spot knows what it means when it goes off. So he rarely ignores it. Unless … he spies a CAT! Or a shadow he mistakes for a cat. He's crazy for cats, and without the collar will take off on a cat chase with no warning at all.
"I set the collar at 4, on a scale of 10," Vicki said. "I don't want to hurt him. I just need to keep him from scaring the daylights out of someone's cat!"
In the midst of this conversation Spot and I were getting to know each other a bit. He had such soft skin and fur, and the most beautiful ugly mug I'd ever seen! He ate up the petting I bestowed on him, nuzzling up close for more when I stopped. Oh, what a love!
It was good to see that his personality had not been marred by the collar. It seemed to be something he just accepted as a part of life.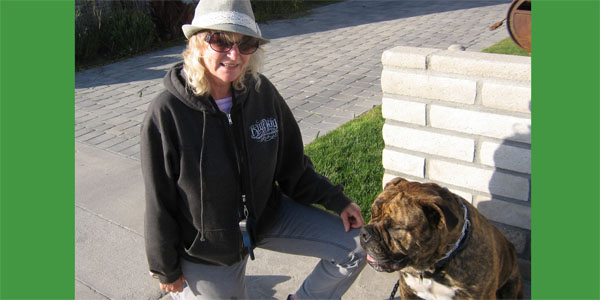 What do you think about electric dog training collars? Are they cruel, or just plain practical? Have you found that some dogs just don't respond to other methods, like the clicker method, making an electric collar necessary? Please leave a comment if you have experience with using these collars.
If you train your dogs well, even strong, stubborn dogs may not need training collars. CLICK HERE to receive a FREE top-notch dog training course. When you enroll in this FREE course and email us a copy of your enrollment confirmation, you will also receive a FREE BONUS REPORT with useful tips on just about any dog care issues you may be facing. 
Pawsitively,
Chiwah Carol Slater
The Pet Story Passionista
Word Weaver Chiwah
Founder, PetWrites.com, WriteYourWayToProsperity.com, WordWeaver4U.com