Is a pet rescue adoption center your best shot for finding the dog of your choice? Could be. But it's hardly the only way. Thanks to Mother Nature's ingenious engineering of procreation, it's not unusual to have a friend or neighbor with a litter of puppies to find homes for.
Walking on the beach yesterday, I made the acquaintance a young couple out walking their pup. I couldn't tell by looking just what breed of dog it was, so I stopped them to ask.
"Oh, he's a Pit Bull-Boxer mix," the woman told me. I would never have guessed that. This dog had long hair, and his face didn't make me think of a Pit Bull or a Boxer dog.
The couple, Liz and Felipe, introduced me to their pup, Lady. Being who I am, a lover of pets and a lover of pet stories, I got down on the boardwalk with her for some serious get-acquainted petting, and then asked permission to photograph her.
And of course I asked for a story!
"Oh, the story is really Felipe's to tell," Liz said.
Felipe told me, with a big smile spread across his face, that they had just gotten Lady two days ago. He explained that his uncle is a mechanic in Tijuana, and that he and Liz had gone down to visit. When they saw her, they knew she was for them.
"There were several pups in the litter," Felipe said, "but she was the only one that didn't look like a Pit Bull."
She has long hair! Who ever heard of a Pit Bull or a Boxer with long wavy hair? Something tells me there might be some other breed in the mix ….
Now, looking at the picture, I can see a bit of the Pit Bull shape to her head. And I can maybe see Boxer dog ears. But I didn't see either of those things while we were talking, not at all. All I could see was how cute she was! With those ears, she looked like she might take off and fly.
"She was so cute," Felipe went on. "But she was all covered with grease and dirt. It was easy to see she was a little lady who needed a good home.
Lady is just four weeks old, and getting her first taste of being out in public. I could see she was in good hands.
Are you looking for the right dog for you? There are lots of ways to find it.
Contact a breeder and buy a dog
Go to a pet rescue adoption center and pick out a dog
Talk to your friends to see who knows someone with a litter of pups to give away
Put a free ad in the PennySaver or on Craigslist
Go online and search for whatever breed you prefer. You'll find them for free and for sale.
I wasn't with Liz and Felipe for long, so I didn't get time to talk to them about keeping a journal of Lady's antics and achievements as she grows up, of the ways she tugs at their hearts, of the things they learn about themselves from parenting this pretty pooch.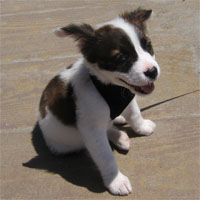 But I did give them my card and invite them to the site. So maybe they'll see this article and get the idea of sharing the stories of their adventures with their new pet. Pets are such a gift to us. You never know what magic your new pet will bring into your life.
And sharing stories about your pets is a fun way to give other people the chance to enjoy them, too. Think about Marley and Me. How many people were touched by that story, long before it came out as a movie?
Your stories can do more good in the world than you can probably imagine.
To open the door to exploring how you can start sharing your pet rescue adoption pictures and stories, CLICK HERE to become a Pet Writes Member. It's FREE, my gift to you. You'll receive lots of information on a variety of pet topics, too, plus lots of great pet stories.

Pawsitively,
Chiwah Carol Slater
The Pet Story Passionista
Word Weaver Chiwah
Founder, PetWrites.com, WordWeaver4U.com