Cathleen and Aria, her gorgeous brindle Olde English Bulldogge, were sitting on a beachside wall when I passed by recently. I had been talking with a friend about the effectiveness of dog training collars, and noted that Aria wore a simple chain collar.
The woman and her pet appeared warm and friendly, and I couldn't resist the urge to stop and visit. I had a camera in hand, of course, and asked permission to take their picture.
But I couldn't stop there. No, not me. I always want to engage with a friendly dog, and Aria came right up to me. She had such soft fur! Omigosh! Softer than deep velvet, if that's possible.
She snuggled right up to me, in a matter of a minute after we met. Melted my heart! You know the feeling? I had to bite my tongue to keep from asking Cathleen to take me home with them.
As you can see from the picture, Aria is just a pup. Four months old. Cathleen had a collar and a leash on her, as required by municipal code, but the little girl is still resisting the leash. She loves her freedom! What free spirit doesn't?
As for the collar and leash, Cathleen was doing her best to get Aria accustomed to them. If necessary, she said, she and her husband would take their pup to a training class to help her learn leash behavior.
Will Cathleen resort to dog training collars to help her learn proper leash etiquette? That will probably be determined by the brand of training she and her husband opt for. One thing I felt sure of was that they love this dog and will see to it that she gets the loving training she needs.
Though its name sounds just like the name of an extinct breed, the Old English Bulldog, this breed is actually very new.  It was developed through cross-breeding of English bulldogs with Bullmastiff, Pit Bull, and the American Bulldog. Bred for the looks and positive personality traits of the Old English Bulldog, the new breed has a much softer temperament.
They make good family dogs. Leavitt is also working to inculcate service dog characteristics into the breed.
So … if you have an Olde English Bulldogge or are considering getting one, what do you need to know?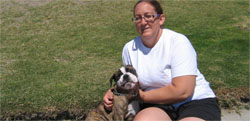 Here are a few things to consider:
They are courageous, committed best friends—soul mates, even—who will love you forever. An Olde English Bulldogge will do its darnedest to please you, and will stand up to defend you against any threat.
They need YOU to be in control. They're too strong and determined to have it be otherwise.
They have a tendency to chew on whatever's handy, especially as puppies. So you will need to keep bringing on the chew toys! Or sacrifice your furniture, your shoes, and Heaven knows what else. Go for sturdy chews, like Nulabones or Kong toys, as opposed to rawhide chews, soft rubber or tennis balls, or stuffed animals.
Their need for exercise is modest. They're thick, heavy dogs, and need to be walked regularly but should not be over-exercised.
They also tend to drool and slobber. Ah well, you can't have everything.
I do hope Cathleen and her husband take lots of pictures and keep a diary of her experiences raising this adorable pup. They will have stories of courage and devotion to tell, stories that could serve to inspire children and adults alike.
If you have a big, headstrong dog, know that they don't always need dog training collars. A solid training program can make all the difference. CLICK HERE to receive your FREE top-notch dog training course. When you enroll in this FREE course and email us a copy of your enrollment confirmation, you will also receive a FREE BONUS REPORT with useful tips on just about any dog care issues you may be facing.

Pawsitively,
Chiwah Carol Slater
The Pet Story Passionista
Word Weaver Chiwah
Founder, PetWrites.com, WordWeaver4U.com